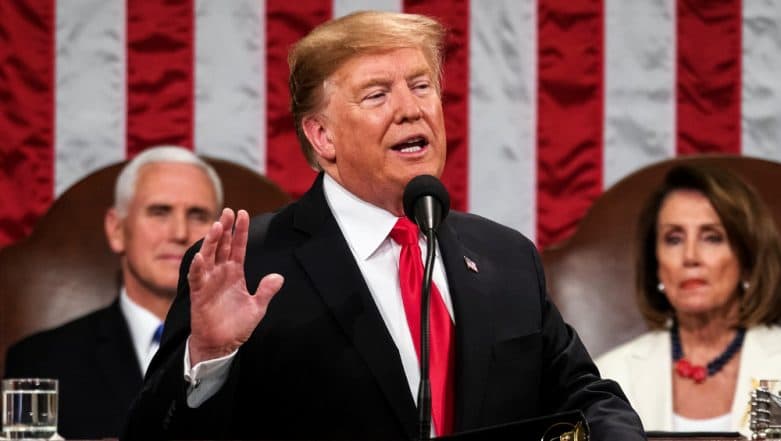 Washington, May 17: US President Donald Trump wants his proposed wall along the Mexican border should be painted black and made of steel with spikes which will make it difficult for immigrants to climb, a media report said. The steel bollard fence should be painted "flat black", a dark hue that would absorb heat in the summer, making the metal too hot for climbers to scale, Trump recently told White House aides, Homeland Security officials and military engineers.
And the tips of the bollards should be pointed, not round, the President insists, describing in graphic terms the potential injuries that border crossers might receive, The Washington Post said in a report on Thursday. Trump told one group of aides that the metal points would cut the hands of climbers and function as a more effective deterrent. Mexico Border Wall: 16 US States Sue President Donald Trump For Using Emergency Powers to Fund Anti-Immigration Project.
The President has said the wall's current blueprints include too many gates - placed at periodic intervals to allow vehicles and people through - and he wants the openings to be smaller. At a moment when the White House is diverting billions of dollars in military funds to fast-track construction, the President is micro-managing the project down to the smallest design details, according to current and former administration officials.
But Trump's frequently shifting instructions and suggestions have left engineers and aides confused, they added. Trump has demanded Department of Homeland Security officials come to the White House on short notice to discuss wall construction and on several occasions woke former Secretary Kirstjen Nielsen to discuss the project in the early morning, The Post quoted the officials as saying.
Trump also has repeatedly summoned the head of the US Army Corps of Engineers, Lt. Gen. Todd T. Semonite, to impart his views on the barrier's properties, demanding that the structure be physically imposing but also aesthetically pleasing.
The President, who repeatedly promised to force Mexico to pay for his desired border wall, has pledged to build 400 miles of new barriers by next year, a goal he reiterated during an immigration speech at the White House on Thursday afternoon.