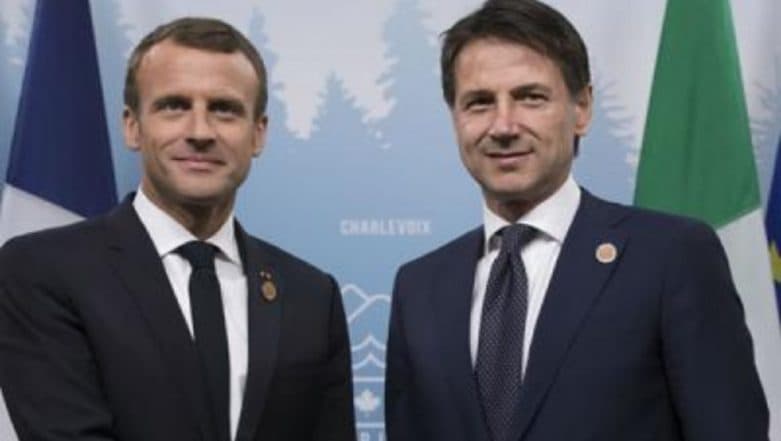 Toronto, February 8: In what can be called as one of the most tense moments between the governments of France and Italy since World War II, Paris has recalled its Rome ambassador.
The recall comes after Italy's Deputy Prime Minister Luigi Di Maio met French "yellow-vest" protesters near Paris on Tuesday. France warned Italy of not interfering in its domestic affairs and said it was being subjected to baseless verbal attacks from Italy's political leaders, which it said were "without precedent since world war two".
On Tuesday, Maio met some members of the 'gilet jaunes' movement and tweeted out the photo. Some among those he met are preparing to run in the upcoming European Parliament elections against current French President Emmanuel Macron's party. Maio said after the meeting that "wind of change has crossed the Alps" and a "new Europe is being born of the yellow vests".
Oggi con @ale_dibattista abbiamo fatto un salto in Francia e abbiamo incontrato il leader dei gilet gialli Cristophe Chalençon e i candidati alle elezioni europee della lista RIC di Ingrid Levavasseur.

Il vento del cambiamento ha valicato le Alpi. pic.twitter.com/G8E0ypLalX

— Luigi Di Maio (@luigidimaio) February 5, 2019
France said the comments were an unacceptable "provocation". However, this is not the first time that Paris and Rome have clashed. Ever since Italy saw the election of two populist parties who went on to form the government, the two European countries have clashed on issues such as the European Union, Italy's budget and how to deal with asylum seekers.
The French government said, "For several months France has been the subject of repeated accusations, unfounded attacks and outlandish claims." "The most recent interferences constitute an additional and unacceptable provocation. They violate the respect that is owed to democratic choices made by a nation which is a friend and an ally. To disagree is one thing, to exploit a relationship for electoral aims is another."
Italy's other deputy prime minister, Matteo Salvini who belongs to a far-right party sought to defuse tensions. He said, "We don't want to row with anyone," Salvini's statement said, "We're not interested in controversies. We are serious people and we are defending Italian interests."
But he himself has in the recent past hit out at French President Emmanuel Macron. Salvini just recently called Macron a 'bad' French president. "I hope the French will be able to free themselves of a terrible president," he said in one Facebook video. He also urged French voters not to back Macron's La République En Marche party in the European elections in May 2019.
The two countries have also failed to hold a joint summit ever since Salvini's League and Luigi Di Maio's Five Star Movement formed the government in Rome in 2018.