Buenos Aires, November 29: Ahead of the G20 summit in Argentina, where world leaders will be gathering to take part in the event, Google search trends have thrown some interesting results. Prime Minister Narendra Modi is the second most searched leader on the search engine after US President Donald Trump. Also, South America region, which is hosting the event, is the region most interested in the G20 searches, show search results. PM Narendra Modi Reaches Argentina's Buenos Aires To Attend G20 Summit.
However, there is a huge gap in the percentage search for the leaders. While Donald Trump sits at the top of the search list with 61 percent people searching about him, Indian Prime Minister Narendra Modi is second on the list with 18 percent searches. French President Emmanuel Macron is third with 12 percent votes, followed by Russian President Vladimir Putin. British Prime Minister Theresa May is fifth on the list, with 3 per cent searches. Donald Trump Heads for G20 Summit, Keen on Trade Talks With China.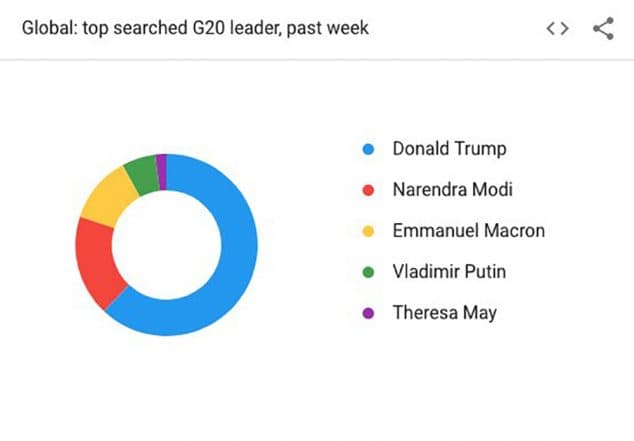 Meanwhile, there are several questions about the G20 Summit that people are searching on the internet. Here are some of the top searched questions and the answers to them: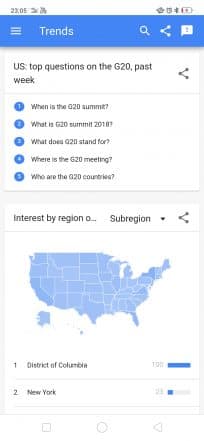 When is the G20 Summit?
The G20 Summit 2018 will be taking place from November 30 to December 1.
What is G20 Summit 2018?
The G20 Summit 2018 is the 13th meeting of Group of Twenty (G20) countries where the leaders of these nations will come together to discuss important global issues. This year, leaders would be discussing - the future of work, infrastructure for development and a sustainable food future. There will also be a focus on the regulation of crypto-currencies at the Summit this year.
What does G20 stand for?
G20 stands for 'Group of 20'.
Where is the G20 meeting?
The G20 meeting this year is taking place at Buenos Aires in Argentina
Who are the G20 countries?
The G20 countries are - Argentina, Australia, Brazil, Canada, China, France, Germany, India, Indonesia, Italy, Japan, Republic of Korea, Mexico, Russia, Saudi Arabia, South Africa, Turkey, the United Kingdom, the United States and the European Union.
Prime Minister Narendra Modi has reached Buenos Aires in Argentina to attend the 13th edition of G20 Summit. PM Modi is expected to meet the United States President Donald Trump, Japanese Prime Minister Abe Shinzo for a trilateral meet on the sidelines of the summit. The trilateral meet between India, the US and Japan is an expansion of the bilateral talks between Trump and Abe.