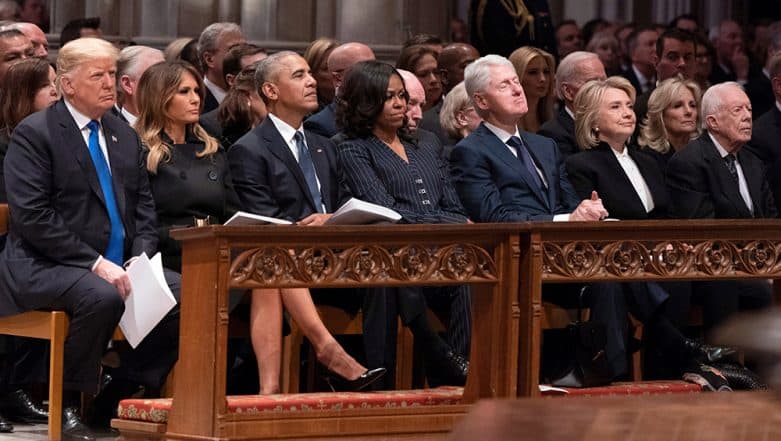 George H W Bush is to be buried on Thursday after a four-day tribute to the 41st president which was attended all the five living Presidents of the United States. The men sat with their spouses in the front row during George H.W. Bush's service on Wednesday at the Washington National Cathedral. President Donald Trump with fist Lady Melania Trump, former Presidents Barack Obama with Michelle Obama, George W Bush with Laura Bush, Bill Clinton with Hillary Clinton and Jimmy Carter with Rosalynn Carter attended George H W Bush's service on Wednesday at the Washington National Cathedral.
At the event, as the men with political power sat next to each other along with their wives, not everyone looked pleased with the seating. Trump arrived and shook hands with Barack Obama and Michelle Obama, however, did not acknowledge his 2016 Democratic rival Hillary Clinton, the duo did not make even make an eye contact. Photo of Late US President George Bush's Service Dog Sully Lying Next to His Casket Is Why We Say 'Dogs Are Man's Best Friend'.
All five living Presidents and First Ladies of the United States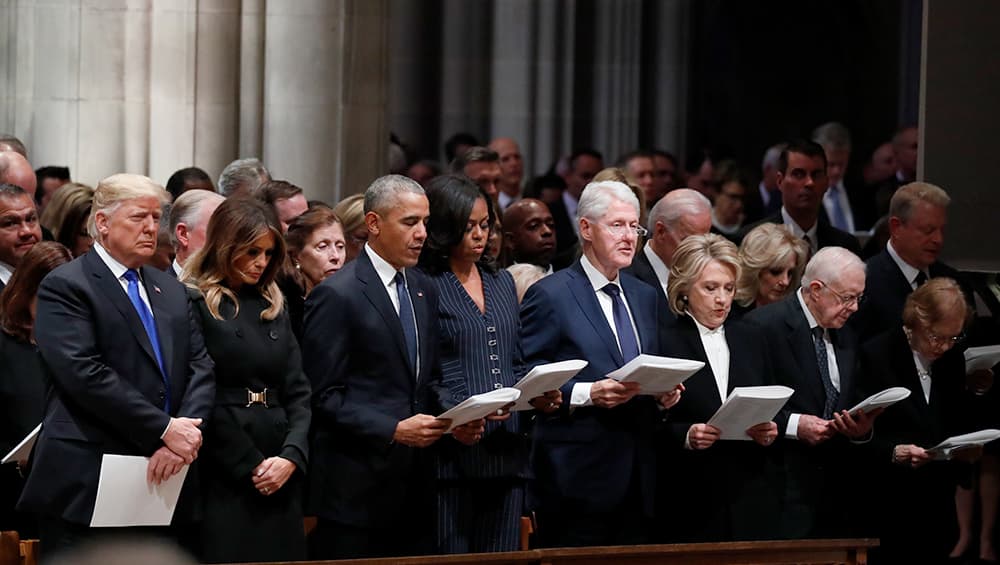 However, minutes later Bush Jr arrived and shook hands with the current and past presidents and their wives. On a lighter note, he handed Michelle Obama a piece of candy, just like during the memorial service for Senator John McCain in the same cathedral in September.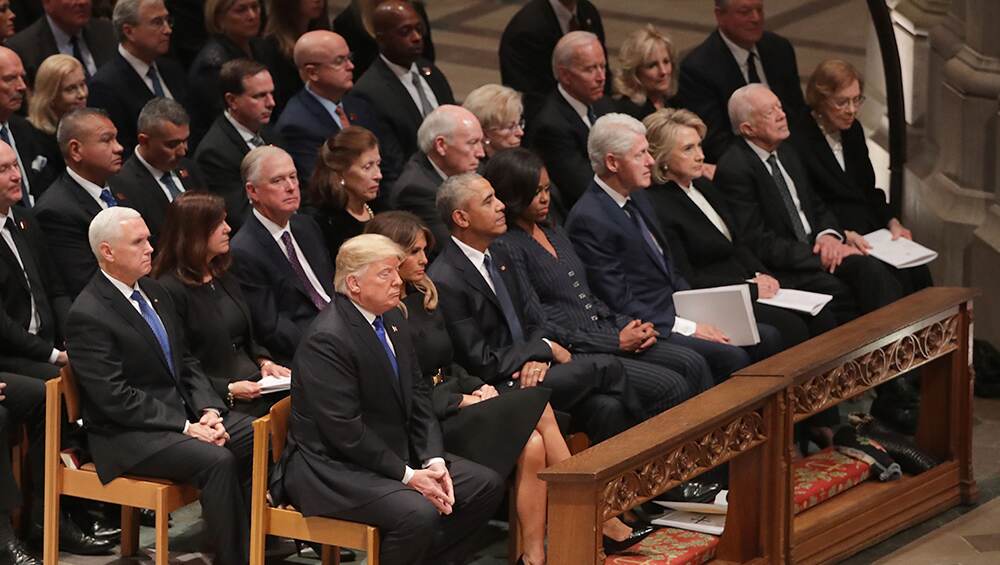 The 41st President passed on November 30 at his Houston home at the age of 94. Talking about father at the state funeral, George Bush said, "He showed me what it means to be a president who serves with integrity, leads with courage, and acts with love in his heart for the citizens of our country. To us, his was the brightest of a thousand points of light." George Bush Senior Dies at 94 After Prolonged Illness, Former US President Breathes His Last on November 30.
Watch the video below:
Fighting tears Bush said, "Your decency, sincerity and kind soul will stay with us forever. So through our tears, let us know the blessings of knowing and loving you, a great and noble man. The best father a son or daughter could have."  Wrapped in a US national flag, Bush life in the state in the US Capitol rotunda as thousands paid respects to him. He will lie in repose at St Martin's Episcopal Church until he is laid to rest at the George H.W. Bush Presidential Library in College Station in Texas.