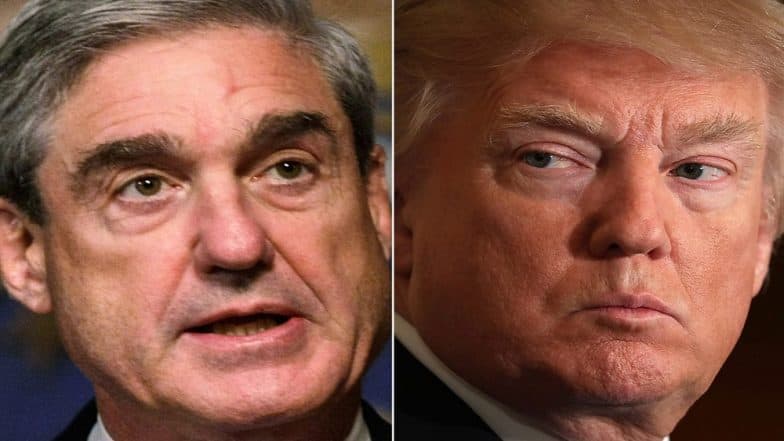 Mumbai, April 19: Two years after Special Counsel Robert Mueller was appointed to investigate possible collusion between US President Donald Trump's election campaign and Russia, the probe report is out. The report concludes that there was no collusion between the two but it also stops short of exonerating the US President of any wrongdoing.
Here are the key takeaways from the 448 page Mueller report:
Trump tried to get Robert Mueller removed
The report says that in June 2017, Trump called Don McGahn, then White House lawyer to get Robert Mueller removed as the special counsel incharge of the probe over alleged "conflicts of interest". McGahn told the special counsel he resigned after feeling "trapped because he did not plan to follow the President's directive".
I am F***ed
Trump's first reaction to a special counsel being appointed to look into his campaign was "I am F***ed. Oh my god. This is terrible. This is the end of my presidency". He added, "Everyone tells me if you get one of these independent counsels, it ruins your presidency. It takes years and years and I won't be able to do anything. This is the worst thing that ever happened to me."
Obstruction of Justice
The special counsel's investigation found 11 instances in which Trump and his team's actions may have amounted to obstruction of justice. The report ultimately concludes: "Unlike cases in which a subject engages in obstruction of justice to cover up a crime, the evidence we obtained did not establish that the President was involved in an underlying crime related to Russian election interference."
The report continues to note, "If we had confidence after a thorough investigation of the facts that the President clearly did not commit obstruction of justice, we would so state. Based on the facts and the applicable legal standards, however, we are unable to reach that judgement. The evidence we obtained about the President 's actions and intent presents difficult issues that prevent us from conclusively determining that no criminal conduct occurred."
Insubordination in the White House
According to the Mueller report, a big reason why Trump could not be charged with potential obstruction of justice is because members of his administration refused to "carry out orders".
"The President's efforts to influence the investigation were mostly unsuccessful, but that is largely because the persons who surrounded the President declined to carry out orders or accede to his requests. (James) Comey did not end the investigation of (Michael) Flynn, which ultimately resulted in Flynn's prosecution and conviction for lying to the FBI. (Don) McGahn did not tell the Acting Attorney General that the Special Counsel must be removed, but was instead prepared to resign over the President's order. (Corey Lewandowski, his former campaign manager) Lewandowski and (Rick) Dearborn did not deliver the President's message to (Jeff) Sessions that he should confine the Russia investigation to future election meddling only. And McGahn refused to recede from his recollections about events surrounding the President's direction to have the Special Counsel removed, despite the President's multiple demands that he do so."
Trump declined to be interviewed by Mueller
Would Donald Trump sit down with Special Counsel Robert Mueller or refuse his summons was a big question as the probe continued for two years. The report has now revealed that Trump refused to sit down for an interview with Mueller. The report notes, "after more than a year of discussion, the President declined to be interviewed".
Trump agreed to submit written answers to the special counsel's questions to Russia-related matters, but declined to "provide written answers to questions on obstruction topics or questions on events during his transition", the report notes.
The Mueller report states: "Recognizing that the President would not be interviewed voluntarily, we considered whether to subpoena for his testimony. We viewed his written answers to be inadequate."
Trump lied about the Trump Tower Meeting of 2016
Trump dictated a misleading response to the news that his son Don Jr and other Trump campaign officials had met with Russian intermediaries in the Trump Tower in 2016. This had earlier been denied by Trump's lawyer and White House spokeswoman Sarah Sanders.
Mueller Considered Charging Donald Trump Jr
Robert Mueller considered charging the US president's son, Donald Trump Jr, and son-in-law Jared Kushner in regards to the Trump Tower meeting, but concluded that they did not have enough evidence to meet the Department of Justice's burden of proof.
Meanwhile, Trump has gone on the offensive and called the Mueller investigation a hoax. "President Trump has been fully and completely exonerated yet again," Trump's 2020 election campaign manager Brad Parscale said in a statement after the release of the redacted Mueller report.