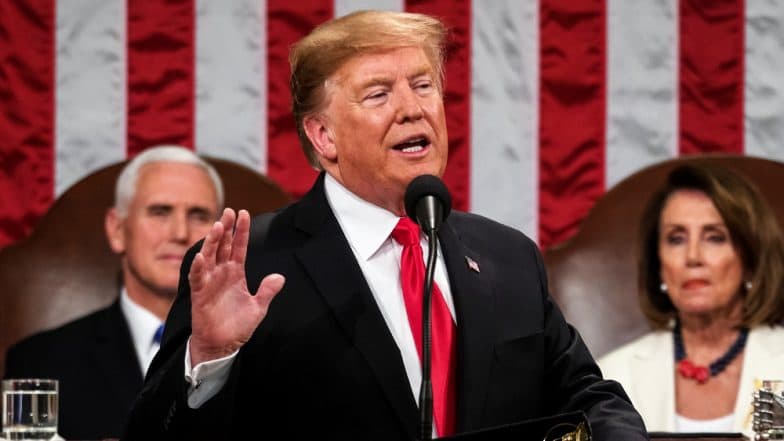 Washington, April 18: On the appointment of Robert Mueller as probe incharge in the case involving Russia's interference into the 2016 US presidential elections, President Donald Trump had said he would be "fucked", reveals the Mueller report which was released in public domain on Thursday.
The 448-page report claims that the President lashed out at his then Attorney General Jeff Sessions for recusing himself from the Russia meddling case, saying that his decision has virtually let to the "end of my presidency". Trump and Russia React to Mueller Report Findings: Both Claim Vindication.
"Oh my God. This is terrible. This is the end of my Presidency. I'm fucked," Trump had reportedly said, adding that a person like Mueller will take years to conclude the probe, while his image would be tainted all along.
Evidence of Trump's "I Am Fucked" Reaction:
Trump Said "I'm Fucked" on Learning of Robert Mueller's Appointment, Reveals #MuellerReport pic.twitter.com/AmWzlgt8EN

— Mohammed Uzair (@mohammeduzair01) April 18, 2019
The Mueller report, whose redacted version was tabled before the US Congress at 11am today, has exonerated President Trump from the allegation of his collusion with Russia ahead of the presidential polls.
The Mueller report, which also probed whether Trump attempted to obstruct justice into the Russia-meddling case, neither exonerates nor indicts the President on the matter. Brar, however, said it should be deemed as a "clean chit".
The President had removed FBI Director James Comey, who had initiated probe into the Russia-meddling case, while also attempted to oust Special Counsel Mueller.
According to the Attorney General, the Mueller report also conceded that a section of the establishment attempted to undermine Trump's presidency by maliciously using the ongoing investigation.
The report acknowledges the "existence of substantial evidence" which proves that Trump was "frustrated and angered" by the attempts made by a group to tarnish his image. The President had a "sincere belief that the investigation was undermining his presidency, propelled by his political opponents and fuelled by illegal leaks".