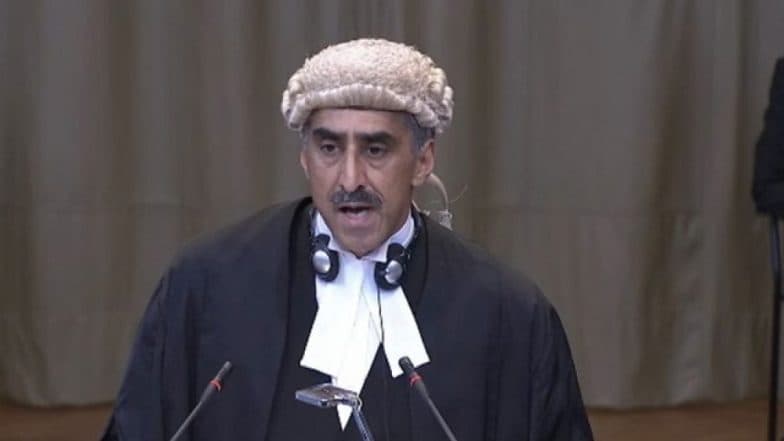 The Hague, February 19: A day after the Indian delegation presented its arguments before the International Court of Justice (ICJ) seeking the acquittal and release of former naval commander Kulbhushan Jadhav from Pakistan, the counsel representing Islamabad submitted his counter, claiming that New Delhi has been "sponsoring terrorism" in the restive region of Balochistan.
Khawar Qureshi, the lawyer representing Pakistan at the ICJ, told the bench that his Indian counterpart Harish Salve has failed to answer the key questions raised by Islamabad ahead of the hearing. Harish Salve Charges Pakistan of Violating Vienna Convention.
"India resists, according to Mr. Salve, the temptation to answer the following questions: When did he retire and why? What evidence is there to suggest that he retired? Why was he in possession of an authentic Indian passport with a cover name," Qureshi asked.
Kulbhushan Jadhav Case at ICJ Live Streaming: Watch Video of Pakistan's Argument
Notably, India has maintained that Jadhav had retired from services when he was "kidnapped" by Pakistan's ISI from the frontier region of Iran -- where the ex-navy officer was setting up his own business.
Qureshi, however, accused India of using Jadhav as an undercover agent for promoting subversive activities and militant insurgency in Balochistan. "India has failed to explain why commander Jadhav was allowed to travel for 17 times on fake passport," he said.
On Monday, when the final set of hearings were initiated at The Hague, senior advocate Harish Salve accused Islamabad of convicting Jadhav through a farce trial.
"Pakistan is embarrassed to disclose the judgment in the Jadhav case, the charges against him, and the evidence. The story has always been strong on rhetoric and weak on facts," he said, further accusing Islamabad of violating the Vienna Convention by not granting consular access to Jadhav during the trial period.