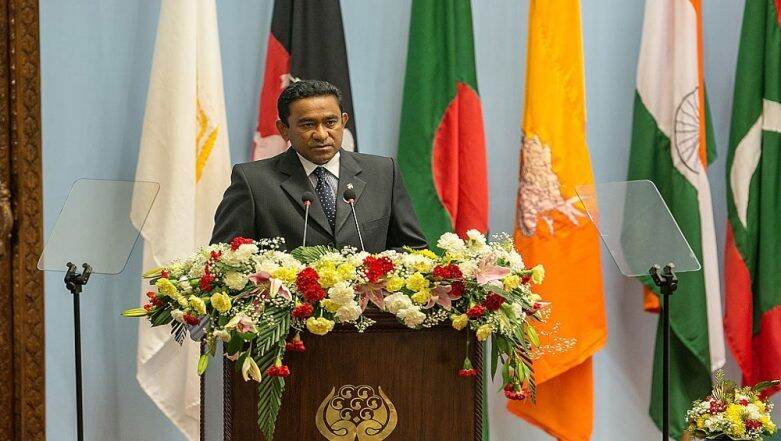 Maldives' top court has rejected to hear the three "secret" witnesses offered by President Abdulla Yameen in his petition which alleges that there was mass tampering of election results that led to his September election defeat.
The Supreme Court concluded its hearings on Tuesday during which the judges rejected Yameen's lawyer's offer to bring forward secret witnesses to corroborate their charge. Yameen's lawyer Mohamed Saleem, had said the three unnamed witnesses would reveal how the vote was rigged. The country's independent Elections Commission (EC) through its lawyers argued Yameen's petition was based on false allegations and should be dismissed.
During this hearing Yameen's side also alleged that supporters of the opposition party had infiltrated the Election Commission and used disappearing ink on ballot papers to harm the chances of the incumbent president. Local media also reported four of the five election commissioners have fled the country and sought refuge in neighbouring Sri Lanka following death threats after Yameen lost the election.
Yameen's lawyer Mohamed Saleem told the court that the printer of ballot papers coated them with an unnamed substance that made votes marked in Yameen's box disappear. Saleem also alleged that a "special pen with disappearing ink" was given to people who were going to vote for his client.
Counting officials also allegedly carried secret pens, in the form of rings on their fingers, which they used to mark ballots for the opposition.
Opposition lawyer Hisan Hussain said the entire challenge was based on "pure conspiracy theories". "Pen rings and disappearing ink are fanciful. The only thing missing from the case are magic carpets," she told reporters after the hearing concluded. She insisted that Yameen had not presented any "real evidence" to back his claims of vote rigging and fraud.
The Supreme Court said it would deliver its verdict at an unspecified later date.
Despite Abdulla Yameen ensuring that his main competitors were out of the way – in jail or in exile as in the case of former President Mohammed Nasheed and his own half-brother Abdulla Gayoom, he was beaten by Ibrahim Mohamed Solih, the candidate put up by a coalition of opposition parties.
After the elections the news rapidly showed that Yameen had lost by a hefty margin and he initially conceded defeat and said he would step down on November 17, but then last week filed his petition against the election results.
The world is watching how the events are playing out in Male -- from New Delhi to Beijing to Washington. Ahead of the court hearing in the capital Male, the United States has warned "appropriate measures" would be taken if the will of the Maldivian people was undermined. European Union and India have also issued similar warnings. (With PTI inputs)