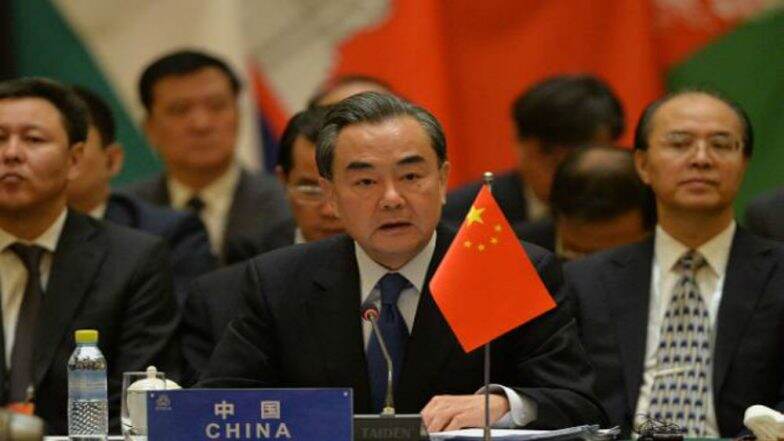 Beijing, February 25: As chorus for war grows stronger in India and Pakistan, China has signalled caution, saying that a military confrontation between the two subcontinental neighbours will have "serious implications" on regional peace. The remarks were issued by China's State Councilor and Foreign Minister Wang Yi, during a telephonic conversation with Pakistani counterpart Shah Mehmood Qureshi.
Wang Yi, reported the Pakistani media, appreciated Prime Minister Imran Khan's outreach to India, pitching for talks in the aftermath of the February 14 attack in Pulwama. The key Xi Jinping aide told Qureshi that the situation is currently "serious", and threatens the stability of the entire region. 'If India Opens War Front, Pakistan Will Retaliate', Warns Imran Khan.
Qureshi, meanwhile, told Yi that Islamabad is waiting for New Delhi's acceptance for the proposal of talks. He reiterated that Pakistan "wants to resolve all pending issues with India" through dialogue.
China, which has been apprehensive in condemning the acts of cross-border terror in Jammu & Kashmir, had signalled a shift post Pulwama attack, as it agreed to condemn the Jaish-e-Mohammed (JeM) in the UN Security Council statement.
Beijing, however, drew criticism from sections of the Indian media and intelligentsia, as it did not budge into the demand to name Masood Azhar, the JeM chief, in the UNSC statement condemning the Pulwama terror strike.
Notably, China has stalled all attempts made by India and its western allies, since 2008, to list Azhar among the UN-recognised global terrorists. On the contrary, it has veiledly accused India of attempting to "politicise" the 1267 Sanctions Committee of the UNSC, which proscribes individuals or organisations spreading terror.