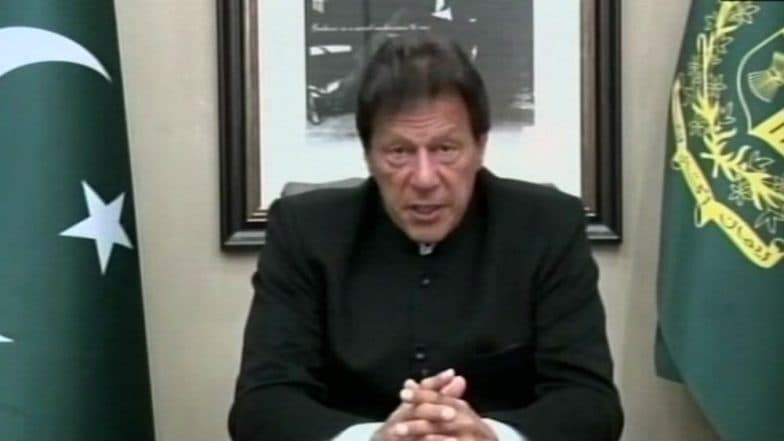 Islamabad, February 19: Fives days after the fatal terror attack in Jammu & Kashmir's Pulwama, Pakistan Prime Minister Imran Khan issued his first reaction, responding to the charges levelled against his nation by India. Khan said that his government is "not involved" in the militant attack, adding that it is ready to against "any group on its soil" if India hands over evidence.
"(Saudi) Crown Prince visited our nation. As soon as he left, I decided to issue my statement," he said, adding that the new Pakistan would not indulge in any act which vitiates the state of peace in the region. "Why would Pakistan abate such kind of terrorism? What will we gain by destabilising our region," he said. Pakistan Writes to UN Chief: Denies Role in Pulwama Attack, Says India Threatening Us With Force.
"It is in our interest that nobody from our soil spreads violence. I want to tell Indian govt that we will take action if evidence is found against anyone from Pakistan," he said.
'Pakistan Will Retaliate if India Wages War Against Us'
Khan said that Pakistan will "retaliate" in a befitting manner if India wages war against them. He, however, added that it not in the interest of either countries to indulge in warfare.
"If you (Indian govt) thinks you will attack us and we will not think of retaliating, we will retaliate. We all know starting a war is in the hands of humans, where it will lead us only God knows. This issue should be solved through dialogue," he said.
The attack in Pulwama was  reported on Thursday, February 14, when a local militant affiliated to the Jaish-e-Mohammed rammed a car full of explosives into a CRPF convoy. The fidayeen assault resulted into the death of 40 security personnel.
Within 100 hours of the terror strike, three Jaish operatives were killed, including mastermind of Thursday's attack Abdul Rashid Ghazi alias Kamran.