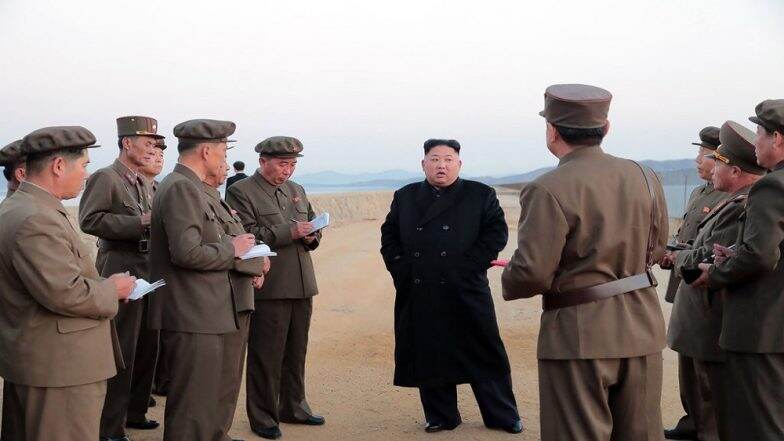 Toronto, January 30: US President Donald Trump is planning a record second summit with North Korean leader Kim Jong-un in order to move talks ahead on the Korean country's denuclearisation plan. However, his own intelligence agencies have given a reality check to the US President as they have predicted in their annual "worldwide threat assessment report" that Pyongyang is unlikely to give up its nuclear arsenal.
National intelligence director Dan Coats and other intelligence chiefs presented this annual report to the Senate Select Intelligence Committee on Tuesday. The report says that North Korea remains "unlikely to give up" its weapon stockpiles and production abilities while it tries to negotiate "partial denuclearisation steps to obtain key US and international concessions." Having nuclear weapons is seen as "critical to regime survival", it reads.
This threat assessment comes despite the historic summit between Trump and Kim Jong-un in Singapore last year at which both countries agreed to work on the de-nuclearisation of the Korean peninsula. After the June 12, 2018 summit US President Donald Trump had made the sweeping statement that North Korea no longer posed a threat to the U.S.
Just landed - a long trip, but everybody can now feel much safer than the day I took office. There is no longer a Nuclear Threat from North Korea. Meeting with Kim Jong Un was an interesting and very positive experience. North Korea has great potential for the future!

— Donald J. Trump (@realDonaldTrump) June 13, 2018
In another slap on the face of the claims made by the Trump Administration, on the basis of which economic sanctions have been imposed on Iran, the intelligence report says there is no evidence that Tehran has begun working on developing nuclear weapons. Although the report cautions that Iran's "regional ambitions and improved military capabilities" will probably threaten U.S. interests in the future.
Trump withdrew the U.S. in 2018 from the Iran and P5+1 JCPOA, which had halted Iran's nuclear ambitions in exchange for relief from economic sanctions.
However, Trump has slammed the report which was presented by the top heads of US intelligence including CIA chief Gina Haspel. Trump has called US intelligence agencies "naive" on Iran and also dismissed their assessment of the threat posed by North Korea. "Be careful of Iran. Perhaps Intelligence should go back to school!" Trump tweeted.
The Intelligence people seem to be extremely passive and naive when it comes to the dangers of Iran. They are wrong! When I became President Iran was making trouble all over the Middle East, and beyond. Since ending the terrible Iran Nuclear Deal, they are MUCH different, but....

— Donald J. Trump (@realDonaldTrump) January 30, 2019
....a source of potential danger and conflict. They are testing Rockets (last week) and more, and are coming very close to the edge. There economy is now crashing, which is the only thing holding them back. Be careful of Iran. Perhaps Intelligence should go back to school!

— Donald J. Trump (@realDonaldTrump) January 30, 2019
Trump warned that Tehran remained "a source of potential danger and conflict", referring to reported recent rocket launch tests conducted by Iran.