Celebrity chef and restaurateur Sarah Todd shared her experience of her meeting with Prime Minister Narendra Modi in the Australian city of Sydney. She gave a glimpse of their discussion on Ayurveda and its benefits.
Sarah Todd took to Instagram handle and dropped pictures with PM Modi from the meeting. Sharing the pictures, she wrote, "An incredible honour to be invited personally to meet one on one with the visionary leader, Prime Minister of India, His Excellency Shri Narendra Modi today in recognition of my work and achievements." PM Modi Meets Celebrity Chef Sarah Todd: PM Narendra Modi Interacts With Sarah Todd in Australia, Says 'She Is Very Passionate About India'.
Sarah's Meeting with PM Modi
View this post on Instagram
PM Modi on Meeting with Sarah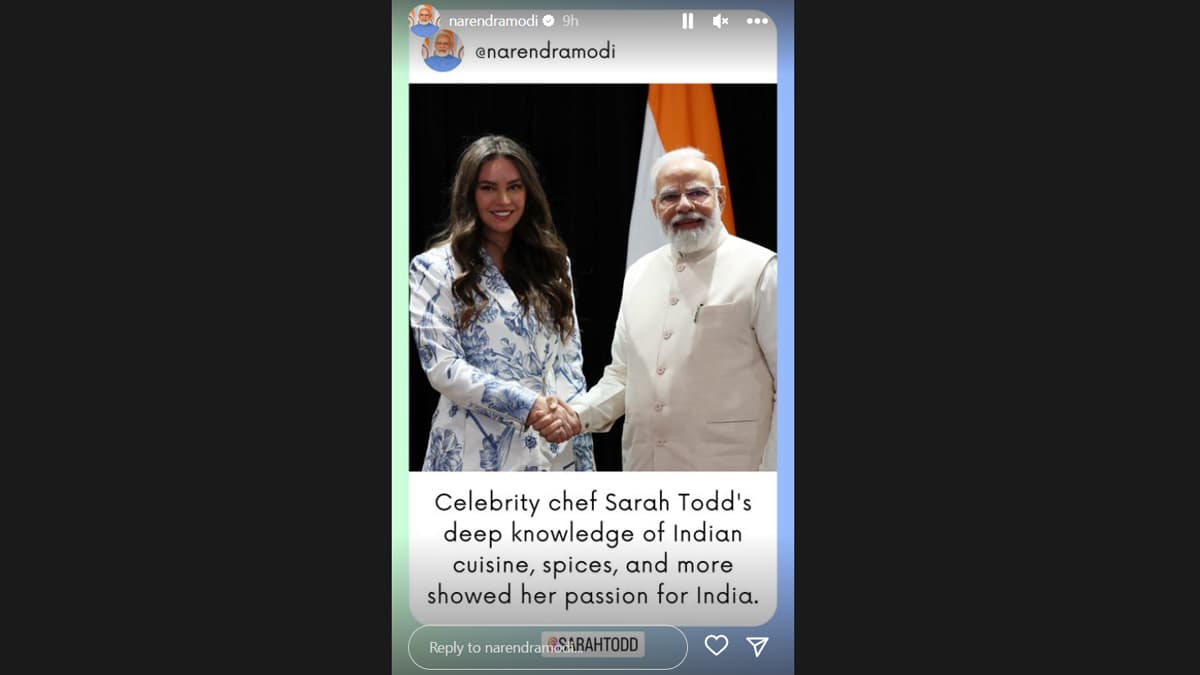 Sarah shared details about her conversation with PM Modi. "@NarendraModi and I engaged in a conversation that delved into the Ayurvedic principles of ancient Indian cuisine and the use of the finest local ingredients and their health benefits. Our discussion reinforced my love of India, my passion for the food industry and reaffirmed that I'm on the right track. Beyond the captivating conversation, we also discussed the next steps and carved a clear vision for the direction for me to follow. Grateful for Mr. Modi's guidance and support in shaping my path ahead," she added. PM Narendra Modi Makes Big Announcement for Indian Diaspora in Australia, Says 'India Will Open New Consulate in Brisbane Soon'.
She ended the note by saying, "Feeling inspired and grateful for this opportunity. Excited for the journey ahead!" Sarah has always been inspired by the incredible diversity in Indian cuisine. Her Insta posts are proof of this.
In this picture, a celebrity chef gorging on some delicious sandwiches and street food. "India, you never cease to amaze me! Every time I visit this beautiful country, I'm blown away by the incredible diversity in cuisine. From street food and the Sandwich to fine dining, there's always something new and delicious to discover."
"And it's not just the food, but also the vibrant fashion scene that continues to inspire me," she captioned the post. Sarah loves to explore ingredients and is always ready to indulge in all the amazing local dishes city like Mumbai has to offer. Her trip to Rajasthan was the inspiration for her first cook. Since her debut on MasterChef Australia, Todd has grown to become one the most renowned and exciting names in the Indian food scene, opening her first restaurant Antares Restaurant and Beach Club in 2014, where after she returned to Australian screens for a six-part series called My Restaurant in India, airing in 156 countries worldwide.
In 2020 Todd was invited as an official chef for the Australian Open in the AO Chefs Series, hosting a fine dining restaurant that was featured in a 5-part series called Perfect Serve. Meanwhile, Prime Minister Narendra Modi arrived in Sydney as part of the third and final leg of his three-nation visit after concluding his visit to Papua New Guinea. Earlier he met with the CEOs of Sydney-based companies.