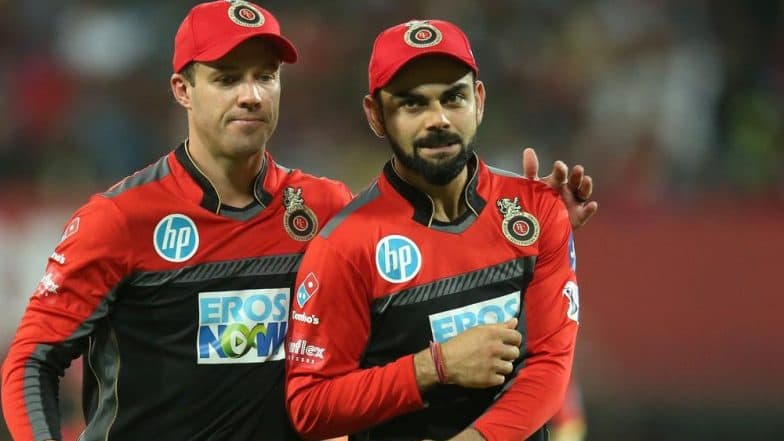 Cape Town [South Africa], Mar 15 (ANI): Having played with Virat Kohli for eight years in the Indian Premier League (IPL), AB de Villiers on Friday said "you can never take the class out of the guy" while referring to India captain's performance over the last year.The former South Africa wicketkeeper-batsman opined that he does not see Kohli, ranked number one ODI player, stopping very soon. However, he pointed out that the Indian captain is "human after all and, like any other cricketer, he will go through patches from time to time where he has to go back to the basics and work his way through it again".
"I believe it's his personality and mental strength that gets him through those moments and makes him the best ODI player in the world at the moment," Sport24 quoted de Villiers, as saying. De Villiers, who retired from international cricket in May last year, moreover, said there are lot similarities between him and Kohli."We are both fighters and don't enjoy losing, we love batting together and taking the game away from teams," said de Villiers, who has left South Africa to partake in the IPL, which starts March 23.
Following his retirement from global tournaments and series, de Villiers has participated in a few T20 events around the world, including the Mzansi Super League, Pakistan Super League (PSL) and Bangladesh Premier League (BPL). MS Dhoni & Virat Kohli Challenge Each Other Ahead of CSK vs RCB, IPL 2019 Opening Match; Chennai Super Kings has a Hilarious Reaction (Watch Video).
"I understand there were some emotions from the public when I retired, but ultimately I'd to be true to myself and what I felt 10 months back. It was time to move on. I respect everyone's opinions and emotions. I'm not 100 per cent sure what the guys feel on the other side - the coach, the captain and the team.
However, I'm pretty sure that they respect my decision and they have moved on really well," he said.With some of South Africa's cricketers ranked within the top 10 of batsmen and bowler's rankings, the former South Africa wicketkeeper-batsman believes his side has a chance to win the coveted World Cup, which is scheduled to be hosted in England from May 30 to July 14.However, when asked whether South Africa, also known as the Proteas, are the favourites for the upcoming prestigious tournament, he said, "The Proteas are certainly in the running, but I won't say they are the favourites to be honest". IPL 2019 Schedule in PDF: Download VIVO Indian Premier League 12 Full Timetable With Fixtures, Matches, Team and Venue Details.
"India and England are looking strong, Australia have won five World Cups in the past and Pakistan claimed the Champions Trophy in the UK two years ago. Those four teams are probably the favourites, but the way the Proteas have been playing in the 50-over format of late has been encouraging," he acknowledged.South Africa will begin their campaign against England in the curtain raiser of the World Cup on May 30 at The Oval in London.
(This is an unedited and auto-generated story from Syndicated News feed, LatestLY Staff may not have modified or edited the content body)