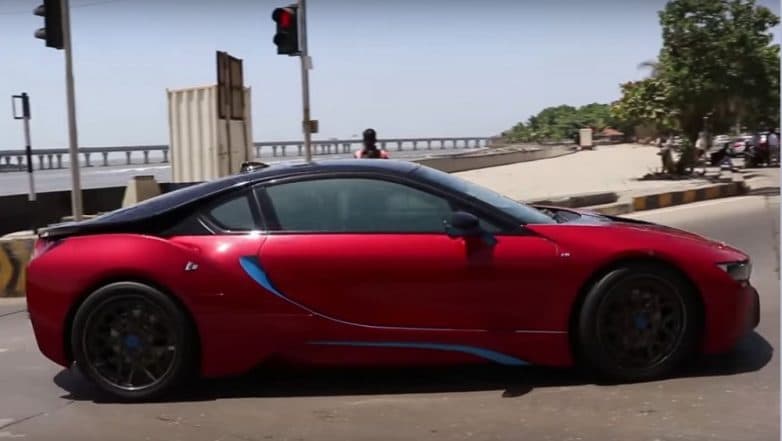 Sachin Tendulkar, a former Indian cricketer is very much popular of the Love of cars as he himself owns quite a range of exotic cars. Currently, the brand ambassador of BMW India, the Master Blaster also owns range of BMW cars in his garage which includes BMW 760 Li M-Sport, BMW X5 M, BMW M6 Gran Coupe, BMW M5 and a BMW M5 30. Another highlight to his possession is the BMW i8, a hybrid sports car which he was seen driving on the streets of Mumbai recently. Read More: Sachin Tendulkar Launches Khel Mahakumbh Organised by Anurag Thakur in Himachal Pradesh
Sachin was captured in a video while driving his hybrid sports car on the Sunday morning. The video also features other sports cars on the stretch, however, the main underline of the video was Sachin driving his BMW i8. Moreover, the hybrid sports car was presented to Sachin by BMW which was originally in white colour. However, the former Indian cricketer customized the same as per his own taste making it more unique. The BMW i8 is painted with red shade with blue accents making it one such sports car in the country.
Mechanically, the hybrid car from BMW comes fitted with a 1.5-litre, 3-cylinder petrol motor capable of developing massive power output of 231 Bhp and 320 Nm. The petrol mill comes mated to an electric motor which in combination develops 362 Bhp of maximum power with peak torque of 570 Nm. The hybrid sports car is capable of accelerating from stand still position to three figure mark (100 kmph) in merely 4.4 seconds. Read More: Salman Khan and His Love for Swanky Bikes: Suzuki Hayabusa to Intruder Bhai's Garage Have it all
With its unique styling and the powertrain, BMW i8 has become the world's best-selling plug-in hybrid car. The sports car is also very lightweight as it crafted from carbon fiber which gives rigidity to the vehicle. Another very important possession that Sachin till holds is his very first car - Maruti 800. He has owned other sports cars in the past such as Nissan GT-R and the Ferrari 360 Modena.