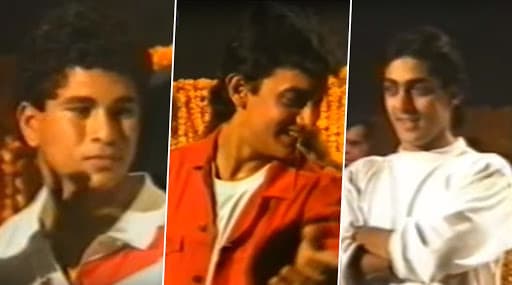 Andaz Apna Apna completes 25 years today. It's a known fact that when the movie was released, it was declared a flop. But it's run on Television was one of the most fascinating stories ever. People loved it so much that today Andaz Apna Apna is a cult. There isn't anyone from 90's generation who doesn't remember every dialogue or scene in the film. But did you know Sachin Tendulkar too had a part to play in the film? Padosan, Andaz Apna Apna Among Films That Make It to International Film Festival of India
A very young-looking Sachin attended the mahurat shot of the film. Aamir Khan, Salman Khan, Karisma Kapoor, Raveena Tandon were all present along with director Raj Kumar Santoshi. Dharmendra gave the mahurat clap, post which the actors did a small skit from the film. So Sachin may not have played any role in the film, but he was associated with the film. Check out the video here...
Everytime we watch Andaz Apna Apna, we love it more and more. So what happened in 1994 when the film released? Why did it tank? Aamir had similar feelings. Speaking Hindustan Times many years back, the actor had answered this question saying, "Actually, I loved the film. I thought it was fantastic. When it didn't do well in theatres, I was like, 'Kya hua yaar?' What went wrong?' But one of the obvious things that went wrong was that no one knew when it released. It was that big a disaster. It was a washout (smiles). Kisi ne dekhi hi nahi film."
Well, we can only wonder what would have happened had Andaz Apna Apna received the kind of adulation it gets now back in 1994.