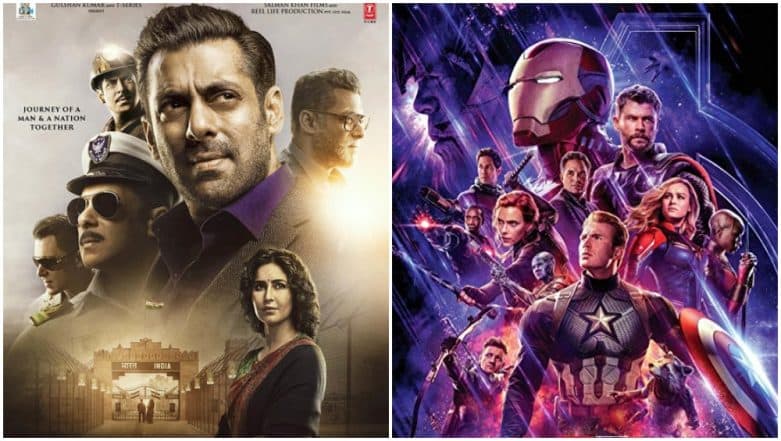 When it comes to 2019, Bharat has already become the second highest grosser of the year. Starring Salman Khan and Katrina Kaif in the lead, Bharat had taken off to a flying start at the box office when it released on June 5. Dodging competition from the X-Men film, Dark Phoenix, and India's first match in the ICC Cricket World Cup 2019, Bharat earned Rs 42 crore on its opening day making it the highest opening day collections for a Salman film. Not for Katrina, though, as her 2018 film Thugs of Hindostan with its Rs 50 crore Day 1 earnings has that record. Bharat Box Office Collection Day 6: Salman Khan Starrer Surpasses the Lifetime Collection of Kesari and Total Dhamaal, Mints Rs 159.30 Crore.
Compared to Salman Khan's last film, Race 3, Bharat also earned comparatively better reviews. That said, the superstar's films have always been critic-proof, with even his 'flop' movies, Tubelight and Race 3, earning more than Rs 100 crore at the domestic box office.
When it comes to comparing notes for a Salman Khan or an Aamir Khan film about box office, we have to look at different benchmarks compared to other stars in the industry.
In the case of Salman Khan, the success of his film is based on if the movie earns more than Rs 200 crore at the box office, and beat the earnings of his previous movies. Also whether it turns out to be the highest grossing movie of the year.
In 2019, that record belongs to a Hollywood movie till now. Avengers: EndGame, with its Rs 372.36 crore, is not just the highest grossing Hollywood movie in India, but also the fourth highest grosser behind Baahubali 2, 2.0 (all languages), and Dangal. Avengers: Endgame Worldwide Box Office Collections: Marvel Film Crosses $2.6 Billion, Needs THIS Much More to Beat Avatar.
As for the highest grossing Hindi movie of 2019, that record belongs to Vicky Kaushal's surprise blockbuster, Uri: The Surgical Strike with the earnings of Rs 245.36 crore.
Salman Khan's Bharat has to beat these movies to own the year. The question is, can it?
Going by the initial buzz of the film in the first couple of days, this feat looks manageable. After that, though, Bharat took four days to get to Rs 100 crore mark, which for a Salman movie, is a slight cause for concern. By the end of its Day 6 run, Bharat has collected Rs 159.30 crore at the domestic box office. What's more, the collections of Day 6 has dipped to a single digit figure (in crore, though).

Now for a normal Indian movie buff, the above figures may look mind-boggling. But this is a Salman Khan film we are talking about. And the fact that it has taken such a slump on its first Monday is concerning, though the movie enjoyed an extended weekend (by releasing on a Wednesday).
Now, see how Avengers: EndGame had performed in the same amount of period when it came out on April 26, which was a Friday. That too, a non-holiday (unlike Bharat, which released during Eid).

Going by the above figures, the Marvel film had made nearly about Bharat's cumulative collections of six days by its opening weekend. At the end of Day 6, the collections were still in double figures and the movie had earned Rs 244.30 crore.
But Salman mania can help Bharat make amends in the days ahead and catch upto Avengers: EndGame, right? Truth to be said, the kind of euphoria for Bharat is not matching the levels of mania we had seen for some of his previous movies. Bharat: 7 Landmark Events in Free India's History Salman Khan's Film Royally Ignores in Its 'Journey of Man and Nation Together' (SPOILER ALERT).
Like for example, Bharat is directed by Ali Abbas Zafar, who gave Bhai two of his biggest blockbusters in Sultan (2016) and Tiger Zinda Hai (2017). Tiger Zinda Hai, also starring Katrina Kaif, is Salman Khan's highest grossing movie of all time with earnings of Rs 339.16 crore. Now let's see how both the movies earned in the same amount of period as Bharat.
First, Sultan...

Total Earnings in six days: Rs 195.9 crore.
Tiger Zinda Hai...

Total Earnings in six days: Rs 190.62 crore.
As you can see, in comparison, the collections of both Sultan and Tiger Zinda Hai, despite releasing on a Wednesday, have shot much ahead of Bharat. Even the dip on the first Monday is held off to a double-digit figure.
While there is little doubt that Bharat can cross the Rs 200 crore barrier, it remains to be seen if it can beat Uri's total earnings, forget Avengers: EndGame's Indian box office collections. The pace of its box office run has slowed down, and some of the negative factors around the film, like its length, average public response, and the ongoing World Cup tournament, are affecting the movie.
There is some respite for Bharat, that there are no major releases in Bollywood this week. But will that be enough to boost Bharat's box office sustainability ahead? We can get a concrete idea by the end of its first week extended run, though the current run, while victorious, may not sound anything record-breaking for Bhai. Because when it comes to Salman Khan, our business expectations are sky-high.