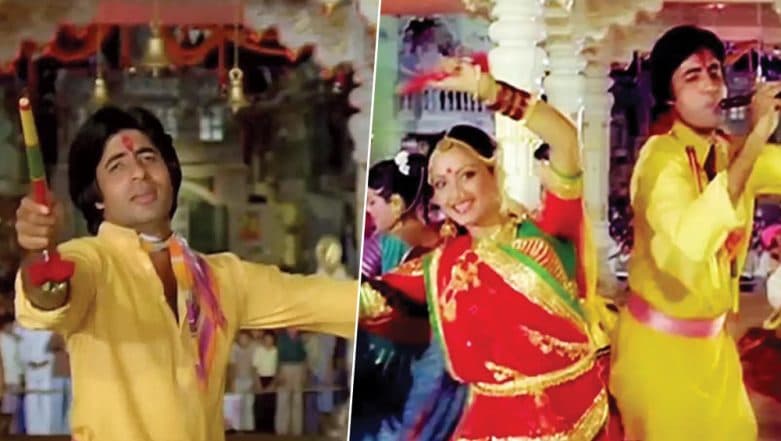 April month will start on an auspicious note. Starting from April 6, the devotees will celebrate the 9 days of Chaitra Navratri or Vasant Navratri. The festival is often related to exchanging wishes, preparing delicacies and worshipping goddess Durga throughout these days. Now, when we talk about festivals, Bollywood cannot be excluded. In no time, these songs became a part of the playlist that is played during the 9-day event. April 2019 Festivals, Events and Holiday Calendar: Chaitra Navratri to Gudi Padwa to Rama Navami, Know All Important Dates and List of Hindu Fasts for the Month.
Entertainment/film industry has also given us a few of such songs that are played during such occasions, years after years. When a particular song is featured in the movie, it reaches a large chunk of the audience, naturally making it popular amid them.
Earlier, we have seen a similar trait during other auspicious occasions like Ganesh Chaturthi, Diwali, Lohri and many other such fests. But the songs on Maa Durga have been like constant for the worshippers. So, check out few songs on Maa Durga that you might want to play to get the festive vibe.
O Sheronwali
The song is extremely popular amid the Bollywood fans. Starring golden on-screen couple Rekha and Amitabh Bachchan, the track is from 1979 film Suhaag.
Chalo Bulawa Aya Hai
The track is very much famous amongst the religious playlists. It stars Shabana Azmi and Rajesh Khanna in the lead. The serene locations also took away the attention of the fans.
Tune Mujhe Bulaya
Sung by legendary singer Mohammed Rafi, the track is from Aasha which stars Jeetendra and Reena Roy. The song of hope and happiness is easily one of the most heard tracks.
Maa Sherawaliye
Akshay Kumar and Rekha's track from Khiladiyon Ka Khiladi is one of the earliest tracks from his career. The song is sung by Sonu Nigam.
Durge Durgat Bhari
This song starring Sanjay Narvekar is from Marathi film, Aga Bai Arrecha. Composed by Ajay-Atul, it is the regular aarti to which they have given a musical touch.
As we said, the filmmakers have always been generous about giving us ample musical pieces related to various festivals or religious occasions. Other festivals like Ganesh Chaturthi, Diwali, Lohri, Holi have been gifted with wonderful songs. A-listers featuring in these songs also make it memorable.
The last day of Chaitra Navratri is on Rama Navratri or Ram Navami which is on April 14. In case you are searching for the images and GIFs to share with your near and dear ones on an auspicious day, click here! We wish you a prosperous and happy Navratri!