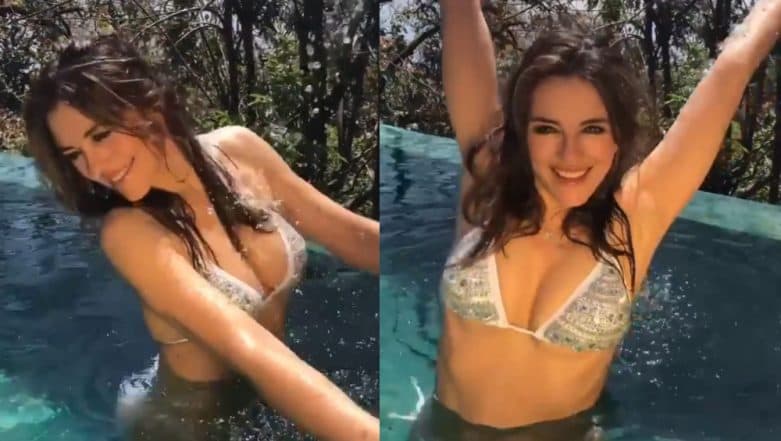 She is 53! Let us reiterate that. She is fu**ing 53!  British actress and model, Elizabeth Hurley, known popularly as Liz Hurley, takes a bath in the mountains of Himalayas. Away from the prying eyes of the media, Liz is seen indulging in fun and frolic in this video. The visual is enough to send her fans into a frenzy of sorts.
Known at the eastern shores for her much celebrated marriage with textile tycoon Arun Nayar (their subsequent divorce too gathered headlines across major tabloids). Hurley was earlier dating Hollywood heartthrob Hugh Grant. She was also dating Shane Warne before the two separated amicably. Shane Warne Criticises Australian Team; Says, They Need Kick at Their Backside!
And now, amidst the rumors of the legendary Australian spinner and the hottie coming together, surfaces this video! What is equally enjoyable, if not exactly  equally engaging, as Hurley's playfulness in the Himalayan waters, is the reactions she got for...dare we say the optical treat on offer here! She took to Twitter to surprise her fans with this one. The choicest reactions are hard to miss!
— Smiddy (@smiddy1988) April 8, 2019
An the award for super milf goes to Elizabeth Hurley for another year pic.twitter.com/82IDEoeEb6

— Lee Mac (@leemac_uk) April 8, 2019
— Dylan Evans (@DylanEvs11) April 8, 2019
— Cockney Yiddo (@cockney_yid) April 8, 2019
— James Kehoe (@JamesKehoe77) April 8, 2019
— Rob Nicholson (@rob_nicka) April 8, 2019
— Michael Napier (@mickynapier) April 8, 2019
Fans, If Liz has manged to evoke stronger reactions in your restless soul then feel free to express in our comment section below!