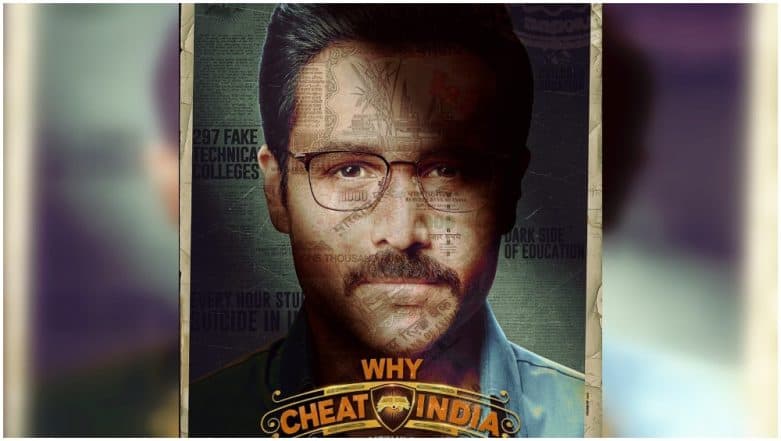 Now, who is getting clear deja vu feelings here? No one would have thought that what happened at the start of 2018 would be repeated in 2019. Last year, Sanjay Leela Bhansali's Padmavati was renamed to Padmaavat, thanks to the violent protests carried out by Karni Sena (and as suggested by Censor Board). This year, despite no such protests happening, the Board wants another January release to change its name. So Cheat India will now be called Why Cheat India. Silly but true! Cheat India Now to be Called 'Why Cheat India?', Emraan Hashmi's Movie Gets a New Title as CBFC Raises Concern.
The 'Why' is something I would want to put in another place - Why Censor Board. Why? A statement issued by the producers throws little light on the matter. It read, "The CBFC had concerns about the title 'Cheat India'. We had an extensive conversation with the Examining Committee and Revising Committee regarding the proposed change as the film has been in public domain for a year, and more importantly, because the theatrical teaser, trailer and television promos had already been certified with the original title. This would lead to dual communication a week before the release. The duress of lack of time left us with no choice but to mutually agree to the new title, 'Why Cheat India'." It's Official! Emraan Hashmi's Cheat India to Release on January 18; Avoids Clash With Thackeray Biopic and Kangana Ranaut's Manikarnika.
However, producers refused to share what the reason is for Censor Board to get offended by the name. That said, it is not very hard to take a guess here. If you have seen the trailer, Cheat India, I mean Why Cheat India is about the malpractices in the education system. So the title is a play on how the system is 'cheat'ing India.
So what does it have to do with the Censor Board's annoyance with the name? Well, the best guess we have is that with the upcoming elections, The Board, whose many members are associated with the ruling party, do not want the movie to sound like an accusation. Even if that's the case, then we have no clue why the addition of 'Why' makes any difference to the title, other than making it sound damn silly.
It is not just our view, many on Twitter are exactly clueless about this change.
Tweet #1
Why is 'Cheat India' now called 'Why Cheat India' ? Why does the censor board want this change ? Cheat India to Why Cheat India? Why ? @atulkasbekar #whycheatindia ? https://t.co/Rxl4DZ0AMR

— Shekhar Kapur (@shekharkapur) January 10, 2019
Tweet #2
#WhyCheatIndia because #ChowkidarChorHai . Simple!

— Sanjay Jha (@JhaSanjay) January 10, 2019
Tweet #3
Why #CensorBoard is so stringent ... Is there an actual difference between #WhyCheatIndia & #CheatIndia ???? @emraanhashmi @tanuj_garg @atulkasbekar

— Girish Johar (@girishjohar) January 10, 2019
Tweet #4
The title loses its impact by changing #CheatIndia to #WhyCheatIndia I wonder what was the need to such a change that too a week before the release of the film.

— RAJ BANSAL (@rajbansal9) January 10, 2019
Tweet #5
#CheatIndia is patented agenda of any govt in power in India so obviously that could not be used whereas #WhyCheatIndia seems quite on point in way because people have been asking this question for a very long time. https://t.co/NfWD7hAcVh

— Harmanjit (@chhupa__rustom) January 10, 2019
Tweet #6
Taking inspiration from #WhyCheatIndia , the Narendra Modi biopic will now be called Why Vivek Oberoi. https://t.co/wFQwy3kKFp

— Varun Thakur (@VarunmThakur) January 10, 2019
Tweet #7
By changing the name of a movie the censor board is only satisfying their own ego. It has no logic whatsoever. Public will go and see the movie irrespective of its title. #WhyCensorBoard #WhyCheatIndia @TSeries @tanuj_garg @emraanhashmi @atulkasbekar pic.twitter.com/7jonCMtV9G

— Devansh Patel (@PatelDevansh) January 10, 2019
Considering that The Accidental Prime Minister is coming this Friday and the Censor Board had no issues with that film, we really are mystified that just a title of 'Cheat India' made the members see red! Why Cheat India is releasing on January 18.