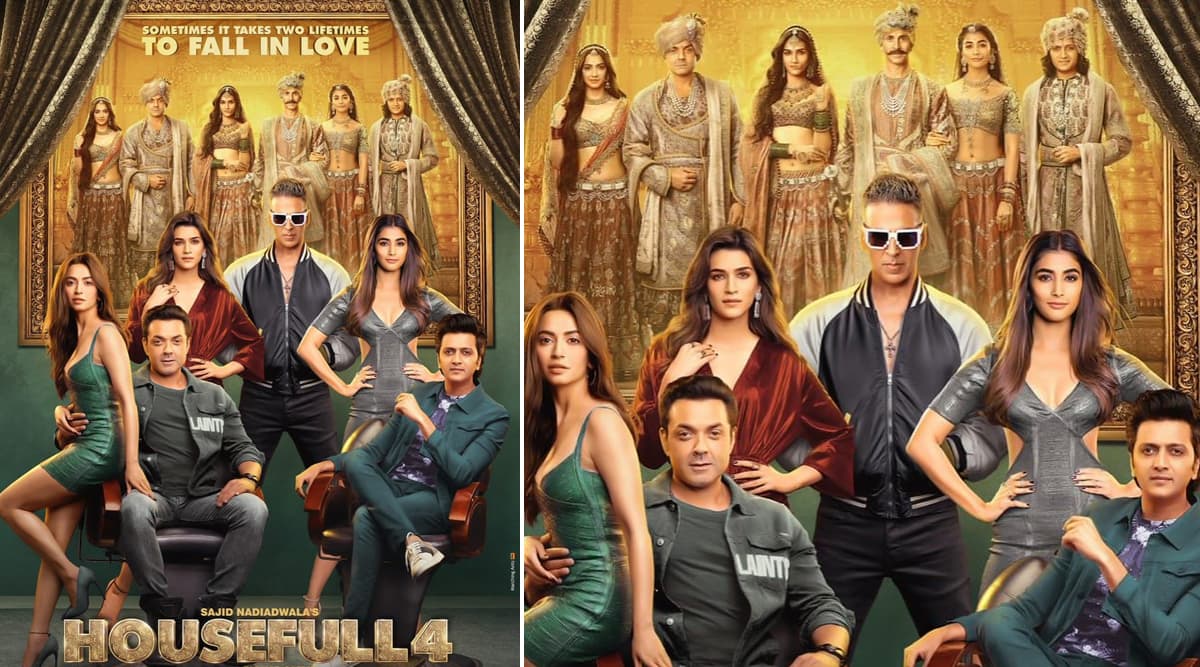 Housefull 4, as the name suggests, is the fourth instalment of the Housefull franchise. The franchise's main players like Akshay Kumar, Riteish Deshmukh and Chunky Pandey return, and joining them are Bobby Deol, Kriti Sanon, Pooja Hegde, Kriti Kharbanda, Rana Daggubati and Nawazuddin Siddiqui. Housefull 4 is directed by Farhad Samji. Now all the movies in the Housefull franchise aren't exactly a critics' delight, but they have won over the audiences who have a more patient palate for lowbrow content and lame jokes. If you have enjoyed what the series has offered you till now, then you might be able to enjoy Housefull 4. Otherwise... Housefull 4 Movie: Review, Cast, Box Office, Budget, Story, Trailer, Music of Akshay Kumar's Multi-Starrer Comedy-Drama.
Brothers Harry, Max and Roy are three losers in London, who have managed to woo three rich sisters whose father is a sleazy billionaire. Harry keeps having repressed flashes of a life he has no clue about. When they go to India to a place called Sitamgarh for their destination wedding, Harry finds that it has a connection to his and his loved ones' lives. He regresses back to his past life, where he was a haughty, vain, bald prince called Bala, who has been disowned by his own kingdom and wants to marry the princess of Sitamgarh. Chammo Song from Housefull 4: Akshay Kumar, Kriti Sanon, Riteish-Pooja and Bobby-Kriti Flirt With Each Other in This 1419 Era Track (Watch Video).
Housefull 4 is the far the most opulent film in the franchise, because of its larger than life visuals and its Baahubali-invoking splendour. The quality of the humour remains the same though. There are a few gags that do amuse you, and Akshay Kumar is on a scene-stealing form. It is his antics, especially as Bala, that offer most opportunities to smile. But some of the sleazy jokes are made more embarrassing by the fact that the movie was earlier directed by Sajid Khan, who was a #MeToo accused.