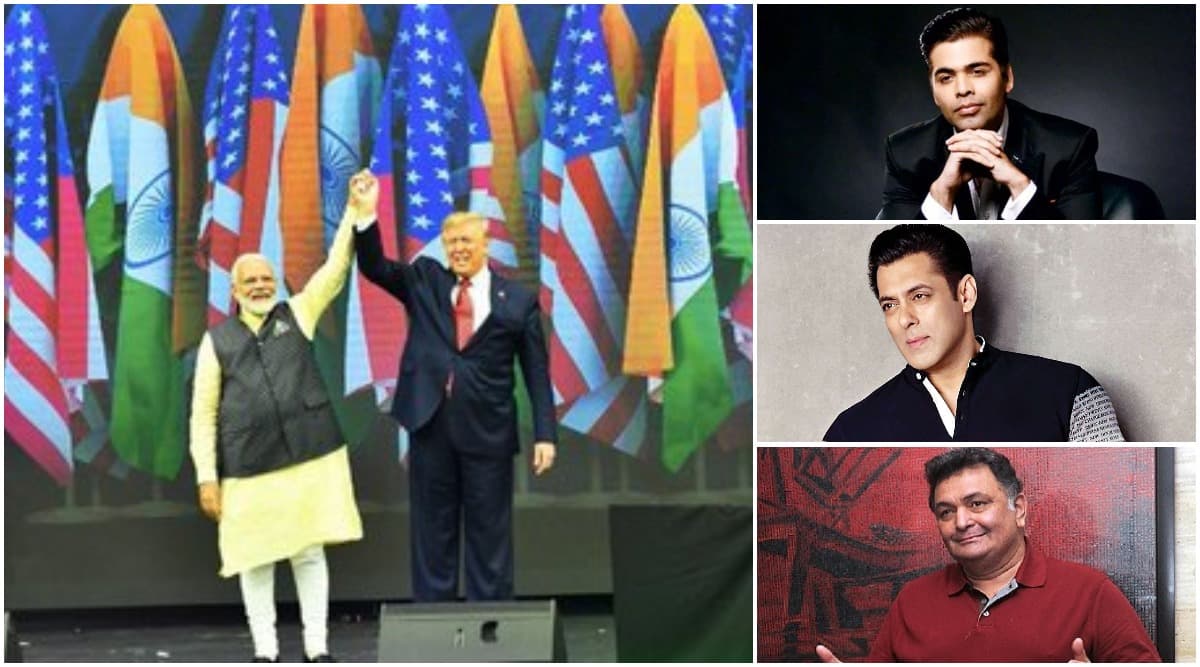 In a very significant and strategic triumph for the Modi administration. Prime Minister of India, Narendra Modi, had a grand welcome at Houston, USA. Nicknamed the 'Howdy, Modi!' In a packed stadium filled with about 50,000 Indians staying in the USA, Narendra Modi was given a red-carpet treatment by the organisers there, an event that was also attended by the US President, Donald Trump. The evening was filled with cultural programmes, where Narendra Modi had also spoken about the subrogation of Article 370, ridiculed Pakistan, and strangely assured the spectators there that everything is well in India. Howdy, Modi!: Abki Baar, Trump Sarkar', PM Narendra Modi Bats For Donald Trump at Mega Houston Event.
He also managed to eke out an assurance from Trump for a visit in India, as they spoke about strengthening the trade ties between the countries. Well, it was an  evening that would be cherished by the supporters of the Modi government. Even celebs were in awe of the event that showed how popular Modi is in the US.
Bollywood celebs like Karan Johar, Salman Khan, Randeep Hooda, Rishi Kapoor, Shekhar Kapur have took to Twitter to praised Modi's increasing influence among the NRI diaspora. Check out their tweets below:
Karan Johar
What an outstanding adress by our honourable Prime minister @narendramodi on a supreme world stage...so proud to watch the world watching the brilliant adress ....

— Karan Johar (@karanjohar) September 22, 2019
Salman Khan
Way to go PM Modi and Prez Trump for a great association between the 2 nations. . . @narendramodi @realDonaldTrump pic.twitter.com/FNqhkB4UyG

— Salman Khan (@BeingSalmanKhan) September 22, 2019
Rishi Kapoor
#howdymodi "Go Modi" - "Go Trump" - Houston, US. 🇮🇳🇺🇸 Proud of our being. Proud of the community. Proud of India.

— Rishi Kapoor (@chintskap) September 22, 2019
Randeep Hooda
Proud to be an #Indian all over again .. #IndiansAroundTheWorld are a great contributing community to all countries they adopt as home 👏🏽👏🏽👏🏽 #HowdyModi

— Randeep Hooda (@RandeepHooda) September 22, 2019
Shekhar Kapur
It's amazing how one leader of a Nation can have such a 'rock star' effect overseas. It's amazing watching @narendramodi hold 50,000 people with his words. Even @POTUS is watching in awe. There's something undeniable about the charisma of this man. https://t.co/WAmeyHdH7P

— Shekhar Kapur (@shekharkapur) September 22, 2019
Well, it looks like PM Narendra Modi has delivered a masterstroke with this one event. However, his US sojourn is far from over, so watch this space for updates on this.