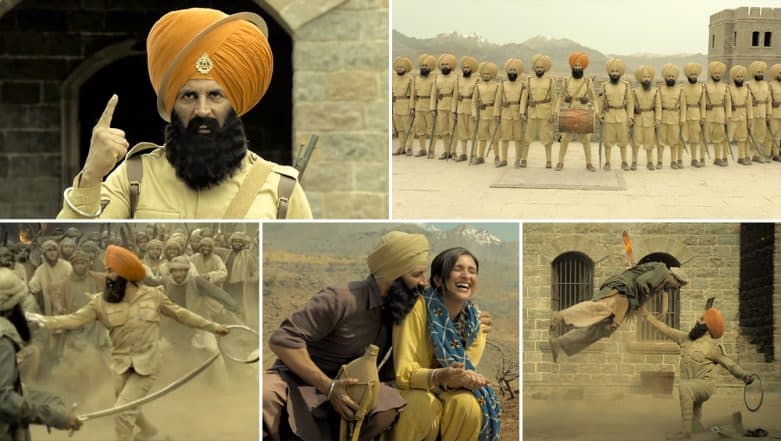 Akshay Kumar is always up for the stories that highlights the greatness of the nation and Kesari is one of them. There has been tremendous buzz around this Anurag Singh directorial. The first look of Akki from the film was alone enough to make all the 'Akkians' go gaga over him. Then followed the teasers and glimpses which had power-packed scenes filled into it. Now, after a long-long wait, here comes the trailer of the period drama that also stars Parineeti Chopra in the lead. Kesari: First Glimpses of Akshay Kumar and Parineeti Chopra Starrer Will Give you Goosebumps.
In the trailer, we can see how Akshay as HavilIn the Dar Ishar Singh, who is ready to lay down his life for his motherland. He explains in the trailer that Kesari (saffron) is the colour of courage, valor, bravery and sacrifice for the nation and urges his fellow Sikh fighters to join him in this epic battle. He channels his rage and anger to protecting his tribe and his nation from the enemies. He is unafraid and unfazed by the army of thousands who are approaching towards them for war and is hellbent on fighting the legendary battle. Kesari New Poster: Akshay Kumar's Blood-Soaked Sword Gives Us a Glimpse of How Intense the Battle is Going to Be.
Watch the trailer of Kesari starring Akshay Kumar here:
By now, you must be aware on what subject, the film revolves around. The film is based on the 1897 Battle of Saragarhi, where an army of 21 Sikhs fought against 10,000 Afghans. Akshay fits into the character of Havildar Ishar Singh and we wonder if anyone else could such an impact that of the Khiladi star.
Also, this is the first time that Pari is seen sharing space with the action star. Speaking of which, she was quoted earlier, "Akshay sir is as excited as any other actor on the set. He is happy to be there and he makes that extra effort to make everyone around him comfortable. I can expect it from the newer boys, but he is a veteran and doesn't really need to go out of his way to make actresses or crew comfortable and happy, yet he does. So, within the first few days you realise he is a beautiful person."