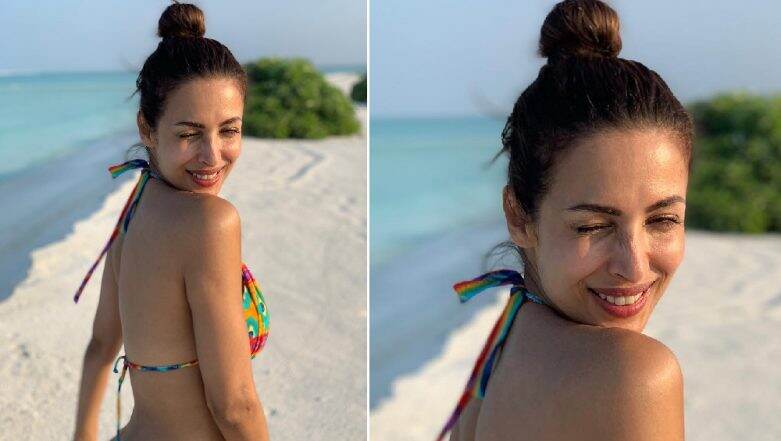 Celerity relationships are under constant scrutiny, be it from the media or the fans and while not many know how to deal with it, we think Malaika Arora has finally found the cure. The model who is hitting the headlines every day for her relationship with actor Arjun Kapoor has found the perfect way to deal with trolls and that is by shutting them up. Even though Malaika and Arjun haven't officially said anything about being in a relationship with each other, it is mostly their friends who have pulled the cat out of the bag. What's disturbing is that ever since their relationship became a talking point for the media, the model constantly faces a barrage of comments that discuss the couple's age gap and even the recent ones which include users leaving comments such as 'Aunty' on her Instagram pictures.
With her latest picture on Instagram, Malaika went out to send a straight out message tp her trolls saying she does not need their negativity. She wrote, "Being happy is a choice .n I choose to be happy ..... also I think happiness looks good on me.... so keep ur opinions n ur negativity to urself n spare me ur crap."
Check out her Instagram post here:
During her latest vacation in the Maldives, Malaika made sure to give out strong messages through her Instagram pictures. Despite all the negativity, Malaika continued to post her gorgeous pictures by defying people's ideas about her age having to do anything with her clothes. Malaika also went on to post a picture flaunting her stretch marks and made a strong point about body positivity with it.
Check out Malaika's picture with Stretch marks here:
View this post on Instagram
We believe Malaika is setting a great example for all celebrities by dealing with her trolls head-on. We hope she soon makes her relationship with Arjun Kapoor Insta-official too so that we can gush about their adorable picture.