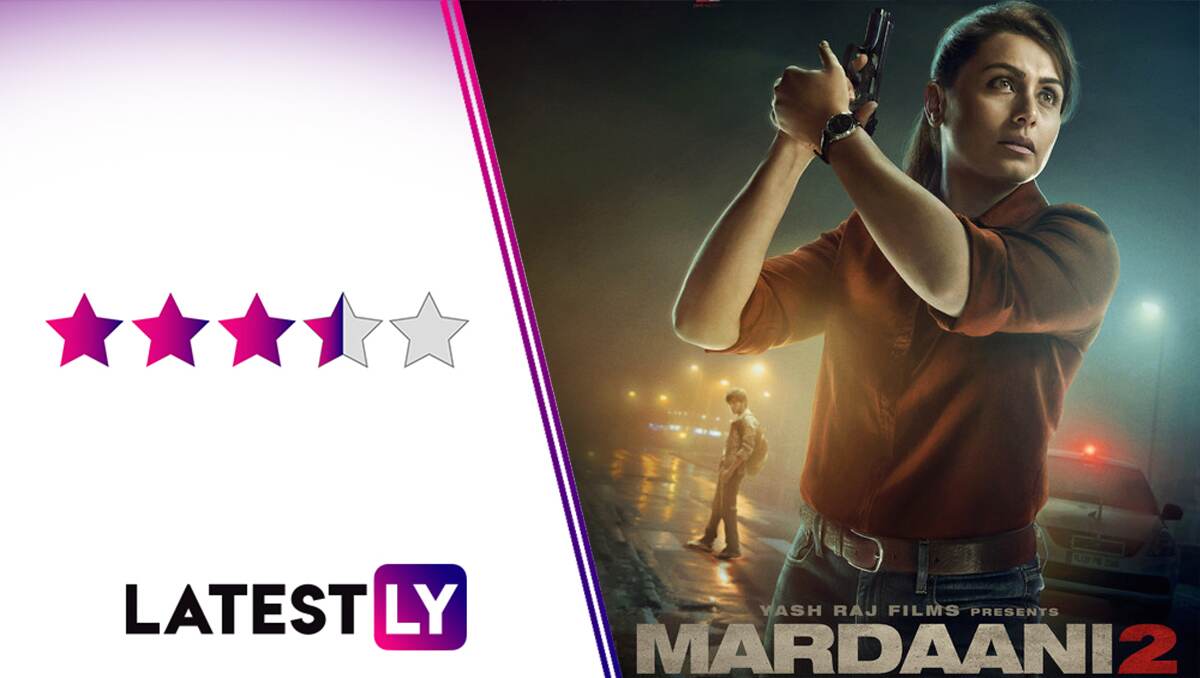 Mardaani 2 Movie Review: In Mardaani 2, a returning Shivani Shivaji Roy (Rani Mukerji) has two foes to defeat. One is Sunny (Vishal Jethwa), who hides a brutal, perverse nature behind his kiddish face. The second is the patriarchy and sexism that drive not just Sunny to commit some very sadistic crimes on his victims, but also what's persistent in her department. This is established in her intro scene itself, when Shivani arrives at a crime scene where Sunny has dumped the body of his first victim. Mardaani 2 Star Rani Mukerji Meets Special Night Patrol Police in Mumbai (View Pics).
The camera follows her as she first talks to her subordinate, who goes into victim-blaming and is clearly not happy serving a female officer, that too, of a different caste. Then she goes to where the body lies. Here, Shivani's instincts as an officer work first, as she looks for clues and deduces that the murder is the result of extreme hatred. It is only later that the grimness of the situation dawns on her.
While I am not very happy about the franchise led by a female having a masculine-sounding name, here, Mardaani kind of strangely fits with the film's theme. After all, it is the women doing what was supposed to men's tasks in an era gone by, which is hurting the antagonist enough to attack them.
Shivani is now the SP of Kota, Rajasthan and the brutal kidnapping, rape (that is shot in the same ominous manner as a similar scene in Sridevi's Mom) and murder of the first victim have shaken the city of coaching centres. Shivani's proclamation of dragging the perpetrator to the court provokes Sunny, who is also a professional killer, to stalk her and make her job even more difficult. He even manipulates the situation to get her transferred to another city. But Shivani is not ready to back down, as she races against time to catch this unseen criminal and bring him to justice before he claims another victim.
The first Mardaani was a thrilling affair, the sequel even more so. Gopi Puthran, who was involved in scripting the first film, takes the directorial reins from Pradeep Sarkar for the sequel. For a debut effort, Gopi does a really good job in keeping the film contained and focused.
With a runtime within two hours, Mardaani 2 is often fast-paced and thrilling, especially in the first half. The second half, which actually involves a deadline, there are a couple of deviations that hampers the pace a bit. Here's where the film's tackling of sexism roughly grinds against the cat-n-mouse game between Shivani and Sunny. Like, there is a shoehorning of a news show that rides on sensationalism, which indirectly blames Shivani for the murders. But it also offers an opportunity for Rani to deliver a fine monologue on how women never had it equal as men, despite the society claiming so. It isn't that whatever she is saying isn't new, but it is effective nevertheless, and thankfully, Mardaani 2 returns to the killer hunt afterwards. Mardaani 2 Makers and CBFC Receive Legal Notice over the Use of Kota City Name in Rani Mukerji's Film.
There are some really nicely-shot sequences in the film and powerful moments. The scene where the doctor, who conducted the post-mortem on a victim, describes the wounds in graphic detail is nauseous to watch. The sequence where Shivani first confronts the killer in her car brims with enough thrills, and doesn't make you take your eyes off the screen even for a second. The climax, while using a lot of cinematic liberties, is powerful enough. The background score by John Stewart Eduri effectively amps up the tension in these scenes.
Watch The Trailer of Mardaani 2:
I also liked how the film subtly uses the festival of Diwali as its setting for the events. The festival opens up operational challenges for the cops, but it also provides a breakthrough for Shivan during a crucial scene in the climax.  The final scene of her sitting on a parapet and weeping profusely with a mural of Goddess Kali stamping down on Mahisasura is a nice touch.
With the country angered over the brutal crimes that happened in Hyderabad and Unnao recently, the timing of Mardaani 2's release can never be perfect, even if it wasn't planned.
Mardaani franchise seems to find some really terrifying villains. Taher Raj Bhasin was a revelation as the criminal mastermind in 2014's Mardaani. Mardaani 2's Sunny is a far more malevolent entity whose reasons for attacking his victims has less to do with his sexual appetite and more to do with his hurting his toxic masculinity. I am not particularly a fan of the way he breaks the fourth wall to explain his intentions and reasons. The idea may be used to understand his psyche, but this Funny Games method of treating this character feels gimmicky and takes the realism out of the situation. The backstory for the character also doesn't really work well. Apart from these flaws, though, Sunny turns out to be a solid antagonist to Rani's daunting cop, stoking her self-respect and pricking her conscience, and taking pleasure out of it.
There are a few rookie mistakes in Mardaani 2, though, that could have been avoided. Like Shivani taking a victim's full name on television. As a senior police officer, she should have known better. The movie also uses some very convenient editing cuts to get itself out of some very tricky situations. In a scene, we find Shivani and her team reach a potential victim, on whom a time-bomb is strapped, with only 11 seconds to spare. What we see next is the police jumping out of the place with the girl, as her hiding spot exploded. How they got her out in such a short time is conveniently ignored.
PS: Mardaani 2 is not a remake of the Tamil thriller Ratsasan, as was previously speculated. Even though, both the films share similar themes and killers with a fetish of killing young girls. EXCLUSIVE! Is Mardaani 2 Inspired by Vishnu Vishal's Ratsasan? Rani Mukerji Has THIS to Say on the Comparison!
The Performances
Rani Mukerji delivers yet another powerhouse performance in her second outing as Shivani Roy. The scenes where she establishes anguish and fury are extremely convincing, and the way she makes some of the well-written dialogues sound so impactful deserves accolades. Television star Vishal Jethwa is a brilliant find. It is hard not to find yourself disgusted by his character's vile antics, which also includes child-killing, and Vishal's menacing performance adds a sufficient amount of dread in those scenes.
Yay!
- Rani Mukerji
- Vishal Jethwa
- The Crisp, Thrilling Narrative
- The Adequate Runtime
Nay!
- Convenient Editing Cuts
- The Villain's Fourth-Wall Breaking Gimmick isn't That Effective
- The Discussions on Patriarchy Puts a Dampener on The Hunt in a Couple of Occasions
- A Slightly Weaker Second Half
Final Thoughts
Mardaani 2 is effective, thrilling and powerful, with fantastic performances from Rani Mukerji and the young Vishal Jethwa. It isn't easy to watch, especially some of the brutalities that are shown or discussed. The movie also has its occasional slip-ups and stumbles. Overall, though, Mardaani 2 is evocative enough to raise your emotions over the atrocities happening on women, and yet not taking the Simmba approach of being irresponsible.