The vacation diaries of Priyanka Chopra and Nick Jonas have a lot to say about their blossoming romance. Priyanka brought her American musician-actor boyfriend in India to meet her family and later they went on for a vacation in Goa, joined by her brother Siddharth and cousin, actress Parineeti Chopra. In Goa, we have seen so many pics and videos posted by the stars that nearly confirms the status quo of their relationship.
Now we have another picture posted by Priyanka on her social media that nearly cements what Jonas means for her. The picture, interestingly, doesn't have Priyanka. It, instead, has her brother and Jonas facing the sea, while the picture shows their backsides. It is the caption that Priyanka gave to the picture that caught our eye - 'My Favorite Men'. Her brother sure, but Jonas, hmmm... Should we say more!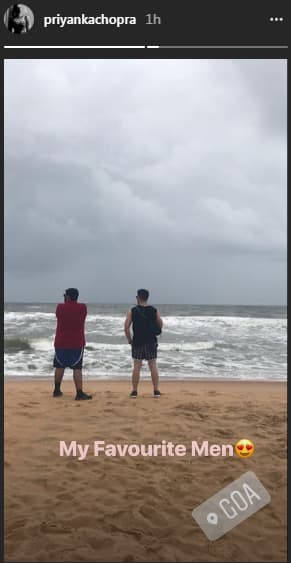 Reports also suggest that Priyanka might want to move-in with Nick. A source close to the development told a publication, "Nick is telling pals that Priyanka is the one and he's asked her to move in with him. Nick loves that Priyanka is older and more mature than his exes. There's no game playing. They have a really easy relationship."
(The above story first appeared on LatestLY on Jun 27, 2018 11:14 PM IST. For more news and updates on politics, world, sports, entertainment and lifestyle, log on to our website latestly.com).