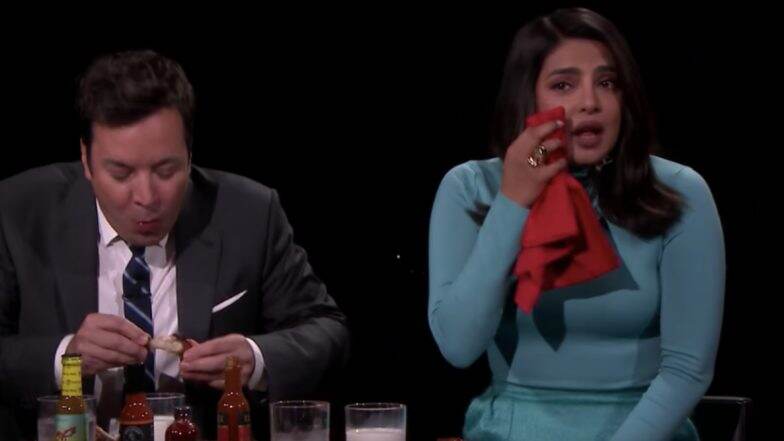 Priyanka Chopra Jonas has been busy with the promotions of her new film, The Sky is Pink. After wrapping up with the India promotions, Chopra headed for the US and recently appeared on The Tonight Show With Jimmy Fallon. This wasn't Priyanka's first time on the show and previously we have seen her take up fun challenges with Jimmy on the show although this time it was truly a tough one. Priyanka and Jimmy took part in the deadly Hot Ones challenge hosted by Sean Evans which in the past we have seen has left several celebrities in tears. Priyanka Chopra and Nick Jonas Lean in for a Kiss and The Sky Is Turning Pink (See Pic).
In the challenge, PC and Jimmy were to eat hot wings, (Yes, we remember the last time Chopra killed it in the Hot wings challenge!) with a different hot sauce added onto each one, starting in the 'chill zone' to the hottest sauce, which is 400 times hotter than a jalapeño.
Priyanka did start off well in the challenge since at first, she managed to handle the spice levels way better than Jimmy. She is even seen joking about Nick's Hot Ones challenge which took place in May. She mentioned how she prepped him for the challenge before and said, "I did tell him that he needs to do this for the Indians. Now that he's married to my entire country, he needs to bring it home for us. So he really tried to get it. But after your show, it was a long conversation and a brutal three days."
Check Out Priyanka Chopra Taking the Challenge Here:
As the Hot wings get hotter, we see Priyanka reaching for the glass of water with tears rolling down her eyes. By the time Priyanka and Jimmy reach the last hot sauce, they are seen crying and having a hard time to keep it together.Who Made Selena Gomez Cry? Well, These Spicy Wings from the 'Hot Ones' Challenge on Jimmy Fallon Show are to Blame! (Watch Video)
Although it sure is amazing to see how Priyanka is always up for a challenge and didn't back out. Towards the end, she's even seen saying, "I can't even talk!"