For the past two weeks, Priyanka Chopra has been on a promotional spree in India for her film, The Sky Is Pink. The movie is marvellous and you should definitely check it out. The actress recently jetted off to New York, but again continued the promotions for the film there. Finally, as the movie opens in theatres today, the actress seems to have some free time on her hands. She decided to spend it with her husband, Nick Jonas. The 'Sucker' singer took to his Instagram story and shared a pic with his 'baby'. The two, as per the caption, were attending the JBL Audio Fest. Exclusive: Priyanka Chopra Talks About Her Project with Russo Brothers, Says 'It's Sort of Action' (Watch Video).
From the brief glimpse, we can see that Priyanka's hairstyle is on point. In the picture, the two are leaning for a kiss.  A perfect tease for the fans. Exclusive: Priyanka Chopra Cutely Imitates Her Mother While Talking About Her Reaction to The Sky Is Pink (Watch Video).
Check Out Nick and Priyanka's Picture Below: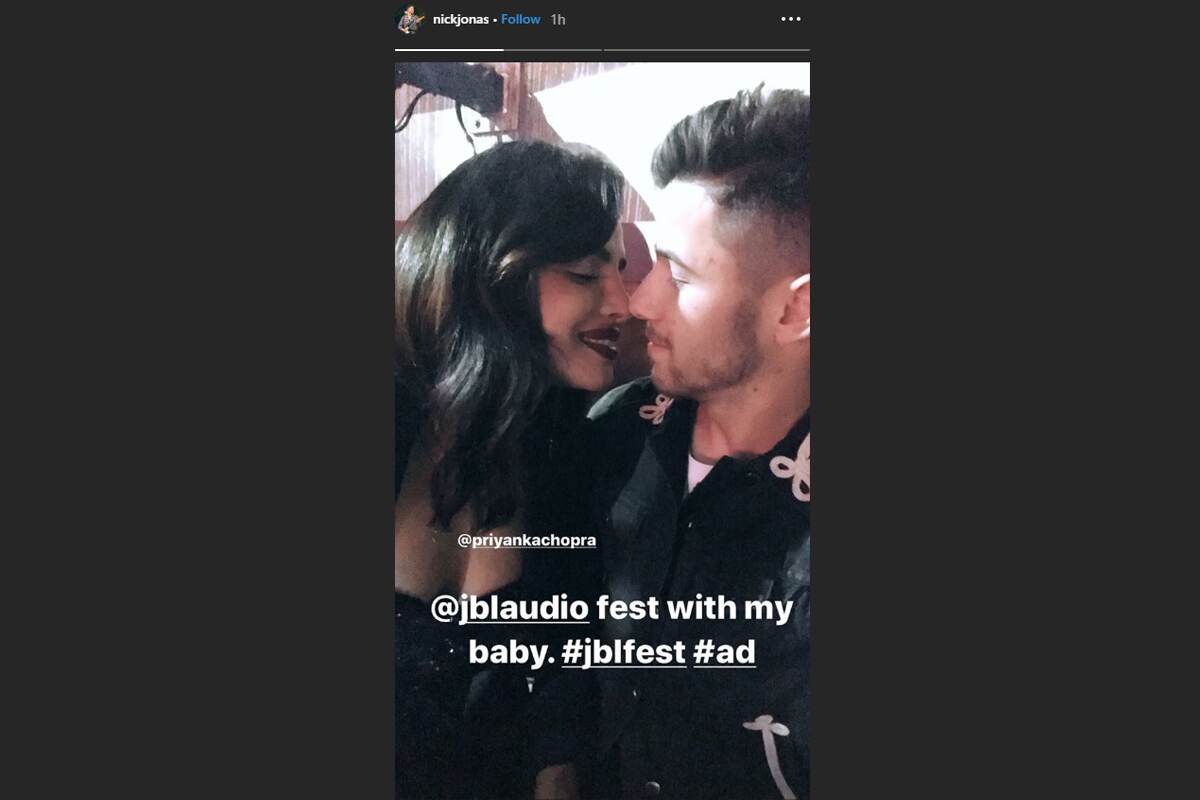 Watch Priyanka Chopra Talk About The Sky Is Pink Here:
Earlier, Nick had praised The Sky Is Pink on his Instagram page. He wrote, "This film touched my heart in so many ways. The story is bold and beautiful, and told perfectly by this incredible cast and by @shonalibose_'s direction. @priyankachopra I am so proud of your work as both an actor and producer in this film. You made me smile, laugh and cry and I know you are going to impact so many people's lives with this film. I love you so much," The Sky Is Pink Movie Review: Priyanka Chopra-Farhan Akhtar's Emotionally Charged Film is Pure Gold.
The Sky Is Pink has been directed by Shonali Bose. The movie also stars Farhan Akhtar, Zaira Wasim and Rohit Saraf.