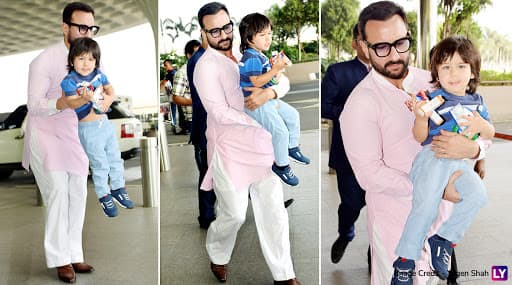 Yesterday, we told you how Saif Ali Khan and Taimur were spotted at the airport. The little guy was carrying a lot of boxes in his hands and looked disinterested to indulge the paparazzi. Now there is a video inside the airport which is going viral and has the two of them in an interesting conversation. For some reason, Taimur is tearing up and refusing to do something. Saif can be seen sitting next to him to match his height and trying to pacify him. Taimur Ali Khan Makes Yummy Ice-Cream for Mommy Kareena Kapoor Khan as the Mother-Son Duo Attend a Cooking Workshop Together (See Pics)
Of course, it just another video of a father consoling his kid but it's Taimur and thus, it becomes news. We tried to decipher what exactly the kid was saying. From what we could understand, he was muttering something on the lines of 'I won't do it' or 'I won't go'. The latter seems more plausible as they were at the airport. Check out the video here and decide for yourself.
Taimur is growing up and like any other kid, he is becoming increasingly moody. This reminds us of Abram who was a darling of the paparazzi once and now tries his best to not get clicked.