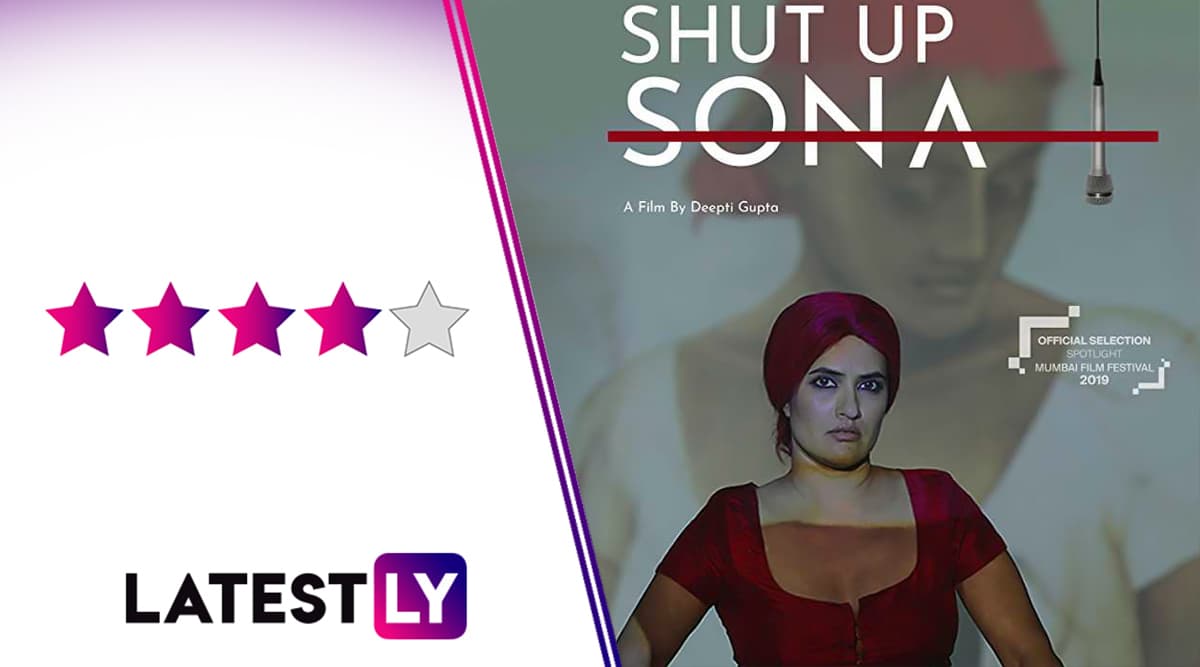 Shut Up Sona Review: Screened at the 21st MAMI Film Festival, Shut Up Sona is directed by Deepti Gupta, which is a documentary based on the controversial life of Indian singer from Cuttack, Odisha Sona Mohapatra. An established singer, Sona has several hits to her credit, including "Kabhi Aar Kabhi Paar" and "Ambersariya" and Coke Studio unplugged hits such as "Rangabati", "Piya Se Naina," "Aigiri Nandini" to her name. The 84-minute-long documentary is highly engaging, honest and riveting to the core. It doesn't mince words while sharing the bold perspective of the eponymous feminist artist.  MAMI 2019: Deepti Naval Honoured with Excellence in Cinema Award at the Opening Ceremony.
The entire documentary dwells on Sona's love for folk music, her curiosity for the origin of great creations by Sufi Legend Amir Khusrow and the ideal devotee of Lord Krishna -- Mira Bai. From her journey to the mystical land of Jodhpur to her jugalbandi with the Maulanas at the Hazrat Nizamuddin Dargha,  the documentary shows Sona's love for traditional folk music.
Shut Up Sona is as much about Sona's activism as much as it is about her music. The film opens with a 2016 incident where Mohapatra was denied a solo performance at the Mood Indigo, IIT Bombay's annual fest after her sponsors backed out. And she revolted.
Being absolutely outspoken by nature, Mohapatra speaks her mind out every time. She has openly lambasted Salman Khan in the past for targetting Priyanka Chopra, called out the Sufi board of India and taken a legal stand against the Sa Re Ga Ma Reality Show Judge on the music video of her song "Tori Surat." It's a delight to watch Sona calm as ice reading out all her social media hate comments and taking them down with her humorously savage replies! MAMI Movie Mela 2019: Kareena Kapoor Khan, Alia Bhatt and Karan Johar Look Stylish at the Film Festival (View Pics)
Her husband music composer Ram Sampath and director Deepti Gupta's support for Sona in her tough times is what drove the bold artist, this immersive film reveals. An interesting part about the documentary is when she recollects Vishal Dadlani patronising her when she pointed out about lack of female performers at NH7 Weekender. His misogynistic reply  to her was: "Who are the women artists after all?"
But it was her initiative, which led to an increase in the number of female performers at the NH7 Weekender. From four percent, it went up to 20 percent at the concert.
Coming to the technicalities, I am not sure which camera was used by Deepti Gupta to shoot the documentary but its flawlessly rich cinematography is impressive. Every scene is well filmed and the framing is spot on. Editing by Arjun Gourisaria is more than perfect and Niraj Gera's Music enhances this intriguing insightful documentary on Sona's life.
Shut Up Sona Trailer
Final Thoughts
The film focusing on Sona Mohapatra's "messed up" phase of life had it all -- from FIRs to rape threats from extremist religious groups. The documentary gives us an insight into her activism and her never-give-up attitude apart from her music. It is a must-watch for sure. Don't miss this. Shut Up Sona is a gem!