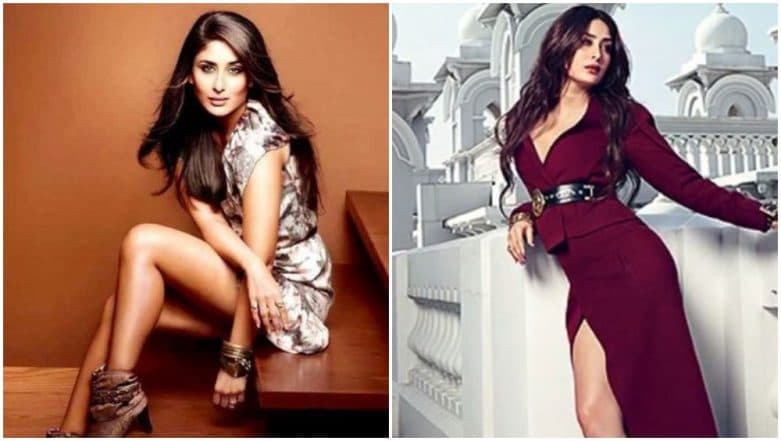 Kareena Kapoor Khan sure knows how to give witty replies. As an actress, it's utmost essential for her to have a perfect appearance all the time. From the attires she picks to her makeup for the day, everything has to be simply perfect and there's nothing to compromise there. So will Bebo ever step out with hairy legs or upper lips? Given that she's too tired to go for waxing? Ask her as an actress and she'd say no but as an ordinary lazy human being, she will. This week, a journalist and social media influencer who promotes body positivity and acceptance of body hair was the guest on Kareena Kapoor Khan's chat show, What Women Want, which airs on Ishq 104.8 FM. Taimur Ali Khan's Momma Kareena Kapoor Khan Is a Doting Mother, Say Fans (Watch Video).
When the guest asked Kareena if she'll ever step out with hairy legs in public, she said, "There are a lot of times when I don't shave and I'm lazy. I'm like, 'Oh God, I don't want to!' But then I'm like, 'Oh God, I have a shoot!' What are you supposed to do? I mean, this is the profession that I am in and I'm supposed to not have hairy legs. But I'm very happy to be like, 'Listen, I have not shaved today. Let's just wear jeans na! Can we not wear this skirt?' I am very happy to be like that."
Watch Kareena's conversation below
The Takht actress even revealed how she goes out without bleaching her upper lips for weeks. "I'm like, 'Oh God, I hope I don't have a muchchhi. I'll be looking like my husband.' I am as normal," she said. It's only later when her manager makes her aware of how makeup accentuates it, she realises and has to unwillingly go for it. Kareena Kapoor Khan Gives a Magical Tip to Ranveer Singh to be the 'Top' Husband to Deepika Padukone (Watch Video).
Well, we bet so many women out there will relate to Kareena on so many different levels. While shaving is not a quintessential part of their lives, it's a social norm that they are asked to follow. Only if saying 'screw it' can be an option!