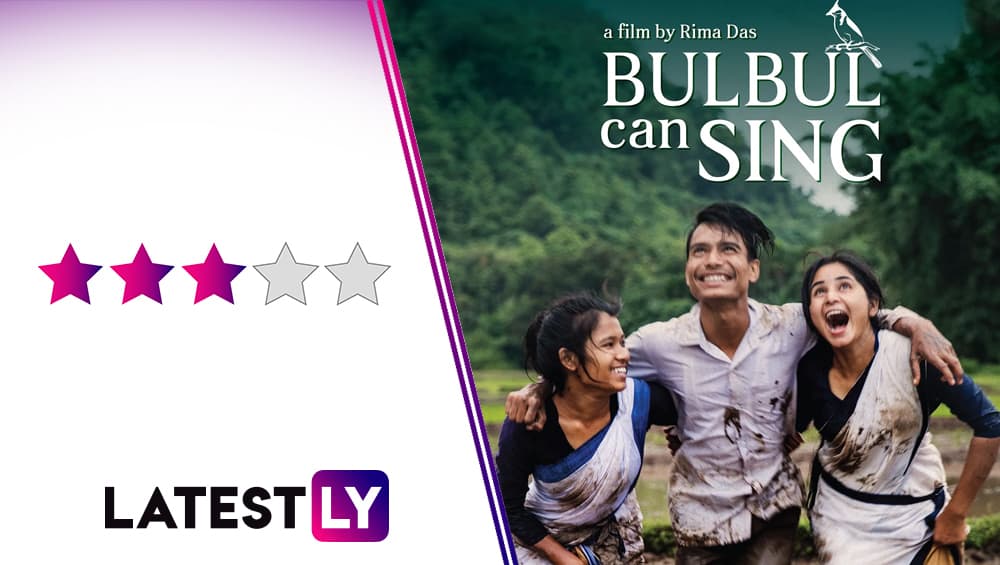 After the much-acclaimed and one of my absolute favourite films, Village Rockstars which spoke deeply about the power of hope and ambitions, director Rima Das is back with a feature that is more layered and laden with complex emotions, titled Bulbul Can Sing. The film revolving around three teenage friends, Bulbul (Arnali Das), Bonny (Banita Thakuriya) and Suman (Manoranjan Das) is an evocative piece on adolescence. This coming-of-age tale sets itself apart from many other films dealing with a similar subject mainly because of its setting. These are not smartphone holding, Whatsapp chatting teenagers, they are the ones who are seen tying make-shift swings to the bark of trees and making memories in the midst of nature which is almost like the fourth protagonist of the film. Uri: The Surgical Strike and Village Rockstars Bag Nominations for Best Asian Film Award at AACTA 2019.
Bulbul Can Sing's Bubul (Arnali) finds it difficult to sing free-spiritedly and throw her voice at a high pitch when singing in front of a crowd, something that her father wants her to work on as he pines for her to be a singer. Mind you, don't mistake her for a shy girl, she's much like the bird she's named after, chirpy but only when in the company of her friends. Bulbul's friend Suman, is a teenage boy,  trying to find himself in a world that won't let him be and is determined to give him a tag. His classmates even term him as 'Ladies' for his effeminate ways. Through Suman's character, Das makes a strong point about the pressure on men/boys to be tough and makes us introspect and what truly constitute as 'manly' deeds. A sensitive Suman who is much happier in the company of his girl friends Bulbul and Bonny, even questions at one point if it really is his fault for being the way he is. But Das' story of the coming of age of these characters is not a light-hearted one. It takes a dark turn when the director throws light on the impact of patriarchy on their lives.
She also brings up the very relevant issue of moral policing in an unfortunate twist. There's a dialogue at the start of the film where we see Bulbul being asked to not leave her hair open because it may attract spirits of dead girls. The line almost has an unusual way of haunting us in an emotional manner, later in the film. It's difficult to find your identity and hold your own in a society that is mired with superstitions and moral codes. In a society where individuality is cursed upon, it's the fight between the internal and external forces that Bulbul has to take on. Rima Das' 'Bulbul Can Sing' Bags Top Honour at MAMI.
What instantly stands out in the film though is the purity of emotions. The comfort with which we see Suman, Bonny and Bulbul taking a bath in a lake together or Suman casually lying next to Bulbul on the bed as the duo talk, speaks volumes about platonic relations and is captured with a gaze that hasn't been explored before. Das also beautifully walks us through Bulbul's involvement with her first crush. Bonny and her boyfriend's story has another lesson to teach.
Even as the film's story keeps you engaged, towards the second half, it seems to move slightly slower and also gets predictable. There are some scenes that seem stretched because of Das' unhurried direction and I felt like sharp editing could have contained that slump one feels while we are on this journey with Bulbul and her friends. While Bulbul's story remains the focus, I couldn't help but feel that it was Suman's plot that needed more attention and that his ordeal with his identity had the potential to tackle something bigger in terms of making a comment.
Like her last film. Das one again puts on several hats as she turns the director, writer, producer and editor for the film. There's no doubt that she has immense talent and looking at this film, it looks like she's only getting better. Das' decision of not hiring professional actors once again pays off as Arnali, Banita and Manoranajan bring out their natural best and almost make us feel like a part of their clique. For me, it is Manoranjan who stands out with a fabulous performance as Suman. I do miss the inclusion of more local music in the film like Village Rockstars where we saw Bhanita break into songs and hum melodies.  Das knows best how to capture the ethereal beauty of Assam and she does so in one of the most luminous scenes where the village is lit up for Diwali celebrations with 'Diyas' and firecrackers. You'll find yourself craving for a simpler, non-materialistic life looking at that scene.
Bulbul Can Sing has its poetic moments and is a moving piece on adolescence and making sense of it. Given the way of the world, Bulbul doesn't come unscathed as she makes the transition from being a teenager to a woman. Like Village Rockstars, this film too leaves an after taste that lingers, with some introspection.