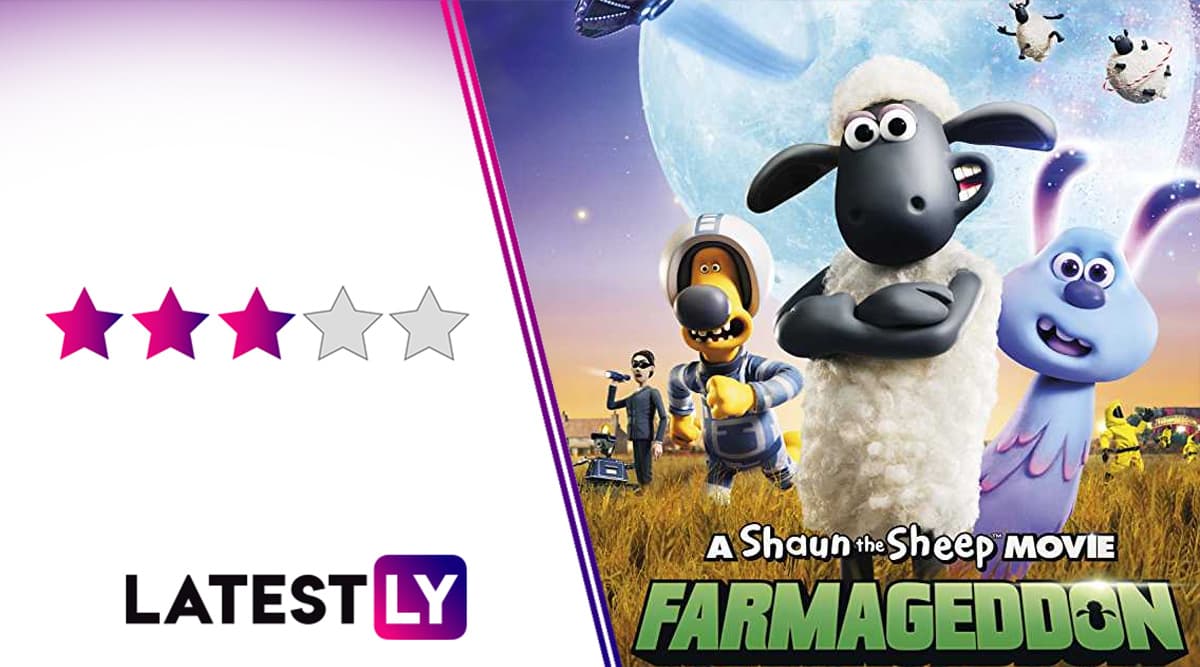 A Shaun the Sheep Movie Farmageddon Review: Everyone loves Steven Spielberg's classic alien adventure, ET: The Extra-Terrestrial. So much that Hollywood itself has rehashed the plotline of a do-gooder Earthling finding an alien and trying to return it home, quite a few times. Remember Paul? In Bollywood itself, we have had Hrithik Roshan team up with a bunch of annoying kids to return an expressionless Jadoo back to his planet in Koi Mil Gaya. Now Shaun The Sheep has his own Extra-Terrestrial adventure, as he gets to take care of an adorable, Earth-wrecked alien, Lula. Nick Par Gets Emotional About Wallace and Gromit: 'They Are My Family; I Love to Come Back to Them,'.
The sequel to the 2015 film, Shaun The Sheep, the movie sees Shaun and his brethren making merry at the Mossy Bottom Farm. Of course, they are being monitored by the strict sheepdog Bitzer. In their sleepy town arrives a space-craft and with it, the lost Lula, who Shaun manages to find hiding in the barn. While his owner, The Farmer, turns his farm into an alien theme park (Farmageddon), Shaun tries to help Lulu get back to her planet.
Well, the premise, as I mentioned before, isn't anything new. You have the protagonist trying to find the right means to send his awfully cute visitor friend back home. You have a shadowy Men in Black-like government organisation, led by a mysterious lady, figuring out where the alien is. And yes, there is a happy ending that you expect the movie to have. BAFTA 2020 Full Nominations List: Joker, Once Upon a Time in Hollywood, The Irishman Lead In Maximum Categories.
Yet, A Shaun the Sheep Movie: Farmageddon turns out to be an enjoyable movie, especially when Shaun gets into the rescue mission. Like with any Shaun the Sheep movie or series, there aren't any dialogues in the film, with most of the communication being in the form of grunts and sighs. Kudos to the makers (Aardman Animations) to make it such a lively and entertaining watch that doesn't leave us lost in translation, with some very hilarious visual cues thrown in. Like in a sequence, a bull is thrown inside a china shop and creates a mess there. Geddit? Or that ominous 2001: A Space Odyssey theme music played in a couple of sequences.
Watch The Trailer of A Shaun the Sheep Movie Farmageddon:
The claymation technology is really good, and has a charm of its own. Also a special mention to Tom Howe's score that works well with the narrative. At about 87 minutes, the movie is also tightly edited.
Yay!
- Fun Watch For Both Kids and Adults
Nay
- The Predictable Premise
Final Thoughts
A Shaun the Sheep Movie: Farmageddon surpasses its very formulaic premise to turn into an enjoyable flick for both kids and adults. That too, without saying one damn understandable word!