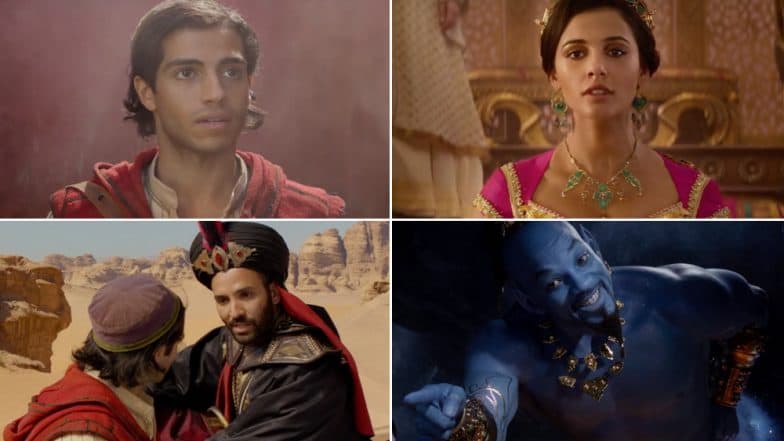 The first teaser of the upcoming live-action film, Aladdin, has come out. Disney has been receiving has a lot of flak for the previously released footages of the movie. Maybe things will change now. The new trailer reveals a couple of musical numbers that we will get to see in the movie. We finally get to see the quirky side of Will Smith as the loveable Genie. The previous promos were more on the lines of "Hukum Mere Aaka". But the new one is closer to the animated film that the movie is based on. Genie has a funny side and is sort of a troublemaker.
While I am loving the new vibe that Genie is oozing, I am not entirely sure of the CGI rendition. Maybe it will look better on the big screen? Aladdin has been directed by Guy Ritchie. The director really needs to prove his mettle after movies like The Man From UNCLE and King Arthur: Legend of the Sword. We hope he does it with Aladdin, because, we, as fans, deserve a worthy Aladdin movie. The film stars Will Smith as the Genie; Mena Massoud as Aladdin; Naomi Scott as Jasmine; Marwan Kenzari as Jafar; Navid Negahban as the Sultan; Nasim Pedrad as Dalia and Billy Magnussen as Prince Anders. The Lego Movie 2, Aladdin, The Lion King, Star Wars Episode IX - 30 Hollywood Non-Superhero Movies of 2019 We are Super-Excited About!
Watch the Full Trailer of Aladdin Below:
My biggest contention with the new trailer of Aladdin is the sartorial choices of the characters. Why the hell is everything so tacky? These costumes look like B-grade production. Even a school's annual functions have kids wearing better costumes. Also, the colour palette of the entire movie looks oddly off.
Apart from this, the action looks decent, the actors look good. The villain looks creepy. And, even if it doesn't look as good as in my head, I'd want to watch this one. Aladdin opens in theatres on March 24. The release date for Indian theatres is yet to be confirmed by the makers.