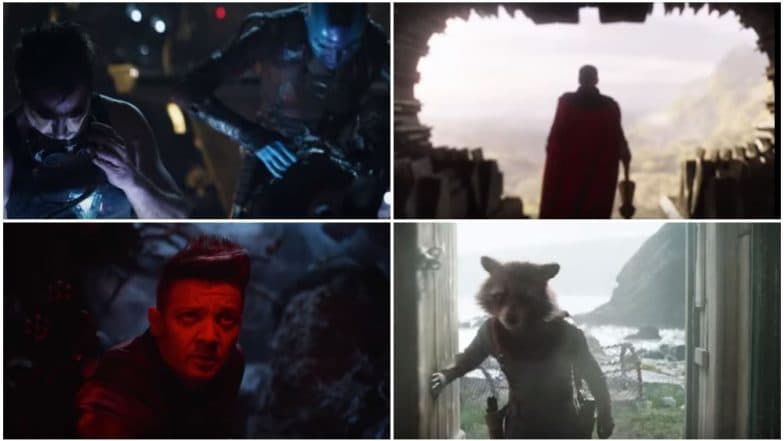 We really never expected a lot from the Avengers: Endgame TV spot during the Superbowl 2019, though Marvel had been hinting at throwing in a little sneak peek from some time. And yet, those 30 seconds are enough for Marvel fans to speculate what was going to happen with the upcoming instalment of the Infinity War saga. Continuing on the same depressed tone as the first Endgame trailer, the new promo is more character-driven, focussing on the surviving Avengers and how the events of Infinity War saga has affected them. Avengers: Endgame Super Bowl Teaser: Did The Russo Brothers Explicitly Edit A Character From The New Promo?
So we have Captain America (Chris Evans), Iron Man (Robert Downey Jr), Black Widow (Scarlett Johannson), Ant-Man (Paul Rudd), Hawkeye (Jeremy Renner), War Machine (Don Cheadle), Rocket Raccoon (Bradley Cooper) each having their moments of trepidation in the trailer. Thanos (Josh Brolin), the big baddie and the reason for their depression, is given a miss here, and so is Captain Marvel (Brie Larson), the new MCU superhero. Marvel has earlier confirmed that the trailer will only show the first 15 minutes from the film, and yet there is a lot to be theorised from the new promo here. Captain Marvel New Super Bowl Teaser: Higher, Further, Faster, Baby! The New Teaser Shows A New Side Of Brie Larson As The Fiesty Superhero.
ICYMI, here's the new trailer of Avengers: Endgame -
And we are also hoping that you caught the below hints from the trailer.
No Loki or Heimdall or Mantis in the Fallen Heroes Tribute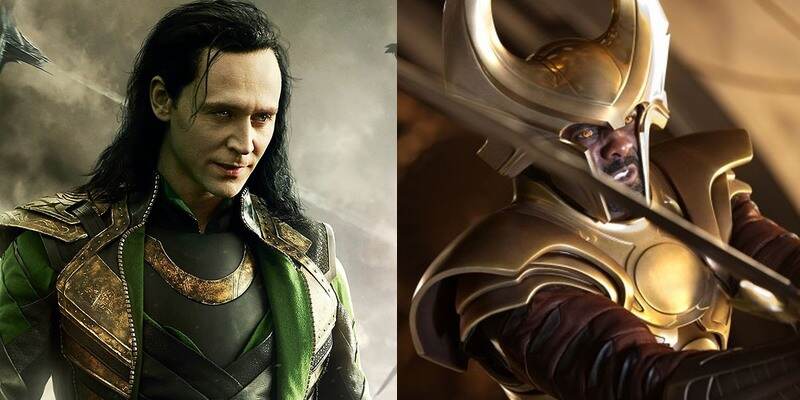 At the beginning of the promo, there is a very fast tribute to the fallen superheroes from Infinity War like the Wasp (Evangeline Lilly), Spider-Man (Tom Holland), Black Panther (Chadwick Boseman), Doctor Strange (Benedict Cumberbatch), Guardians of the Galaxy (Chris Pratt, Zoe Saldanha, Dave Bautista, Bradley Cooper), Falcon (Anthony Mackie), Bucky (Sebastian Stan), Scarlet Witch (Elizabeth Olson). Even Nick Fury (Samuel L Jackson) gets a fleeting appearance. Since there has been no discrimination between the ones who fell by Thanos' snap or the ones he killed with his hands, then why were Loki (Tom Hiddleston), Heimdall (Idris Elba) and Mantis (Pom Klementieff) missed out?
Bruce Banner Gets A Raw Deal Again

Marvel and the Russo Brothers are playing their card very closely when it comes to Bruce Banner (Mark Ruffalo) aka the Hulk. Like the first trailer, even the new promo doesn't give him a focal scene as Banner is seen along with Rogers, Natasha and Rhodes in the scene above and a group scene later.
Support Group For Survivors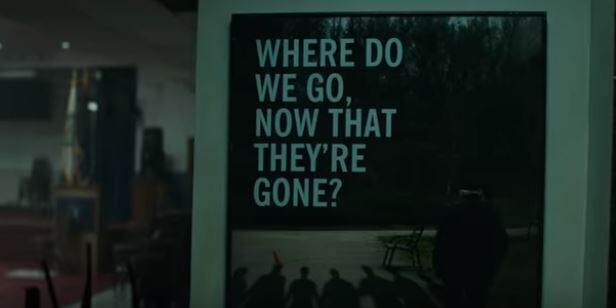 After half the universe is wiped out, there are now support groups on Earth for survivors to deal with this tremendous loss. Even Captain America is a part of this, as both the trailers clearly tell us that he is the most affected by the turn of events. Why, Infinity War even gave him the last line to say (before the post-credit scene), as Rogers' exclamation of 'Oh God!' still reverberated with every one of us. The above scene also harks back to the sequence in Winter Soldier, where Rogers goes to meet Sam Falcon while he was conducting a group-therapy session for ex-soldiers to deal with their trauma.
The Boats Around Statue of Liberty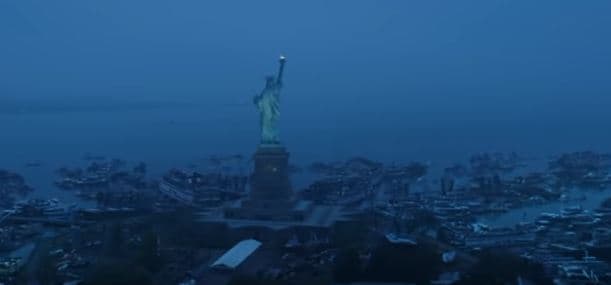 Why are so many boats around the Statue of Liberty? Is it the trailer's way of showing how survivors look up to the statue now as the beacon of hope?
Nebula Sacrificing Her Arm For Rescue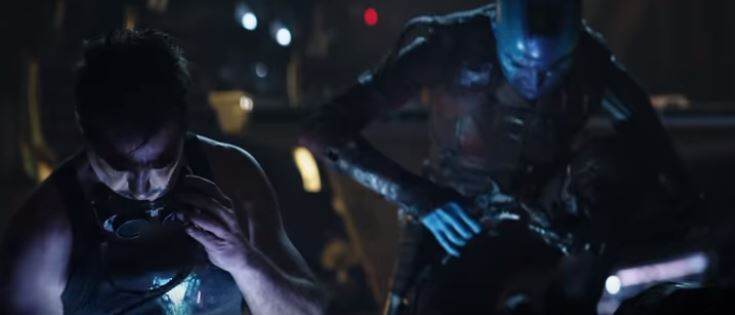 The first trailer left us haunted by the fate of Tony Stark, who was stranded in space. Well, the new promo is clear that Nebula hasn't left him. In fact, she is helping him to get out to Earth, and it looks like she is even sacrificing her left arm to help Stark build something. Kind of going back to the first Iron Man movie when Yinsen, sacrificed his life for Tony Stark first by helping build an Iron Man suit from scraps and later getting killed by mercenaries.
Rocket Raccoon With Thor Again?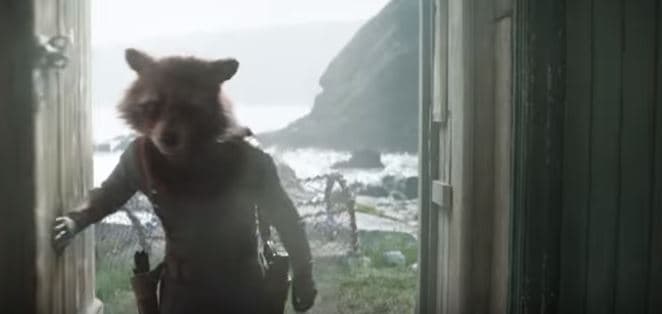 Out of all the Avengers in the trailer, only Rocket Raccoon and Thor are seen in scenes that have proper outside environs with daylight. So are they together once again for an adventure like they did in Infinity War?
Black Widow's Hair Indicates Time Jump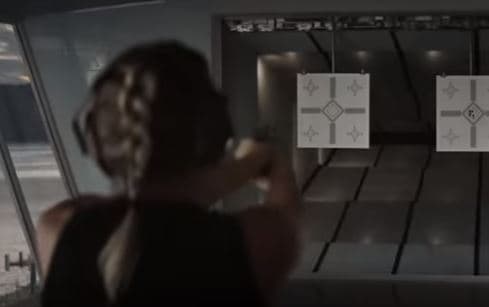 The Time Jump theory in Endgame is getting stronger, as fans are speculating that the events in the film will move years ahead before the Avengers get to strike back. Black Widow's increasing hair in the above scene clearly indicates that years will have passed since the events of Infinity War. What's interesting is that her short hair also makes a couple of appearances in the trailer.
Thor's Umbrella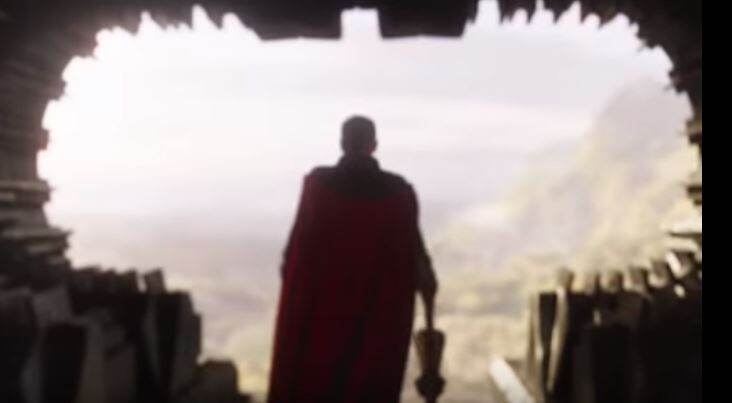 Where is Thor (along with Rocket Raccoon) going? At the first glance, it looks like he is wherever Thanos is. However, on a closer look, it appears that he has made his Stormbreaker into the umbrella, that we saw him do so in Thor: Ragnarok. Which means, he is somewhere on Earth perhaps looking for the surviving Asgardians.
Red Glow on Hawkeye's Face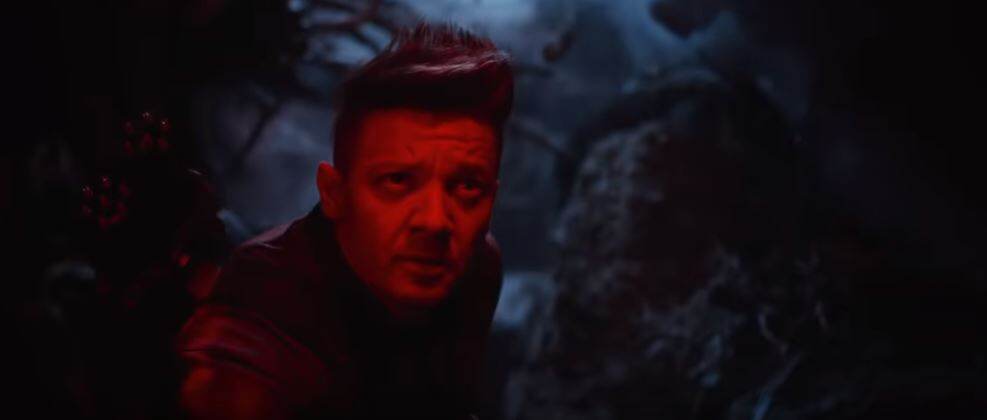 What's that red glow on Hawkeye's face as he is down in the rubble? Is that the glow of Aether, which contains the red Reality stone? If that's true, then the Time Travel idea is in fruition, and Hawkeye has gone to get the Reality Stone before Thor's ex, Jane Foster did that in Thor: The Dark World.
Cap suffering from PTSD? And Gets Back His Old Shield!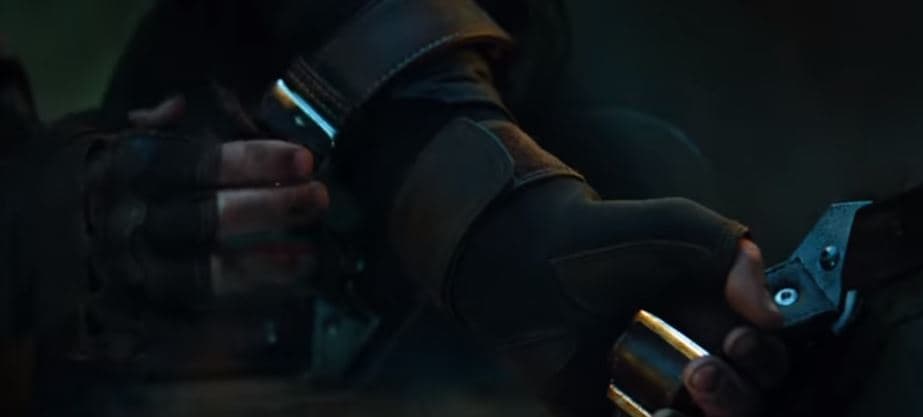 Two things in the trailer hint at that! One, Cap attending the support group, and two, the above scene where his hands are seen shaking while getting ready for a fight. Also, where did he get his old shield back? Does that Tony Stark, who last had the Shield, is back on Earth and has mended fences with Captain America?
The Missing Avenger?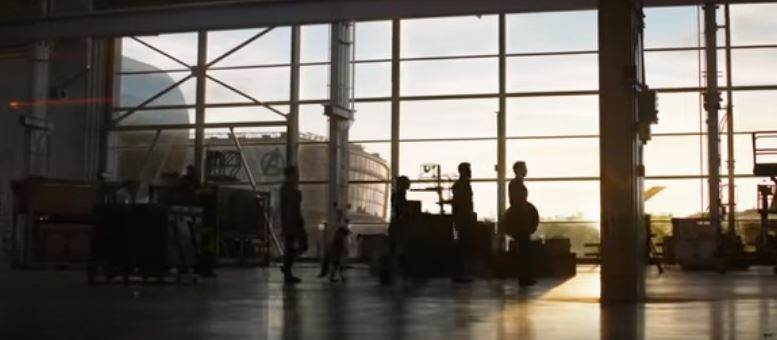 You must have already read this by now - in two scenes, there is an evident asymmetry when they show Avengers in groups with a huge gap between two characters. In the above scene, there is a big gap between Bruce Banner and Ant-Man. Another scene shows a wide gap between Banner and Rhodey. It is not the first time that Marvel has edited out a character before. During the first trailers of Captain America: Civil War, Spider-Man was left out of the airport scene. So who would be edited here? My bet would be on either Captain Marvel or Hawkeye!