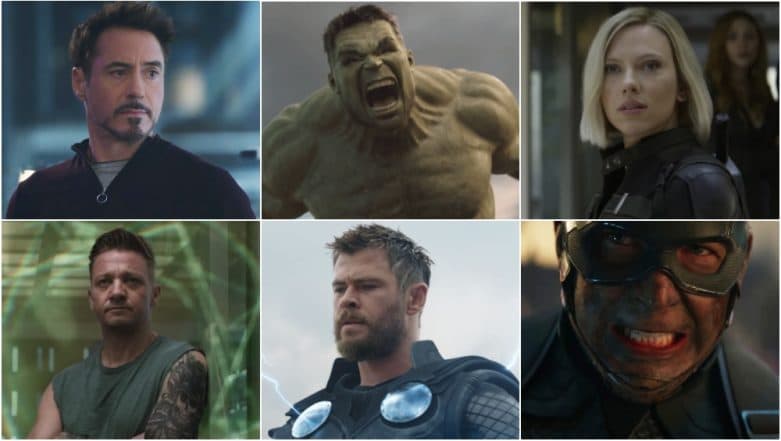 It's been three days since Marvel Cinematic Universe (MCU)'s biggest offering aka Avengers: Endgame released worldwide including India. After a year of waiting (since 2018's Avengers: Infinity War), fans finally thronged to catch the most-anticipated film of all time. The 'Godfather' of MCU, Robert Downey Jr (Iron Man aka Tony Stark) was not kidding when he decreed nobody can guess what happens in Avengers: Endgame. Fans just did not see what hit them. If you are yet to watch to film, we advise you not to proceed further this point. There lie MASSIVE SPOILERS AHEAD. We will be discussing the Avengers: Endgame superheroes death list! Brutal, right? Yes, that's what we are going to do in this article dedicated to the characters who died and survived the battle against Thanos (Josh Brolin)! We repeat again, there are big spoilers ahead. So, you come back to this space after watching Endgame. Avengers EndGame Movie Review: Marvel's Superhero Film Is an Emotionally Wrenching, Enriching FanBoy Experience That Goes for Your Heart!
Now that you are here, you have chosen to take this spoiler-filled journey. When Avengers: Infinity War released on April 27 last year, it sent shockwaves through fans of MCU. It had focussed on Thanos's conquest for the six infinity stones, which he eventually collected and wiped out half the living beings in the universe – including a string of superheroes! You can check out Avengers Infinity War Superheroes Death List: Names of Characters Who Die in Avengers: Infinity War!
Now, the above list is redundant post-release of Endgame. Because the MCU's 'original six' along with Captain Marvel (Brie Larson), Rocket The Raccoon (Bradley Cooper), Nebula (Karen Gillan), War Machine (Don Cheadle), Ant-Man (Paul Rudd), and of course the RAT (v.v.i. who brought Ant-Man back from the quantum realm) manage to UNDO Thanos' snap! For all the Marvel virgins, the original six are – Iron Man (Robert Downey Jr.), Captain America (Chris Evans), Thor (Chris Hemsworth), Black Widow (Scarlett Johansson), Hulk (Mark Ruffalo) and Hawkeye (Jeremy Renner).
Coming back to the 'living status' post Avengers: Endgame, all the dead superheroes and other living being are revived and Thanos is killed TWICE. But this victory came at a huge price, and that's exactly what we are going to talk next. Here are people who died, who came back from the dead and also survived the war in Endgame and those who remained dead forever.
1. Iron Man aka Tony Stark is DEAD!
"And I... am... Iron Man." These words from Robert Downey Jr.'s Tony Stark filled our words with joy in 2008's Iron Man. Ten years, 21 movies later, these very words by Tony Stark to Thanos left us with goosebumps. These were the last words of the self-described "genius, billionaire, playboy and philanthropist" turned Thanos-slayer and universe saver! Yes, Tony is no more. He sacrificed himself so his little Maguna (his daughter Morgan Stark) and everyone can live in a terror-free world. Love you 3000, RDJ!
2. Black Widow aka Natasha Romanoff is DEAD!
One of the most painful moments arrived shortly after the interval (if you were watching the movie in Endgame). In order to obtain the Soul Stone at Vormir, friends turned foes but to save each other's life. Black Widow and Hawkeye had a faceoff, which the former won but lost her life. Love you Scar Jo and waiting desperately to see you in standalone Black Widow movie, most likely an origin story.
3. Superheroes who SURVIVED Both Infinity War and Endgame
Captain America/Steve Rogers (Chris Evans) survived and in fact, got his *Happily Ever After*. Chris Hemsworth's Thor also lives at the end of Endgame. We have Ant-Man and Hawkeye surviving both the wars, with their families by their sides. Ruffalo's Hulk aka Bruce Banner lives on as Professor Hulk.
Captain Marvel/Carol Danvers, Nebula, Rocket The Raccoon, War Machine/ Rhodey and Okoye (Danai Gurira) all make it alive. We cannot forget Pepper Potts (Gwyneth Paltrow) who also survived Thanos' madness both times. It was pure joy to see Pepper in the rescue armour suit fighting the bad guys with husband, Iron Man. And it tore our hearts apart to see her as Tony Stark's grieving widow.
4. Superheroes Who Died Thanks to Thanos' Snap in Infinity War Are All ALIVE
Spider-Man/Peter Parker (Tom Holland), Black Panther/T'Challa (Chadwick Boseman), Doctor Strange (Benedict Cumberbatch), Star-Lord/Peter Quill (Chris Pratt), Scarlet Witch/Wanda Maximoff (Elizabeth Olsen), Falcon/Sam Wilson (Anthony Mackie), Winter Soldier/Bucky Barnes (Sebastian Stan), Teen Groot (Vin Diesel), Mantis (Pom Klementieff), Hope van Dyne / Wasp (Evangeline Lilly) and Drax the Destroyer (Dave Bautista) made a return and also survived the final battle against Thanos and his intergalactic army.
Other crucial characters who are back in the world of the living are – Shuri (Letitia Wright), Nick Fury (Samuel L. Jackson), Maria Hill (Cobie Smulders), Hank Pym (Michael Douglas), Janet van Dyne and (Michelle Pfeiffer).
5. Those Who Died in IW and Not Resurrect in Endgame Or Did They?
Gamora (Zoe Saldana) who was flung to death by Thanos in order to obtain the Soul Stone in Infinity War remains dead. However, there's a little catch. We saw Gamora from 2014, time travel to film's present day in 2023. Though at the end of the film, she was nowhere to be seen. Vision (Paul Bettany) who had his Mind Stone ripped off his forehead by Thanos in IW remains DEAD in Endgame. Her romantic interest, Wanda continues to mourn his death. Heimdall (Idris Elba) who was the first important character to be killed off in IW remains to be dead. Loki (Tom Hiddleston) who was choked to death by Thanos also remains dead. But he might be alive in some "branched reality" thanks to Iron Man, Captain America and Ant-Man's botched-up time travel to 2012.
6. THANOS IS KILLED TWICE!
THEY WILL!!
Half the universe who were believed to be dead for last one year are alive and kicking. Iron Man saved the day. Robert Downey Jr as Tony Stark will be badly missed. His phrase "part of the journey is the end" might help some of you deal with his absence BUT NOT US!! Love you 3000, Robert Downey Jr.'s Tony Stark because 'You Will Always Be The IRON MAN For US.'