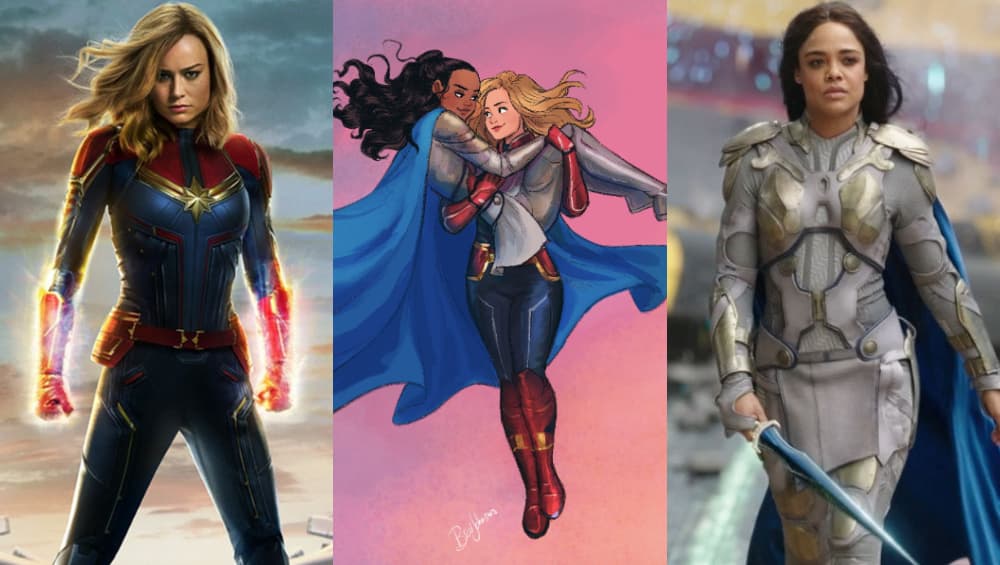 Fans are conspiring to make Captain Marvel fabulous and gay. In case you are late to the party, before fans shipped Carol Danvers and Mighty Thor, many were rooting for her to have a gay storyline. Some even said that the latest Marvel movie, Captain Marvel, oozed major gay vibes. In fact, for some reason 'Brie Larson gay' was trending on Twitter, earlier in the day. Cashing in on the same sentiment, Brie Larson has given the LGBT+ community one more reason to be happy and gay. The actress took to her Twitter page and shared a homo-romantic sketch in which Captain Marvel features with Valkyrie.
Let us go through the series of events (almost) chronologically. First of all, let us look at the tweets that thought Carol totally had a thing with her BFF Marie in Captain Marvel.
Here we go:
name: carol susan jane danvers

alias: captain marvel

occupation: protector of the universe

status: gay pic.twitter.com/5oHQbK7Wni

— bails saw her gf carol 4x (@starkindxstries) March 11, 2019
Here is another one
Carol and Maria invented being gay I said what I said#CaptainMarvel pic.twitter.com/nMdsYPxQT1

— ʌᴉɥS (@iron_widow) March 8, 2019
A YouTuber even published an "11-minute rant about how Carol Danvers and Marie Rambeau are gay with diagrams" which of course went viral
Then, Brie Larson shared the trailer of Avengers: Endgame. The internet went back to its heterosexual propensity and shipped Thor with Carol.
I'm shipping #Thor and #CaptainMarvel in #AvengersEndgame pic.twitter.com/SpiZVEjqU9

— Eduardo Rivera,Jr. (@Batman_2020) March 15, 2019
But then, Brie shared the trailer on her Instagram and openly bisexual actress, Terresa Thompson, who plays Valkyrie in the MCU, commented on the post, "hot". Thus giving gay Twitter an entirely new couple to ship for.
🗣 LET CAPTAIN MARVEL AND VALKYRIE DATE WITH THOR AS THEIR WINGMAN 🗣 pic.twitter.com/q8ItbztD1X

— snarkiest avenger (@icarus_fvllen) March 14, 2019
Maybe the hype reached Brie Larson because, boy, she has added fuel to the fire. She took to her Twitter and shared this homo-romantic picture:
We cute @TessaThompson_x https://t.co/7358yhTQlA

— Brie Larson (@brielarson) March 18, 2019
The internet got what it wanted.
Het marvel fans: did you see thor?!?! He's in love with carol!!!!!

Gay intellectual marvel fans: thor is gonna set up carol and Valkyrie

Brie larson herself;; pic.twitter.com/GgENQ8QFsL

— Phoenixfalling #Nikazie (@Phoenixfalling2) March 18, 2019
And also...
I don't think I can handle Brie Larson approving a gay ship of her character omg omg omghttps://t.co/1Tm3OaN7r8

— Claire 🐟 (@waitworry) March 18, 2019
And well, let us not forget that Marvel has indeed confirmed that the studio is ready for a gay superhero. According to Entertainment Weekly, the studio's President Kevin Feige said that the audience is already aware of them. He also mentioned that the characters are new to storylines in future Marvel films. Last year, Hollywood actress Tessa Thompson declared on Twitter that the character of Valkyrie she played in 'Thor: Ragnarok' was a bisexual one. She had written, "She's bi. And yes, she cares very little about what men think of her. What a joy to play!"
I actually just saw a Marvel movie with a gay love story and it was called Captain Marvel. https://t.co/CaqQ7aea7w

— Heather Hogan (@theheatherhogan) March 8, 2019
So, there is that. Stakes are high now. Let us see if Marvel actually gives the people what they really really want. A lesbian love story between Captain Marvel and Valkyrie.