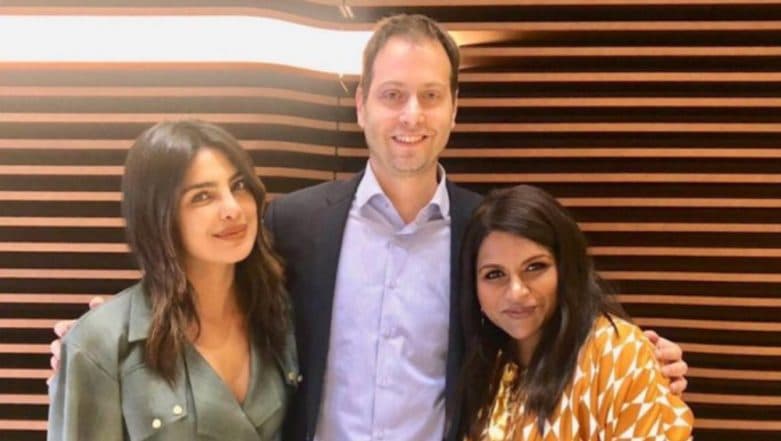 Can we get a loud cheer for Priyanka Chopra? Woot. Woot. Because the lady just signed her next Hollywood film. Joining her would be another queen, Mindy Kaling. The two actresses won't just star in this film but will also be co-producing it with Dan Goor, as per Deadline. The untitled comedy will focus on an Indian wedding and we desis know there is so much to explore in that domain. Because, Indian wedding being as lavish and elaborate they tend to get a lot crazy. Mindy, an Indian origin American actress, has hits shows like The Office and The Mindy Project to her credit. Arjun Kapoor and Mindy Kaling Have a Twitter Chat and We Realise This Is the Mindy Project Sequel We Have Always Wanted.
Mindy, Priyanka and Dan held an auction to sell their pitch for the film. Legendary, Sony, Netflix and Amazon Studios - giant media houses were bidding to acquire the rights for the movie. But Universal has landed the deal finally. Mindy also has the option to direct the film. Heather Morris and Nina Anand Aujla will be the exec producers.
The details of the movie are being kept under wraps. All we know that it will be about an Indian wedding and "the ensuing culture clashes". The only other point of description is "Crazy Rich Asians meets My Big Fat Greek Wedding".
Check out Mindy Kaling's Tweet About the Film Below:
My dream team is making a movie. Can't wait for this one!🙌🏾💃🏾🌟🕺🏾💜🎬 @priyankachopra #DanGoor pic.twitter.com/YOe2brOby1

— Mindy Kaling (@mindykaling) April 13, 2019
Check Out the Announcement of the Film by Priyanka Chopra Below:
Two women with a passion for telling good stories, just got the green light to THEIR story THEIR way. So proud of this incredible partnership with @mindykaling and @djgoor! We are about to show you what it means to be modern, global, and Indian. See you at the cinema! pic.twitter.com/5V71fFvX4L

— PRIYANKA (@priyankachopra) April 13, 2019
Well, Priyanka might have a lot of inputs given the fact that she did have a grand Indian-American wedding with Nick Jonas in December 2018. She must be fully aware of the cultural clashes as well as the Crazy Rich Asian vibe. Priyanka Chopra Never Thought her Romance with Nick Jonas Would End Up with Them Getting Married.
Truth be told, we have been waiting for this moment ever since Priyanka and Mindy hung out together at the Oscars party in 2016. Their selfie together went viral. Now, after three years, our prayers have been answered. Global domination, here come Mindy and Priyanka.