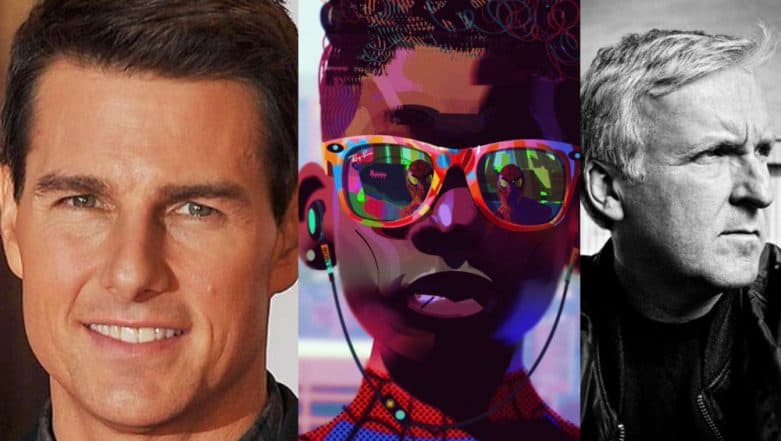 Sony's Oscar-winning Spider-Man: Into the Spider-Verse, had a host of celebrities on-board. The main cast included the likes of Brian Tyree Henry, Jake Johnson, John Mulaney, Hailee Steinfeld, Shameik Moore, Mahershala Ali, Nicolas Cage and others, there were some other big names that were kept secret until the movie was out in theaters too. Some of the major surprises included Oscar Isaac and Chris Pine but now we have found out two characters that were cut out during production belonged to Tom Cruise and James Cameron. How shocked are you?
The secret was out of the bag when Spider-Verse, directors Rodney Rothman, Peter Ramsey, and Bob Persichetti were asked about "Alternate Universe Mode" which features a 2.5 hour cut of the film, with many of deleted scenes. It's in this feature that fans will get to see the characters Cruise and director James Cameron were supposed to play. Oscars 2019 Best Animated Feature Winner: Spider-Man: Into The Spider-Verse Swings The Trophy Away From Incredibles 2 and Isle of Dogs at 91st Academy Awards.
According to reports, Cruise was supposed to play a fictional actor named Todd Crews, who starred as Spider-Man in a fictional movie in that universe. Cameron, on the other hand, was portraying the director of the film who was providing an audio commentary track on the Blu-ray. In this alternate version of the story, Miles learned how to be Spider-Man from the DVD that Ganke showed him, rather than by himself with comic books.
Spider-Man: Into the Spider-Verse, which is now available on Digital HD, let's you check out the scene featuring Cruise. The Blu-ray will be arriving on March 19th.