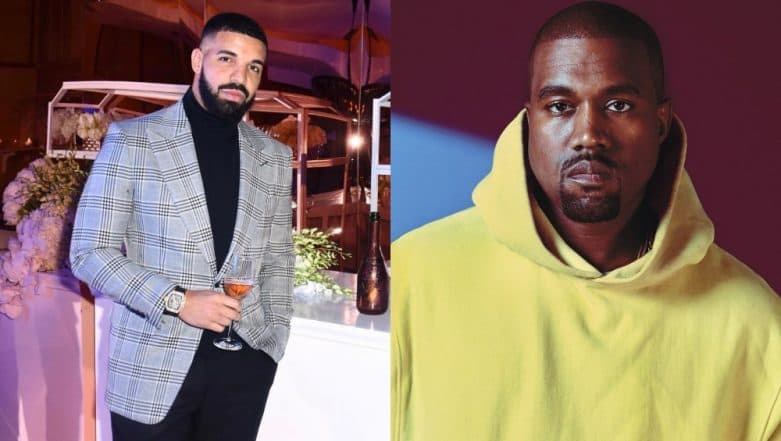 It will take an entire 2019 perhaps for Kanye West to get over his beef with Drake. While earlier he did assure fans that there won't be any bad blood between the two rappers and that he plans to "heal" and start afresh. But turns out he just can't stand the idea of Drake following his wife, Kim Kardashian, on social media.
The 41-year-old rapper took to Twitter (and later deleted the tweets) with a serious of direct tweets to Drake asking him to, "Love everyone but don't follow my f***ing wife on Instagram." His rant continued as he questioned who gave Drake the idea to follow his wife on IG. He further added that the said person is no longer on his good books! "Who's bright idea was it to tell Drake to follow my wife on Instagram? This person is not [Drake's] friend. I don't have a beef with no one."
In a series of now-deleted tweets, @KanyeWest called out @Drake for following Kim Kardashian on Instagram, despite drama:

"Imagine having a problem with somebody and they follow your wife on Instagram." pic.twitter.com/rf14JaZz6r

— Pop Crave (@PopCrave) December 29, 2018
However, with all the rant against Drake's Instagram stunt to follow Kim K, Kanye did add that he has only love for everyone, even Drake. Turns out it all began when Kanye found out about Drake following Kim on Saturday through a screenshot. He didn't take it lightly and immediately started getting the whole anger out of his system by calling Drake's move, "the most f&%@ed up thing of all." Just so Drake knows, Kanye is expecting a public apology.
How Drake and Kanye West became sworn enemies? It all started in September 2019 when the Canadian rapper's In my feelings song went viral with conspiracies speculating that 'Kiki, do you love me?' insinuated a love affair Drake had with Kim Kardashian. Although the reality TV star quickly shut down rumours by stating, "Never happened. End of story," on soial media, things have only gone towards the worse for the two rappers.