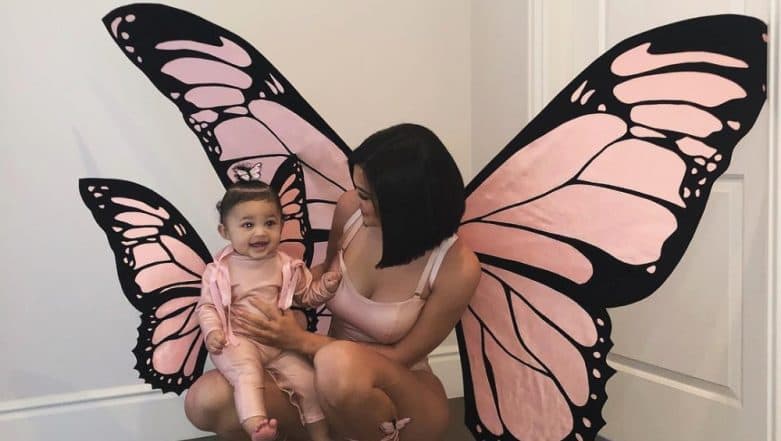 Say goodbye to cute dog and puppy videos for today for Kylie Jenner just dropped her first Halloween costume pictures with baby girl Stormi Webster and they're too damn adorable! Since this is her first time as a proud mama to her 8-month-old baby girl to celebrate the spooky holiday, Kylie chose to keep it as cute as possible. Captioned as "Butterfly Effect", Kylie shared pictures of herself and her daughter twinning and winning hearts in cute pink Butterfly costumes.
Turns out, we should thank boyfriend Travis Scott for inspiring Kylie into opting for the butterfly costumes for herself and their daughter. While her daughter was dressed in a cute pink full-sleeved shirt and pants with giant pink butterfly wings, Kylie chose to keep it slightly risqué. Mama Jenner wore a pink satin bodycon suit with pink strappy heels. The 21-year-old definitely looked hot but cute at the same time. Quite a thin line there. Check out their cute pictures below.
View this post on Instagram
View this post on Instagram
View this post on Instagram
View this post on Instagram
During a recent YouTube collaboration with makeup guru James Charles, Kylie was quoted delving into details of her Halloween plans with Stormi. She said, "I'm going to take her to one house, my neighbour's! We live on a new street and there are no houses on that street. It's just me and my neighbour, I swear it's the most quiet street I've ever been on." Earlier this week, during her annual Halloween dinner party, Kylie matched with her baby girl in skeleton onesies and rose gold hair. Needless to say, they looked adorable!