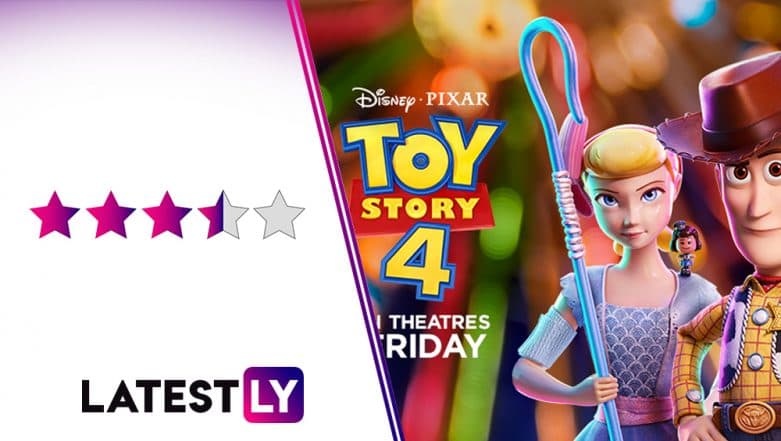 The 2010 film Toy Story 3 had one of the most emotional conclusions that I had seen in my long history of watching movies. I am sure anyone who had the pleasure of playing with toys at some point in their childhood would share the sentiment about the film. Usually when a movie is announced in any of my favourite franchises, and I have many, I am excited to see how the makers take that narrative ahead. In the case of the Toy Story franchise, I was sceptical. Toy Story 3 had the perfect conclusion to the trilogy that fit with the idea of being a toy. How can Toy Story 4, directed by Josh Cooley, top that? Won't it be an unnecessary extension to a franchise that is done and dusted, or so we thought, with extreme finesse?
Now that Toy Story 4 has been seen and savoured by yours truly, it looks like the makers had a few more threads to be tied up. And they have done it in a manner fitting to that of the Toy Story franchise - emotionally beautiful with enough nostalgia. Even in a time when kids prefer to play with smartphones over actual toys; an idea that Toy Story 4 lightly treads on. Toy Story 4 Has Already Beaten Avengers: Endgame - Here's How!
Yes, I would still argue that it is an unnecessary instalment, but it is not an irredeemable one. For, Toy Story 4 convinces us that there are still some unresolved issues to be explored in Woody The Sheriff's (Tom Hanks) story, as he grapples with fitting himself in the life of his new owner, Bonnie, while re-evaluating his own purpose in life.
If Woody was Andy's prized toy, for Bonnie, he is just one of the many she possesses. At times, he gets neglected in the closet during her playtime, where she prefers other toys over him. Not the one to feel left out, Woody takes it upon himself to help Bonnie get through kindergarten. At her first day there, she makes Forky (Tony Hale), a misshapen object out of a fork and is proud of it. Forky becomes her new prized possession and she keeps it close to her.
But Forky feels he is trash and deserves to be there, so it is up to Woody to keep him out of the dump and make Bonnie happy. This proves to be difficult when Forky escapes during a road trip and Woody goes after him, an adventure that makes both of them land in an antique's shop in a carnival.
There they meet a weird doll Gabby Gabby (Christina Hendricks) and her posse of Slinky dolls, who wants Woody's soundbox. Woody also meets other assorted characters at the carnival that join him in his adventure, including his old, lost flame Bo Peep (Annie Potts), who is more kickass than we have seen her before.
Toy Story 4 begins with a thrilling prologue (Hello, Andy!) that explains why Bo Peep was not there in the previous movie. And it also establishes the objective of this movie - Toy Story 4 is to be Woody-centric. Yes, his toy gang has a part to play in the movie, but they aren't as prolific as they were in previous Toy Story movies. Even Woody's best friends Buzz Lightyear (Tim Allen) and Jessie (Joan Cusack) are more of supporting players than co-leads. Their arcs have already been done away with in the last movie; Toy Story 4 is about concluding Woody's life-purpose of keeping his owner happy, even if he doesn't get back the same attention.
Here's where Forky, Bo Peep and Gabby all play a part in Woody's journey. Forky represents Woody's urge to be integral in Bonnie's life, even if the former has other dreams. When I saw the trailers, I thought Forky would be a very whiny, annoying addition to the story. Instead, he turned out to be a very fascinating addition, an object that suffers from misplaced identity and can't place itself in his new role. His portions with Gabby are very touching.
Bo Peep is the past that Woody lost in trying to keep his owner happy, and her return makes him question his own sense of happiness. Their rebuilt romance is quite heartwarming and lends itself to a very emotional conclusion. It is also great to see Bo Peep expand her personality to a badass toy rather than a smitten flame of Woody, as we saw her in the first two films.
Gabby Gabby, meanwhile, turns out to be the most sympathetic antagonist in the series, if we can call her that. Can't talk too much about her, as it would take away some of Toy Story 4's impact. I can say this, though - Gabby won't end up making you hate her.
With so many emotional entanglements in the film, there is a sombre tone throughout Toy Story 4. It's as if there is an air of finality over it, which was kinda missing in Toy Story 3, to be honest (till the epilogue kicked in). It leads to some tear-wrenching scenes, especially in the finale, though not on the same scale as Jessie's 'When She Loved Me' sequence in Toy Story 2. Or the furnace scene and the finale of Toy Story 3. Some moments in Toy Story 4 do come close, though.
Watch the trailer of Toy Story 4 here:
And yet, there are also plenty of fun, hilarious moments in the movie too. Many coming through courtesy Woody's old gang and the new additions, including Forky and the crazy ragtag duo of Ducky and Bunny (Keegan-Michael Key and Jordan Peele). Or how can I forget the scene-stealing Canadian bike-stunt driver Duke Caboom (the ever-charismatic Keanu Reeves), who represents the exaggerated ways of how the makers of toys promote them on TV. The voice-cast, led by always dependable Tom Hanks, once again wins you over. The visual effects have also improved quite well from the previous movies; just check out the sheen on Bo Peep's polished ceramic surface to know what I mean.
Yay!
- An Emotionally Satisfying Arc For Woody
- Hilarious Moments
- New Well-Written Characters, and an Expanded One For Bo Peep
- One of the Better Sequels of the Year
Nay!
- Doesn't Completely Justify Its Existence
- Some of the Older Characters Don't Get Much To Do
- Doesn't Reach The Emotional High of The Previous Movies
Final Thoughts
Its existence may be unwarranted, but Toy Story 4 still manages to be a highly valuable addition to the franchise. It brings a hopefully, emotionally conclusion to Woody's arc, while giving us many moments to laugh and then shed a few tears! Easily, one of the refreshingly better sequels to come out in 2019, especially after the debacles of Dark Phoenix and Men in Black: International in recent times.