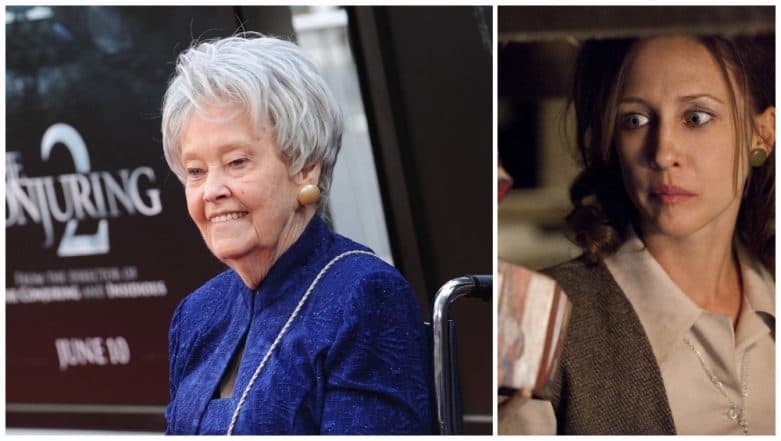 Lorraine Warren, the fame paranormal investigator, passed away at the age of 92, earlier this week. She and her husband, Ed Warren, were the inspiration behind the successful movies of The Conjuring universe. Vera Farmiga essays the role of Lorraine Warren in the Conjuring movies. Lorraine said she had clairvoyant powers and was able to communicate with the dead. She and her husband, Ed, who passed away in 2006, were a team of paranormal investigators. Together, it has been said, they have solved cases of some of the most brutal hauntings in the US. Most notable being the haunting of the Annabelle doll, which has inspired three movies.
Lorraine's passing was announced on Facebook by her son-in-law, Tony Spera. "It is with deep sadness that I must announce that Lorraine Warren has passed away," he wrote.
"She died peacefully in her sleep at home last night. The family requests that you respect their privacy at this time. Lorraine touched many lives and was loved by so many. She was a remarkable, loving, compassionate and giving soul. To quote Will Rogers, she never met a person she didn't like. She was an avid animal lover and contributed to many animal charities and rescues. She was wonderful and giving to her entire family. May God Bless her." The Curse of the Weeping Woman Movie Review: James Wan's Latest Horror Offering Is Clichéd but So Frighteningly Entertaining.
Vara Farmiga took to her Twitter handle to pay a tribute to Lorraine. She wrote, "From a deep feeling of sorrow, a deep feeling of gratitude emerges. I was so blessed to have known her and am honored to portray her. She lived her life in grace and cheerfulness. She wore a helmet of salvation, she dawned her sword, compassion, and took a shield of faith. Righteousness was her breastplate, and she has touched my life so. Love you Lorraine. You're waltzing with Ed now (sic)"
Vara will be reprising the role of Lorraine Warren in the upcoming film, Anabelle Comes Home. The trailer of the film has been well received. The actress will also reprise the role in The Conjuring 3, with production set to begin in June 2019.