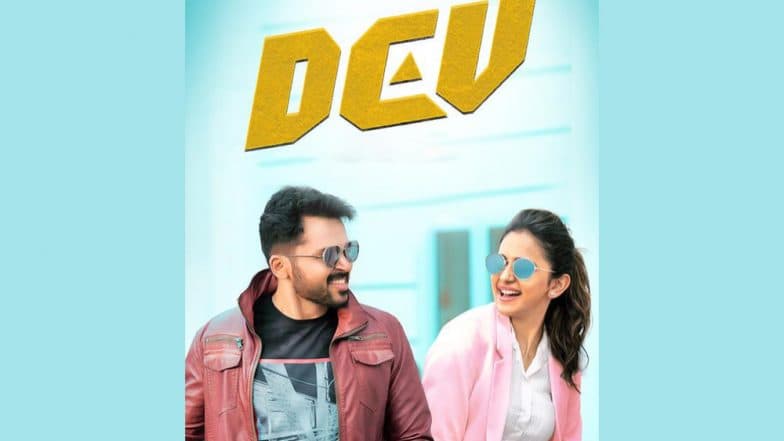 The Tamil-language film Dev starring Karthi and Rakul Preet in the lead roles released today, February 14. The film which is touted to be a road adventure is directed and scripted by Rajath Ravishankar. The fans of the lead actors and movie enthusiasts expected the film to be of good substance, but looks like the story has rather turned out to be a huge disappointment. As per critics, Dev could not live up their expectations. NGK Teaser Out: Suriya's Multiple Shades in This Political Drama Will Leave You Amazed (Watch Video).
Let's take a look at what the critics have said about Dev:
Firstpost (2/5): Debutant director Rajath Ravishankar sadly lacks a story and has tried to make it look like a Karan Johar film, on the super rich and their life. It lacks a proper logical screenplay and its weak characterisation and romance make it look so artificial.
Sify (2/5): Debutant Rajath Ravi Shankar's Dev has romance, adventure, friendship, good looking people and lovely locations which may have looked good on paper, but goes awry due to convoluted screenplay, flawed characters and a dull romance. You feel nothing for the film's characters because you cannot understand why they behave the way they do.The film goes for over-the- top emotions, and basically chooses loudness over subtlety.
In.com: Director Rajath seems to be a director with a strong visual sense. He makes sure that his Dev is all style but sadly the substance is lacking. It's a wasted opportunity for this young filmmaker. Despite popular lead actors, a generous producer, solid technicians, the minimum guarantee romance genre, he still fails to engage the audience for large parts of his film!
Times Of India (1.5/5): It is a film with picturesque locations, but with not one visually exciting shot. It's a film that lets its characters sport trendy costumes and good makeup, but doesn't give them any personality. It is a film with a lot of dialogues, but doesn't give us one memorable line. It is a feel-good film, but it resorts to hurting – and killing – little girls just for the sake of some manufactured drama. It is a film that has Rakul Preet Singh as its heroine, but makes you want to not mention this fact at all. It is a film starring Karthi, but gives RJ Vignesh much more screen time. It is a film that wants you to come to the theatre, but makes you wish you could run towards the exit even before it is intermission.
Telugu360 (1.5/5): Dev is a stylish but zero substance film that tries to be a love story. Initial few minutes of the films give the impression that we are about to watch a film with novelty. But, soon the audience wishful thinking shatters. After taking off promisingly, debut director Rajath Ravishankar struggles to narrate the film in an engaging manner.
Watch here the trailer of Dev:
Dev also stars actors such as Prakash Raj and Ramya Krishnan in pivotal roles. The movie produced under the banner Prince Pictures was initially scheduled to release on December 21, 2018 but was postponed to February 14, 2019.