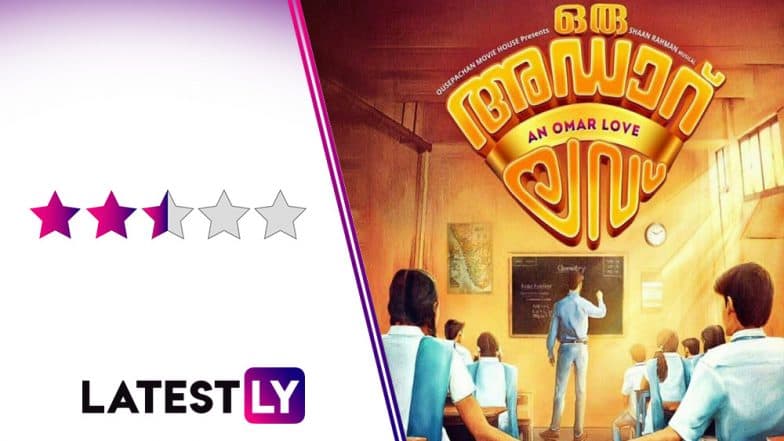 Just because Priya Prakash Varrier's wink made it a worldwide sensation doesn't mean her role in the film is impacting. Oru Adaar Love, directed by Omar Lulu, found prominence thanks to Varrier's viral wink. In case you forgot about it, let me jog your memory, exactly a year ago, Lulu shared the first song from the film, Manikya Malaraya Poovi. The song raked in a lot of attention thanks to Varrier's wink. Sadly, even her wink cannot make this film the ultimate story!
Before we delve into the yays and nays of the film, here's a short plot idea about the film. The story introduces the audience to class 12 students with raging hormones who try to understand the nuances of friendship and love. The plot specifically centres around Roshan (played by Roshan Abdul Rahoof), a 16-year-old boy who finds friendship and love in high school as he tries to make sense of the role people in his life play. What initially starts as a friendship between Roshan and Gadha John (played by Noorin Shereef) soon turns to love. The coming-of-age drama has some really interesting obstacles for Roshan, which makes him realise what friendship and true love is.
The film has an ensemble cast of Priya Prakash Varrier, Roshan Abdul Rahoof, Noorin Shereef, Michelle Ann Daniel, Mathew, Siyadh Shajahan, Dilrupa Aswad Alqamar, Vaishak Pavanan and Yami Sona. The story is pretty straightforward. College romance has teenagers in a confused state where they cannot fathom what is love and what is infatuation. And college is the breeding ground for ultimate friendship. Now, to be honest, if the film did project the film with the friendship angle, the film would have received more love from me. Promoting the film as an ultimate love story only to showcase a mediocre romance drama with a sad end.
Trailer - 
Sure, the film starts off on a phenomenal note as there is the teenage innocence, the coming-of-age feel, the impeccable comic timing among them, how foes turn friends putting the "bros before 'hoes" tagline into perspective. Basically, everything in the first half is setting a theme of reminiscence about our own college days. The kids are simply just going with the flow as they experience friendship and love in all its glory. In terms of performance, Roshan, Noorin and the entire ensemble cast have done a good job, no doubt there. Sorry, but while Varrier's wink made the nation crazy, girls should definitely see Roshan's reaction and give him some credit! He is a natural! The songs and the picturesque depiction of Kerala with the scenic green lush is a treat to watch.
Then what makes the film fall flat? Well, apart from the humour, there is nothing in the movie that makes it stand out. Varrier's wink also fails to make an impact. Glorified as a phenomenal love story, it really is not all that great. As a coming-of-age film, it did have good ripples but the whole effect fell flat with the way the film ended. Oh, it is unexpected and not in a good way. Love doesn't triumph here and neither is it explored. As I watched Roshan and Gadha's love cultivate, all I could think of was Karan Johar's iconic line, "Love is friendship".
Lulu's direction takes a major setback as he tries to amalgamate a scrambled script. One moment the attention is fixated on one set of the story, the next minute, he turns his focus to another set of story. All this eventually lead to Roshan and Noorin's love story which has a very depressing end.
Manikya Malaraya Poovi song - 
Yay!
- The performances
- The comic timing
- The cinematography
Nay!
- Not a love story
- The direction
- The dark ending
- The music
- Occasional lag in the plot
Final Word 
If you're looking for a love story, this is not it. What starts off as an entertaining journey starts losing its momentum, picks it up again but eventually leads to a very dark and twisted end. The film actually leaves you feeling empty as there are far too many stories you would have wanted some clarity on. It's straight up depressing. Perhaps you can watch the first half and be done with it because the second half is only going to pull your enthusiasm down.