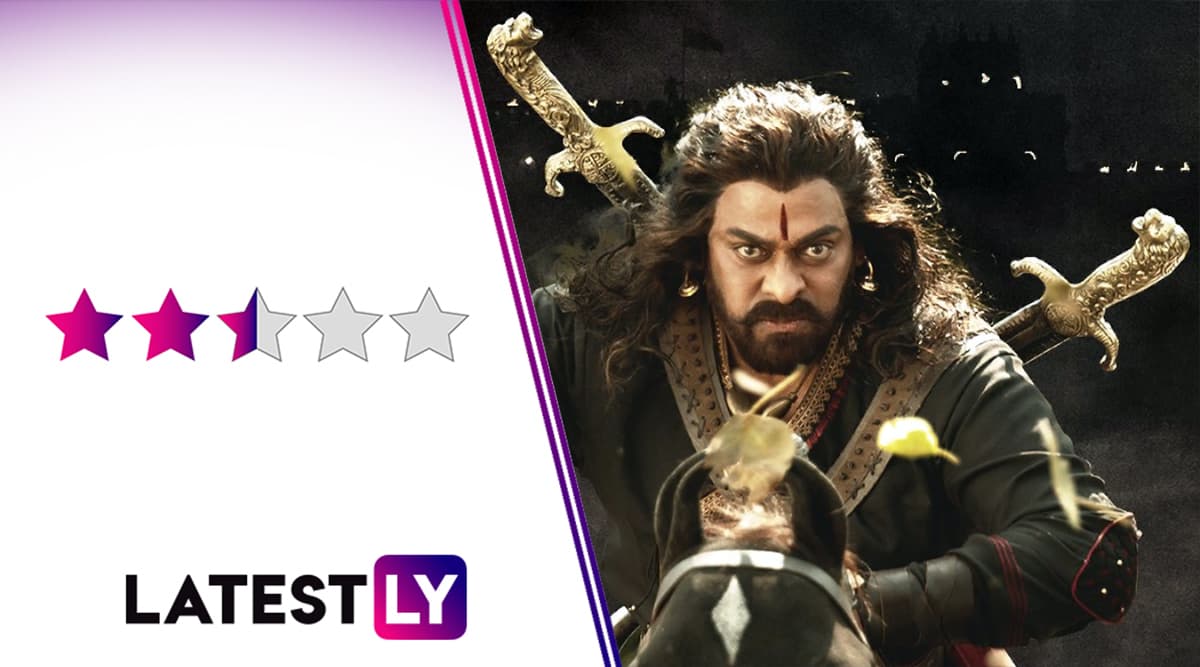 Sye Raa Narasimha Reddy Movie Review: The story of Sye Raa Narasimha Reddy (Chiranjeevi), the ruler of Rayalaseema region of Andhra Pradesh, is told through the perspectives of two Laxmi's. In the beginning, we have Rani Laxmibai (Anushka Shetty in a cameo, all dolled up for some reason) narrating the tale of the courageous warrior to her scared troops. In that story, set a few decades before 1857, we have another Laxmi (Tamannaah Bhatia) who falls over for Narasimha, after seeing him meditating underwater. She later sees his ingenuity when he tackles a herd of CGI-ed bulls before they cause harm to his kinsmen. She is witness to his bravery and generosity at various occasions, and by then, is in completely in love with him. And so is he, with her. Sye Raa Narasimha Reddy: Confirmed! Anushka Shetty is a Part of Chiranjeev's Historical Saga and her Addition Just Amps up Our Excitement.
This pairing is curiously intriguing, since Narasimha is an avatar of Lord Vishnu, and Goddess Laxmi is Vishnu's consort. Laxmi had also taken the birth of Radha, who was the soulmate of Vishnu's another avatar, Lord Krishna. But Radha-Krishna never got married, which also turns out to be the fate of the haphazardly-told romance of Narasimha and Laxmi. Narasimha Reddy has to seek a life with Siddhama (Nayanthara) and Laxmi goes from place to place to tell his tales.
But then, Sye Raa Narasimha Reddy is not about this love story. It is about Narasimha's love for his kingdom, for his people, for his morals, and he takes on the might of the British empire, when the goras cause harm to them. In his battle against the British, he gets help, and also betrayal from unexpected quarters. Till one day, the British army finally tricks him into getting captured and bring him to his knees. Or did they?
Sye Raa Narasimha Reddy is considered as one of the earliest freedom fighters of India to take on the might of the British Empire (then actually, East India Company). From what I have read about him, his guerilla tactics and frequent attacks on the British outposts with his band of merry men, gave the EIC frequent headaches.
Director Surender Reddy and writers Paruchuri Brothers have changed a lot about Reddy's fight against the British to adapt it as per Chiranjeevi's larger-than-life image. In the process, instead of getting a freedom fighter with whom we can relate to (Ajay Devgn's fantastic rendition of Bhagat Singh comes to my mind), what we get is an almost infallible superhero who is on God mode. Which means, Narasimha Reddy becomes like any character that Chiranjeevi has played in any of his masala entertainers of late - a do-gooder, unstoppable force who is a terror for his enemies.
Like, Reddy has two women fawning over him unconditionally. He can teleport anywhere anytime when the situation demands. Picture this - a house is burning with people inside; yo, Reddy gallops into the scene. A woman tries to commit suicide in a desolate place, Reddy still manages to reach there as if he has an inbuilt GPS tracker. In action scenes, he is like 100 Black Panthers rolled into one, finishing armies on his own, making us wonder why does he even need an army for himself. Also, did I mention he can breathe underwater for hours? After Sye Raa Narasimha Reddy, Chiranjeevi to Star in Mohanlal's Lucifer Remake; Will Ram Charan Step Into Prithviraj Sukumaran's Role?
Unfortunately for Chiranjeevi, the real-life Narsimha Reddy's fascinating life was brought to an end by the British. So the makers had no option but to "shudder" kill a Chiranjeevi character. But not before Reddy has a final swing with both his tongue and sword in a very WTF scene.
Sye Raa Narasimha Reddy, while visually opulent, has the same fallacies as any mainstream superstar film - it suffers from excesses. Everything in this film is loud, be it Tamanaah's over-expressive eyes, the jingoism, the melodrama, the background score and the over-judicious usage of the slo-mo. The violence, as well, with gallons of fake blood, and enough of beheadings and stabbings, feel excessive.
The British villains are loud caricatures trained out from Jagapathy Babu school of villainy (Interestingly, the actor had a more layered, nuanced character in SRNR). One of them even looked suspiciously like a bearded Jim Carrey.
The junior artistes seem to be borrowed from the Baahubali franchise (which you can say about half the cast of the film, as well the whole tone of Sye Raa...). They feel less human and more NPC's from a videogame, what with their co-ordinated movements and expressions. Even the length of the film, at about 170 minutes, is excessive in a film that has an unwarranted love triangle, and yet only two songs.
The biggest problem with Sye Raa Narasimha Reddy comes in the writing. There were some interesting scenes that did stand out. Like when Reddy comes face-to-face with the main antagonist for the first time while delivering cartloads of the latter's dead men. Or Laxmi's finest moment when she faces her enemies (that is very similar to a scene in Manikarnika). But the rest of the narrative, along with the lazy editing, feels very uninspired, which is a crime for a movie that is made on an inspirational legend.
Watch The Trailer of Sye Raa Narasimha Reddy here:
It is not that Sye Raa Narasimha Reddy is an unwatchable exercise. The canvas on which the film is mounted, enhanced by the fine production values and R Rathnavelu's cinematography that captures every opulent facet with finesse, is highly impressive. Chiranjeevi's lead performance is powerful enough to make us forget the deja vu feeling that comes from his act. The action sequences, while defying any kind of laws of physics, are well-done. I particularly like the action scene set before the interval, that was smartly edited to maintain a frenetic pace while keeping the lead star's limitations in mind.
The Performances
Sye Raa Narasimha Reddy is a superstar vehicle for Chiranjeevi, gifted by his son Ram Charan (who is the producer). The superstar does justice to his role, bringing ferocity and benignity whenever the situation requires. It is also amazing to see the actor, at his age, effortlessly look so agile in some of the physically exerting scenes. And yet, it isn't a very challenging role for the performer in him.
With too much focus on the lead star, the rest of the cast comes off as a mixed bag. Among the female leads, it is Tamannaah, who has a surprisingly meatier role, with a couple of scenes to shine. The talented Nayanthara feels underused as the sacrificial wife of Reddy. Jagapathy Babu is fantastic as Reddy's loyal supporter, who shines in the climactic portions of the film (even if those scenes are written in a cliched manner). Kichcha Sudeep's wavering Avuku Raju provides some entertaining moments.
Vijay Sethupathi, a favourite actor of mine, feels wasted as the Tamil warrior Raja Paandi, after suffering a similar plight in Rajinikanth's Petta earlier this year. Maybe it is time that Sethupathi rethink his motivation of wanting to be a part of superstar vehicles, that can't figure out what to do with an actor of great calibre as him.
As for Amitabh Bachchan, who plays Reddy's teacher and advisor, Guru Gosayi Venkanna, it is more of a cameo, where we don't get to see the Bollywood legend for most of the stretches. And when he does appear, Amitabh Bachchan lets his solemn stare and his deep baritone do his work.
Yay!
- Chiranjeevi
- The Visual Opulence
- A Couple of Powerful Moments
- Action Sequences
Nay!
- A Treatment that is More About Excesses
- Wasting Some Talented Actors
- Too Long
- Loud At Several Places
Final Thoughts
Sye Raa Narasimha Reddy, while suffering from a post-Baahubali hangover, is made to please Chiranjeevi fans and movie buffs who like everything larger-than-life, with dollops of jingoism. But if you are truly looking for a layered, inspirational real-life saga that brings the passion out from you, this ain't that flick!