Looks like Tollywood actress Sri Reddy is not willing to stop at anything. With her sensational statements, Sri had earlier targetted Rana Dagubati's brother Abhiram Daggubati. Back then we thought Reddy is only unleashing her fury or sensationalism at Tollywood folk, or apparently, targetting those who reportedly took her advantage in the name of giving her work. But now, the controversial actress spells a name that the whole country worships as the ultimate god from the world of cricket-Sachin Tendulkar!
Yes, Reddy took to Twitter to allege that Sachin was romantically involved with another star from the Southern Film Industry! Reddy Took to Twitter to state this: A romantic guy called sachin tendulkaran,when he came to Hyderabad, charmi'ng girl did a romance wt him..high profile chamundeswar swami is a middle person..greatest persons can play well i mean romance well ????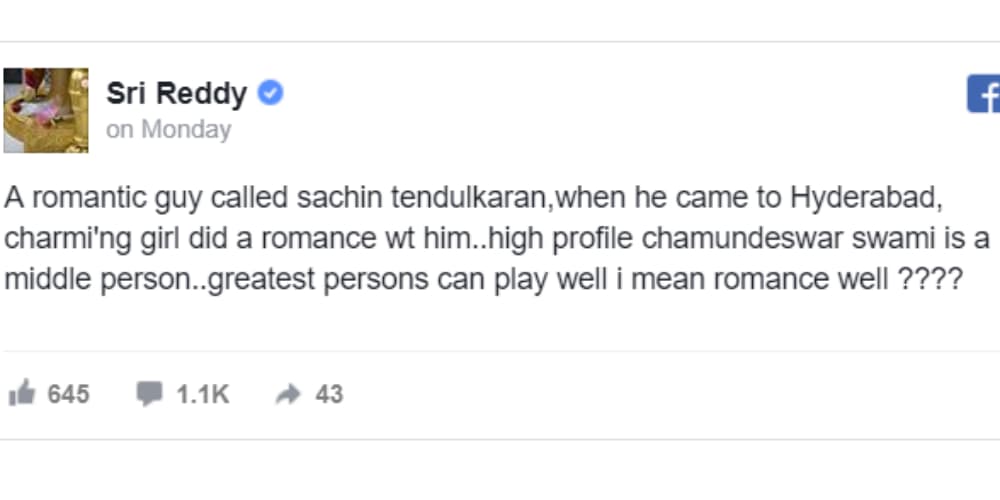 The shocking allegations from the controversial actress have left fans red-faced. Sachin, after all, is a legend and he is respected the world over for his clean image both on the field as well as off it. Fans clearly didn't like Sri Reddy's comments and they didn't take long to slam the lady.
From calling her someone who seeks the thrill by doing cheap publicity stunts to saying that Reddy should be sent in a mental asylum for being mentally sick, Sachin's fans were in no mood to spare Reddy. Some even maintained that Sachin is the ultimate god with integrity and honour that Reddy can't even comprehend.
Reddy claims that she opens her mouth and talks about these issues only because they need to be addressed withhonesty.  She also claims that she is not seeking attention or publicity. In another tweet, she had stated her viewpoint in no uncertain way. "Looks like decent and behaves like a very good and honest persons..they do social works too to prove as a good person to the world..some times they can be good persons by heart..if yes also,they can be interested in girls.."extra marital affairs"..I am talking genuinely truths..I dn need any public attention,till now I could hv give 50 interviews after reddy diary..bcz of my personal family problem past 2 weeks I am in silent mode..I didnt hold any1 legs to believe me..if you guys trust on me,believe me k, I nvr cook stories for the publicity..genuinely i am sharing the truths..(applied to 1 or 2 Tamil YouTube channels)..," she wrote!