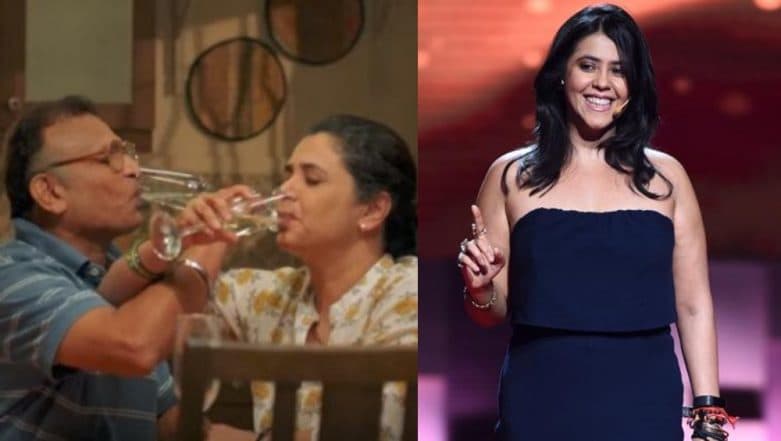 Ekta Kapoor's new web series, Home, got a humongous response from celebs as well as viewers. Supriya Pilgaonkar, Annu Kapoor, Parikshit Sahni, Amol Parashar and Chetna Pandey were the main leads in the web series. The story is loosely based on the people of Campa Cola and the issue it had become after the government was ordered to demolish the society. Ekta even ran a campaign on social media asking people to post what their definition of Home was and it was quite a success, just like the show. We also saw a video of Jeetendra visiting his old house and getting emotional about it.
Overwhelmed by the response, Ekta has promised to share a special video a celebrity's journey to find his/her home and is a huge inspiration, too. Ekta also claims that she is the only person who can convince this particular actor to shoot after a 8-year hiatus. While all of us are wondering who this person might be, we are also quite excited to watch the special video. We had written in our review of Home, "It is a story that must be told and must definitely be watched. Supriya and Annu's chemistry was the best part of the series. Not to mention, it has been written beautifully and special appreciation to the director Habib Faisal for such a beautiful execution."
Here's what Ekta had to say on Twitter.
So #home has struck a cord ! Overwhelmed with d msgs ! The second part of this season d remaining 6 eps release 21 st sept ! But it's no more a campaign it's far more than a show ! Soon I'll release another 'home' journey of someone who is a huge inspiration

— Ekta Kapoor (@ektaravikapoor) September 3, 2018
And this...
Taking out a day was tough with hours of travel to where this person had d first home but I can safely say I'm d only person who can convince this person to shoot after more than a 8 year Hiatus!because it was not about d show it was abt d feeling that millions of Indians share

— Ekta Kapoor (@ektaravikapoor) September 3, 2018
She concluded saying,
That of buying a HOME

— Ekta Kapoor (@ektaravikapoor) September 3, 2018
While our top guess is Smriti Irani, we are sure Ekta is going to surprise us. What's your top guess and what do you think of the new upcoming video? Tell us in the comments below and stay tuned with us for more.