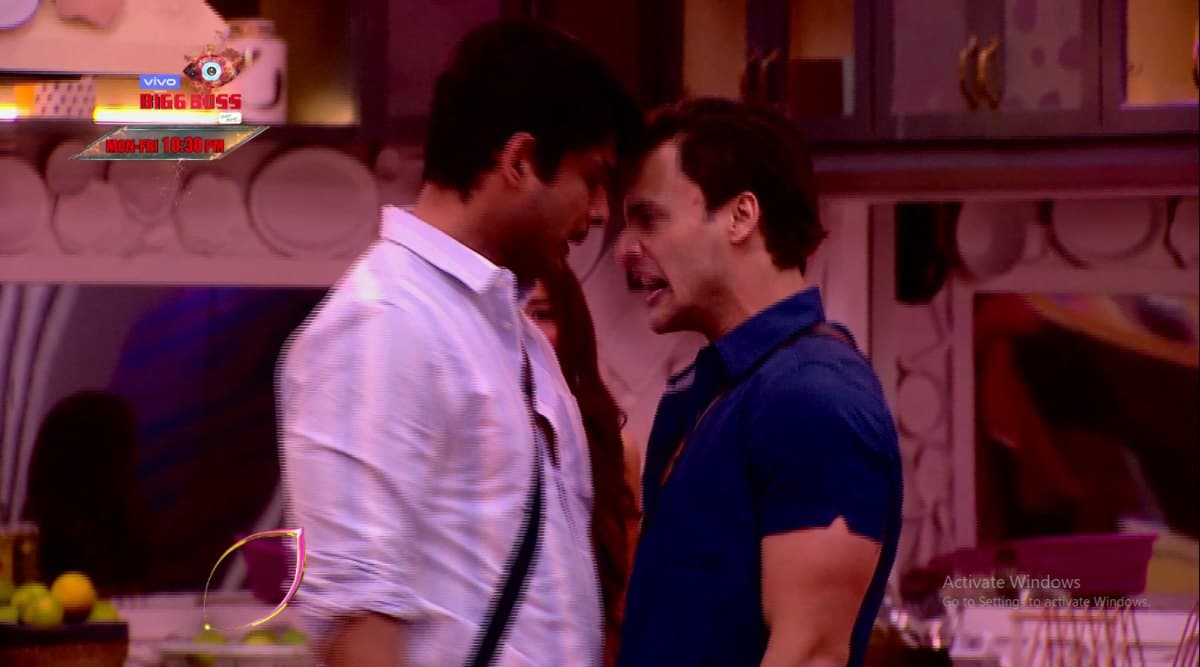 Looks like apart from Rashami Desai, Sidharth Shukla has won himself yet another arch enemy, unfortunately in his best friend Asim Riaz. While fights and arguments were happening between Asim and Sidharth, their fights took a serious turn during the Shehnaaz Ka Swayamvar both the hunks lost their cool and went on to push each other. Despite the entire house making several attempts to separate the duo, they got into each other's faces and picked each other apart, thus effectively breaking their Ram-Laxman bond. Bigg Boss 13 Day 51 Preview: Asim Riaz and Sidharth Part Ways For Good, Shehnaaz Gill Suffers Another Meltdown And Destroys The Wedding Mandap (Watch Video)
And just like you and I, Twitter too was completely divided on the issue, so much so that the top two trends on Twitter after the episode aired were 'StayStrongSidharthShukla' 'WeStandBYAsimRiaz'.
Check Out Some Of Those Tweets Below:
Stay Strong Sidharth Shukla Tweets:
Aasteen Ka Saanp.. Ouch:
Asteeen ke 🐍

You reached here because of @sidharth_shukla

And today u r abusing him

Calling him loser , abused and pushed him too

Trusting this snake was the biggest mistake u did Sid

Feeling really bad #StayStrongSidharth #BB13 @BiggBoss @ColorsTV

— Dr.Nupur ❤️❤️ (@DrNupurrk) November 19, 2019
Asim Riaz's Double Standards Exposed?:
Sim to Sid:

"Ye sirf ladkiyo pe gussa nikaalta hai"

Same sim to Sid when Aarhan was was pulling him down

" Yaar tu isko bol na Kuchh"

You needed Sid to fight with even ramlal 🙄

Aastin ka Sanp Asin#BB13 #StayStrongSidharth

— Sas🇺🇸❤️ (@she_is_An0maly) November 19, 2019
Where's The Bhaichara?:
Siddharth is most loyal contestant in big boss house

Treated Asim like brother but Asim fake hai#StayStrongSidharth

— Akshaykumar Botule (@AkshaykumarBot1) November 19, 2019
Shukla Being Bullied?:
Just for Sidharth Shukla : The Alone Lion

All are bullying that guy. He is fighting for us and for himself to survive

Can I get 1000 RTs on this tweet

Love you Sidharth bhai#StayStrongSidharth @OfficialSidFC @sidharth_shukla

— Sidharth Shukla Official FC♥️ (@OfficialSidFC) November 19, 2019
Asim Abused Sid's Mom?:
Asim abused #SidharthShukla's Mom

He said MC to Sid's mom

Sid Ne 3 baar sim se pucha Kya kha Kya kha

Shame on to those people who are supporting Asim in this matter#StayStrongSidharth @sidharth_shukla #BB13

— Vijay (@Vijay90690841) November 19, 2019
We Stand By Asim Riaz Tweets:
Requesting Salman Khan's Interference:
#WeStandByAsimRiaz @BeingSalmanKhan sir atleast you hve to speak about Shukla abusing asims father! Siddharth has no right to abuse #AsimRiaz father... #WeStandByAsimRiaz #WeStandByAsimRiaz @BiggBoss @ColorsTV Don't be blind. Take action.. shukla pushing asim so hard.

— Daraksha Ahmed (Asimriazz❤️) (@DarakshaAhmed) November 19, 2019
A True Supporter:
We stand against bullying, physical violence and lies. We stand with honesty, integrity and self-respect. We stand by a self-made 26 y/o lone warrior who's gone through so much and still doesn't fail to light up the room with his smile #WeStandByAsimRiaz pic.twitter.com/ts02qkevrs

— #AsimRiazForTheWin (@fucc_avocados69) November 19, 2019
Shutting Up Vindu Dara Singh:
That ironic moment when a guy like @RealVinduSingh makes fun of someone like #AsimRiaz based on LOOKS.#BB13 #BiggBoss13 #WeStandByAsimRiaz https://t.co/Zt2rNFPPlW

— Follow Krutika BB13♥️💁🏻‍♀️ (@RealKrutika) November 19, 2019
Sidharth Shukla Exposed:
Sidharth in today's episode:

- Became aggressive with Rashmi

- Abused Rashmi

- Character Assassination

- Called Asim 'Kutte ka baccha"

- Abused Asim A LOT

- Pushed Asim forcefully

- Became aggressive with Asim@ColorsTV such guy doesn't deserve to win! #WeStandByAsimRiaz

— Team Anti Shukla (@Epigrammatist_) November 19, 2019
Sid's Supporters Facing The Heat:
All blue ticks goon are now supporting violence now its all about common people nd genuine fans vs this so call celeb and pain handles let it start thn we will stand with our boy till last nd will make sure u lose#WeStandByAsimRiaz@ColorsTV @BeingSalmanKhan @EndemolShineIND pic.twitter.com/q5cmBABIVe

— Nikki🌟AsimRiazFtw🌟🌟 (@nikki_adorable) November 19, 2019
Was Sid At Fault?:
See the Video

Asim just touched him to keep #SidharthShukla away coz Samne aa k charh jana is his habbit

But the way Sid retaliated violently with all the force, He did same last week too

RT🔃 Like❤ Support #Asim#bb13 #BiggBoss13 pic.twitter.com/dMdPX5xXlT

— Bigg Boss Guru👁 (@_biggbossfc) November 19, 2019
From what we saw in the preview, Sidharth and Asim's fight is not going to end anytime soon, with Sidharth's team completely splitting apart (while Shehnaaz sides with Sidharth Shukla, Shefali Zariwala and Himanshi Khurana stand by Asim Riaz), looks like the rivalry will continue for a long time to come. Whose side are you on?