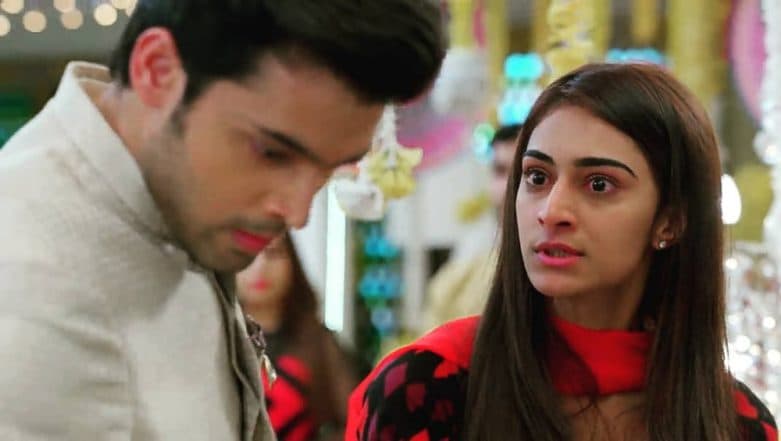 Today's episode of Kasautii Zindagii Kay 2 starts with the pandit telling Mohini and everyone that in this marriage one problem is there as Anurag (Parth Samthaan) is already married and that he has taken the sindoor from the Devi Mata's temple and had put on Prerna's (Erica Fernandes) forehead and in that case the first wife of Anurag is Prerna only. Prerna tells that it is our family issue and we should all decide what to do. Mohini gets irritated and shouts at Prerna and tells her that she cannot stay at their home and that Anurag does not love her and just because she wants all comfort of life she is doing all this drama. Mohini tells that she is just a servant and that she cannot become Anurag's wife and stay here and collapses while saying so. Kasautii Zindagii Kay 2 March 8, 2019 Written Update Full Episode: Prerna Outdoes Komolika and Proves She's Anurag's Wife
All take Mohini upstairs to lie on the bed, Nivedita tells this all is happening because of Prerna, Anurag asks her to keep quiet now and that they can talk about this later. Nivedita tells Anurag that if he loves Mohini he should now go and throw Prerna out of the house. Anurag angrily goes down. Krystle D'Souza or Anita Hassanandani – Who Will REPLACE Hina Khan As Komolika in Kasautii Zindagii Kay 2?
Meanwhile down Komolika is arguing with Prerna as why she is doing this just to steal Anurag from her. Prerna says that people steal that thing which is not theirs but Anurag has been always her so there is no question of stealing. Komolika gets frustrated and tells that she took her very lightly but Prerna is planning how she will come inside the house and wants to take her out. Komolika says what she wanted to do she did and now it is her turn to do and she will show her what she can do. Komolika says that she can ask Mishka how is she and that if anyone comes in her way she does not spare anyone.
Anurag watches this all and flashbacks and thinks about the boy who had told about Komolika that she is a very dangerous lady and that she can go to any extent if someone comes in her way. Anurag thinks that she is saying the same things as she had told the boy's girlfriend and gets scared. Prerna tells Komolika that first she troubled her sister and now want to trouble her and tells that now it is her turn to get troubled as now Prerna is front of her and that she cannot do anything to her. Prerna says that she will fight with all her might this time she will get what she wants and goes from there. Komolika gets angrier listening to this all.
There Mohini gets up and asks where is Anurag. Nivedita comes and tells her to relax and takes rest. Mohini enquires whether Prerna has gone or not and ask her to give her phone and calls Veena and tells her to come and take Prerna from there. Mohini tells that they talk about self-respect every time and this is what she has taught her. Mohini tells that she will throw her out from the house or else she come and take her from there. Shivani asks Veena what is the matter, but she shouts at her and leaves from there to bring Prerna back.
There Prerna is standing alone while Anurag watches her(Naina ju bar jage hai naina track is played in the background) Anurag thinks that he will not give the place what Prerna has in his life to anyone but he has to tell Prerna to go from here as Komolika will harm her if he does not do anything. Prerna should live her life happily with someone and cut every relation from him and should hate him and that he should stop Komolika from harming Prerna. In the precap, Prerna is telling Anurag that how he thought that she will listen to his talk. Veena comes to take Prerna but she refuses to go from there.