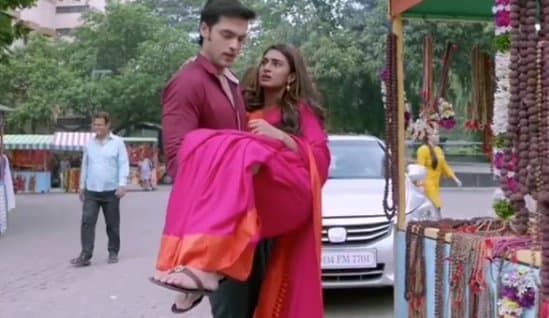 In the last episode of Kasautii Zindagii Kay 2, we saw Mohini puts forth a condition to her family. Elsewhere, Veena is dejected seeing Anurag's strange behaviour while Komolika injures herself. Tonight's episode starts with  Mohini calling Anurag (Parth Samthaan) to enquire where they are, Anurag tells her that they will be little late and tells that they are in the Sharma house. Mohini gets enraged and tells him to come soon. On the other hand, Komolika (Aamna Sheriff) narrates her fake story to Prerna (Erica Fernandes) and Veena. Prerna thanks her for saving Anurag's life and gets emotional. Just then Anurag comes there and tells Komolika that Mohini had called and they have to leave for home. Kasautii Zindagii Kay 2 October 31, 2019 Written Update Full Episode: Anurag helps Prerna While She's Spying on Him and Komolika
Anurag goes to meet Prerna before going, and asks did anything happened between them in the past two years as she is behaving weird with him and tells her not to hide anything. Anurag says he can see that Prerna is sad and asks for a reason, Prerna says she is tired and tells him to leave. Later, when Anurag and Komolika leave the Sharma house, Prerna watches them going. Back at the Basu house, Mohini is seen feeding Anurag with her hands as she has prepared his favourite dishes, Moloy makes fun about it and everyone laugh. Later, Mohini asks him why did he go to Prerna's house and Anurag narrates everything that happened and tells when he entered the Sharma house, he could feel that he is connected with the house and asks Mohini did he go to the Sharma house frequently? Mohini says no connections were there and he did not go there.
Meanwhile, in the room Moloy tells Mohini that Anurag forgot everything but something is still there in the back of his mind about the Sharmas which he did not forget. Mohini says but he did not tell anything about Prerna, Moloy says that Prerna is not that type of a girl who will force herself on Anurag and she had told him that if he recalls anything then only will she disclose about her and Anurag's relation to him or else wait for the right time. Mohini tells Moloy to block her and that she does not want Prerna back in Anurag's life. Kasautii Zindagii Kay 2 November 1, 2019 Written Update Full Episode: Prerna's Mother Veena is Upset on Seeing Anurag's Condition
Just then Anurag comes and asks the same question about his relationship with the Sharma family. Komolika gets pissed as Anurag is again and again asking the same question and ignoring her beauty. Meanwhile, Mohini says she had told him everything and there is nothing that she has hidden from him. Anurag says something big has happened which he feels but is not able to remember it. Mohini says nothing and leaves from there.
On the other hand, Veena gets emotional and cries, Shivani asks her why is she tensed and everything will be fine. Veena says what will happen to Prerna and curses herself as she is not able to do anything for her. Back in the Basu house, Mohini comes to Nivedita and tells her to make Anurag busy in his work so that he does not ask about his past, Nivedita assures her that no one will tell him and she does not have to worry.
In the next episode, Komolika gives money to the goons to burn the Sharma house as she wants to kill Prerna and her whole family.